Making all the difference in the world
For his graduation, Callum Tokorangi wore a collection of special shell necklaces passed on from his Cook Island nana to honour her memory, and that of his Aitutaki whānau.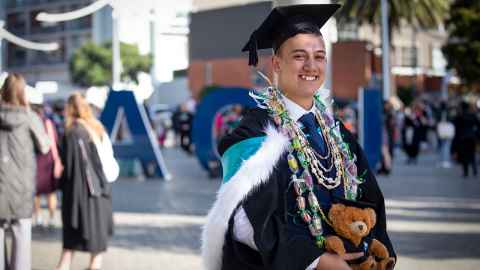 Callum is in the first cohort to graduate with a Bachelor of Global Studies from the University of Auckland.
Global Studies was described by the inspiring founding director of the programme at Auckland, the late Dr Hilary Chung, as "a degree for people who want to change the world", an idea that connected strongly with Callum.
He says it's all about being exposed to different thought processes and seeing the world from many points of view.
"I got really involved in how this worked with a research project on the invention of the concept of human rights from a historical, linguistic and sociological point of view, with Dr Joseph Zizek," he says. "I found it fascinating to examine something so important from so many angles."
Because global studies is an interdisciplinary degree, with a focus on understanding and tackling global issues, students can take courses in everything from science to business and languages.
However as someone whose goal is to become "an entrepreneur of a social enterprise", Callum majored in global politics and human rights.
"My heart lies with the people we often discount because they've made mistakes or life hasn't worked out for them to this point, but they still have so much to offer," he says.
"I'd like to create something to help those people realise their potential."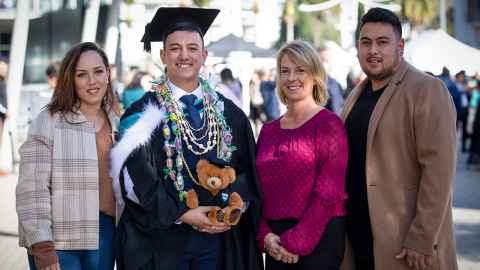 The youngest of three, Callum, 21, comes from Upper Hutt, north of Wellington, where he attended Upper Hutt College and left as head boy.
The son of a Pākehā mum and Cook Island Māori dad, he was raised mostly by his mum and therefore with more Pākehā/European influence, but has recently been exploring his Cook Island identity.
"Not having it so much in my life growing up, it's only at uni that I've been working out what it means to me and I would really like to change how Pacific people are sometimes viewed."
He will always remember a careers adviser in high school saying she wanted him "to think of university as an opportunity for him" as if it wasn't a given that he would already see himself that way.
"I'd always assumed I'd go to university, and that gave me a sense of how low her expectations were for people like me, even though she's a nice person and was being kind. I'd like to change that."
It was Hilary's ability to see the potential in me and others and call it out that drove me to pursue this degree to its end.
His path to success hasn't always been smooth. At the end of his second year he broke his hip falling on a kerb, which has led to several major surgeries and ongoing pain.
"I got an insight into what it was like to get about as a person with a mobility issue."
And, as with the rest of the graduating class of 2021, he spent most of last year working remotely and not being able to meet up with classmates or lecturers face to face, so even being able to attend a  ceremony in person feels fortunate.
His biggest supporter, his proud mum, and his two siblings will be attending graduation, with his mum just back from spending the past two years volunteering for Child Rescue in Thailand.
"I think she got that idea from me!" laughs Callum.
He'd like to dedicate his graduation day to Dr Hilary Chung, the person whose vision and belief in her students led him on this path.
"It was Hilary's ability to see the potential in me and others and call it out that drove me to pursue this degree to its end.
"I will always strive to be a change in the world and follow my passions as a testament to her input into my life."