Aiga is everything for teaching graduate
As the first in her family to attend university, a mother of six and a mature student, Paula Hughes has lots of reasons to celebrate her graduation success.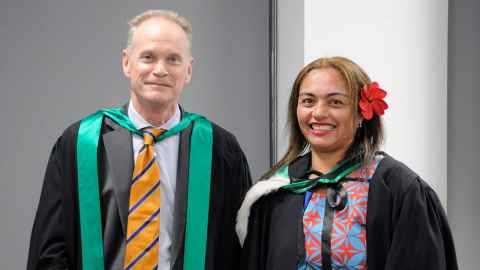 Paula graduated with a Bachelor of Education (Primary) from the University of Auckland's South Auckland Campus, Te Papa Ako o Tai Tonga, with a senior scholar award, having also been the top Pacific student in her first year.
For such a milestone, it was important to Paula that both her elderly parents, her siblings, and nieces could attend her honouring ceremony held at Te Tai Tonga the night before the official event at Spark Arena, where she was joined by her husband and some of her children; and her parents by livestream.
"As a first generation Samoan New Zealander, it's a very proud day for my family because it's a Samoan parents' dream for their children to do well, especially at tertiary level," she says.
She already has a job she loves teaching at St Anne's Catholic School in Manurewa, not far from where she lives, and says it's great to have been able to study and work in her own neighbourhood.
"Being close to home, especially as a mum, was a big influence in my decision to return to study, and the environment was very family-friendly. Classes were small, we had mentors to help us, there were a range of ages and everyone was accepted; the staff were so supportive and it felt like a warm, close community."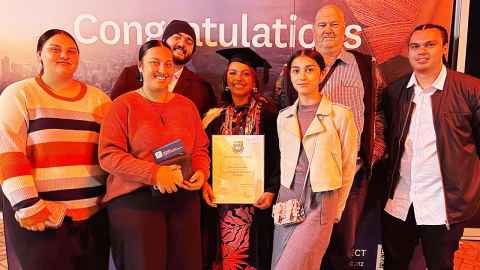 She says staff were also "wonderful" when she lost her sister in 2019, and while all her teachers were inspiring, she particularly wants to acknowledge Heather O'Neill, a lecturer on the bachelors programme.
"Heather is a calm and thoughtful teacher who really cares about all her students. Not only was she an exemplar teacher who always gave her best, she was also a counsellor, mentor, and a great friend to all of us. I appreciate her going out of her way because she cared about the success of all her students."
This graduation is especially satisfying for Paula as she first tried academic study straight out of high school in 1987, and didn't continue.
"I enrolled in a Bachelor of Science but I wasn't very good in terms of sticking with it, so I ended up leaving to work full time, and then I had my children."
And it was to help pay for her children's school fees (all now aged between 14 and 22, and still at home) that she later became a teacher aide, which opened her eyes to the possibility of becoming a teacher herself.
Classes were small, we had mentors to help us, there were a range of ages and everyone was accepted; the staff were so supportive and it felt like a warm, close community.
"I was a teacher aide for eight years before being encouraged to get further trained. I went back to full time study when the uni's South Auckland base was still at the Manukau Institute of Technology, and I have to admit it was difficult combining study and parenting, but I'm so glad I did it."
Her particular interest is literacy, maths and science, and as well as holding down a full time job and managing one of her children's basketball teams, she has now started a postgraduate honours year focusing on those areas.
"I absolutely love maths myself, and I'm really keen to get students past that fear that they can't do it and get them excited about its possibilities."
Above all else, she says, she wants her students to be curious and love learning "not just to achieve success for themselves and their families" but as a lifetime pleasure.
"I want to foster in them a love of learning, no matter what age or stage they are."