Inspired to build a better future
Hanna Davidson has always been fascinated with building things and enjoys working with people: One day she hopes to combine the two and manage a major building or transport construction project.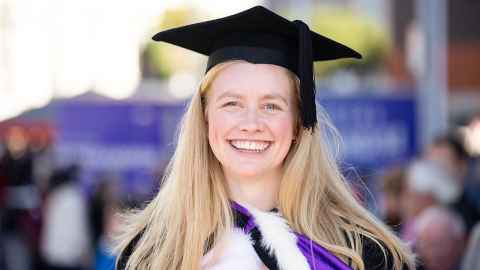 This week she moved a step closer to her goal when she graduated with a conjoint degree in Bachelor of Engineering specialising in Civil Engineering and a Bachelor of Arts specialising in French.
"The work of the late architect Zaha Hadid was what first sparked my interest in engineering, with her structures having such natural forms despite being constructed from robust materials," says Hanna.

"The technical aspects of bringing these to life pushed me towards studying engineering. She was also a great inspiration as an example of a woman succeeding in the construction space."
She credits her passion for French to an enthusiastic high school teacher, whose dedication inspired her to pursue study of the language. This led to a gap year to Europe following high school where she was lucky to be able to immerse herself in the language. Her strengthened appreciation for the language meant she wanted to
carry on that momentum here in New Zealand.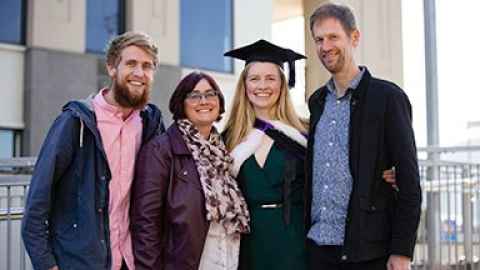 Hanna was born into a family with foundation in science, both her father and brother work in computer science, so it was only natural she would first begin her studies within the Faculty of Science. She focused her studies on maths and physics knowing it would give her the option to cross over to Engineering should the opportunity present itself. Five years later she has achieved the goals she set out for herself and credits her success to her role models and peers.
Hanna also acknowledges the benefits of new friendships. Starting university after a gap year meant she was separated from her high school cohort, an experience she found challenging for her first two years. However, over time she found a new group who supported each other through their studies.
In 2019, Hanna secured an internship at WSP Global, an engineering consultancy. She now works there permanently as a bridge engineer. As the industry continues to evolve, Hanna looks forward to playing her part in helping Aotearoa recover from Covid-19 and address the impacts of climate change through improved multi-modal transportation networks.