New Zealand's first Global Studies graduates
2021 saw the graduation of the University's first-ever Global Studies students.
This first small cohort started in 2018 when the Bachelor of Global Studies first launched. Now, three years later, with hundreds of students enrolled and a Masters programme starting, we caught up with the pioneering group. They chatted about their experiences, plans for the future, and what made them take a chance on something that was, at the time, so unknown and unusual.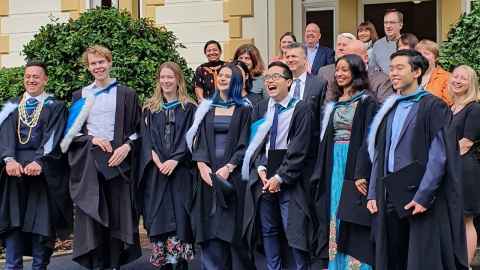 Riley Stevenson
Major: International Relations and Business
Now at a financial non-profit cooperative
"I always wanted to be a part of something bigger, to dip into pools of knowledge and pull it all together. Global Studies gave me that.
"It's made a big impact to how I work – taught me not to think in black and white, to use your head and your heart at the same time."
Jerald Chan
Major: Global Environment and Sustainable Development
Now working at Fonterra
"I come from a global background with family living all over the world, and I knew Global Studies was exactly what I wanted to do.
"I've loved the flexibility of it, you get a slice of everything and the best from every
faculty – no other degree would let you combine law papers alongside urban planning for example! Long-term, I'm planning to get into policy and development work, and Global Studies is a good fit for that."
Anneliese Mitchell
Major: Global Politics and Human Rights
Interested in the humanitarian aid field
"Global Studies was everything I wanted to do combined in one place. I didn't have to study four different degrees – I could do it all!
"It's been such a fun, unique experience and this first cohort has been such a community – we've done it together."
Owen Segismar
Major: Global Politics and Human Rights
Launching a new programme in the Department of Internal Affairs to work with ethnic migrant communities
"Global Studies was right up my alley for what I wanted to accomplish later in life, to work in foreign affairs, charities and the public sector, and totally in line with my values – to make a difference and contribute to the world."
Grace Skene
Major: International Relations and Business
Now at the Ministry of Business, Innovation & Employment as a Graduate Policy Advisor
"The whole experience has been so new and exciting. When little year 13 Grace was deciding what to study I wanted able to combine courses from across fields, rather than
being pigeonholed into one area – I remember our careers advisor discovering Global Studies and bursting into the classroom to tell me about it." 
The best thing has been the community – the people here care about more than just getting a degree. They care about society and the environment. The bigger picture is always present.
Pratibha Singh
Major: Global Environment and Sustainable Development
Now studying a Master of Indigenous Studies
"I always wanted to do something interdisciplinary with global citizenship at its heart. I've loved that Global Studies is issue centred, rather than divided by faculty or subject area, and have learned a lot from that approach."
Callum Tokorangi
Major: Global Politics and Human Rights
Aiming to establish a social enterprise start-up
"Global Studies explores so many ways of thinking and learning and knowledge, while having a central focus. It's massively expanded my thinking and worldview.
"Hilary Chung, who founded the programme, was one who inspired me to try Global Studies – she was so persuasive and passionate, and I want to thank her for that."