He maimai aroha: Matua Rawiri Wharemate, an advocate for tamariki well-being
Ko te tohu o te rangatira, he manaaki. The mark of a chief is his compassion.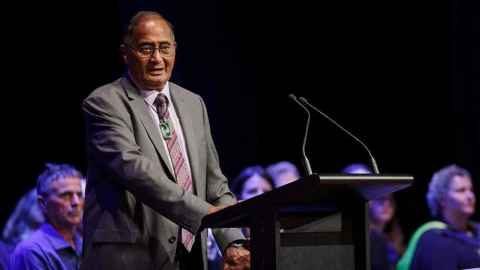 The University of Auckland remembers Kaumātua David Rawiri Wharemate (Ngāti Wai, Ngāti Moerewa, Ngāpuhi) who passed away surrounded by his loving whānau last Friday.
Matua Wharemate's life's work was devoted to child and youth well being, especially through his role with the Werry Workforce Centre - Whāraurau. He advised on many research projects which included 'Harnessing the Spark of Life: Maximising Whānau Contributors to Rangatahi Wellbeing' and 'Toku toa, he toa rangatira: A qualitative investigation of New Zealand Māori end of life care customs.'
For nine years he was part of the Youth Horizons under the Ministry of Mental Health which helped produced 'Te Remu Tohu' a framework for youth health workforce development.
His work in youth health is inspired by his ancestor Pera Hatara who in the late 1930-40's wanted to build an establishment for Ngāpuhi youth. Its purpose was to provide an area where youth could be nurtured, protected and guided by elders, an area to cry, to celebrate, to mourn, to learn and to thrive. It became the foundation of his work in the health sector.
Mātua Rawiri's life was celebrated and remembered by his whānau, friends and community through services held at Ruapotaka marae, Alfriston chapel and Kaingaroa Marae. Today he was laid to rest at Te Hungaiti Wahitapu in Tautoro, Northland.
He is survived by his wife Julie, eight children and many mokopuna.

Moe mai rā e te rangatira.