University of Auckland embraces gift of new Māori name – Waipapa Taumata Rau
The University of Auckland is adopting a new name – Waipapa Taumata Rau – gifted by the people of Ngāti Whātua Ōrākei.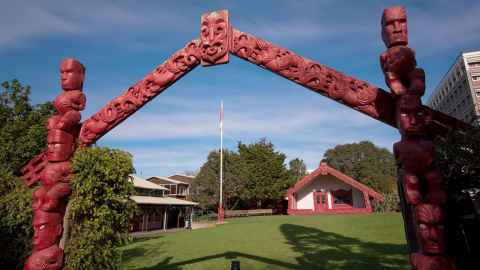 Waipapa Taumata Rau will be added to the University of Auckland's name, replacing the former more literal translation used in the University's brand – Te Whare Wānanga o Tāmaki Makaurau.
Ihonuku Pro Vice-Chancellor Māori, Associate Professor Te Kawehau Hoskins (Ngāti Hau, Ngāpuhi), said that the new name better connects the University to where it is located and highlights the significant partnership with Ngāti Whātua iwi.
"The University of Auckland is serious about its developing relationship with mana whenua and that must be demonstrated in our identity and carried through to our actions," she said.
"This new name underpins a new strategic direction. It is one that champions building respect for Māori knowledge and challenges us to understand that we are part of a whakapapa of historic and current relationships."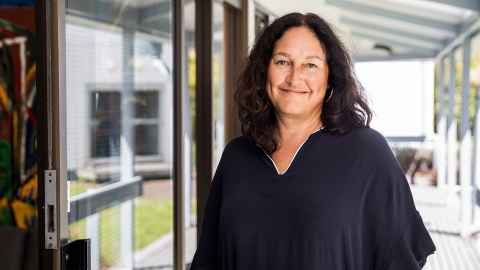 Michael Steedman (Ngāti Whātua Ōrākei, Te Uri o Hau), is Kaiarataki, Deputy Pro Vice-Chancellor Māori, and has been integral in working with Ngāti Whātua Ōrākei on the name.
"The name 'Waipapa' locates us in Auckland, relating to the nearby shoreline from which the University marae takes its name," he explained. "It is the great landing place of waka and an important destination, signifying arrivals and beginnings, and new connections between people, and people and resources. It also references an exchange of knowledge and teaching."
'Taumata Rau' is an exhortation to excellence and achievement.
"It uncovers those attributes needed for success – including aspiration, hard work, and support.

"Taumata incorporates the many peaks or points of ascension – pinnacles or sacred spaces where the land meets the sky; places of challenge, achievement, and revelation. Rau means many or 100. The University and its community are made up of many peaks and so, many journeys toward success."
Vice-Chancellor Professor Dawn Freshwater has welcomed the gift from Ngāti Whātua Ōrākei saying that the name resonates with the University's new strategy and vision, Taumata Teitei, and its commitment to excellence and high achievement in teaching and research.
"We interpret Taumata Teitei as pursuing excellence, despite uncertainty. It recognises the exciting challenges posed by the concerns of our age and is a contemporary statement of our purpose, vision and values. This is underpinned by Waipapa Toitū, the enduring framework of principles based in mātauranga-ā-whenua and mātauranga-ā-iwi (knowledge of place and people)," she said.
The University is reviewing how to best incorporate Waipapa Taumata Rau further into its organisational culture and visual identity.
The full Waipapa Taumata Rau dawn gifting ceremony that was live-streamed on YouTube from 7am, Monday 26 July 2021.

Highlights in the video below.