Korean students connect for their community
Thomas Oh and a group of Korean students are grateful to the 2020 lockdowns for strengthening their community connections.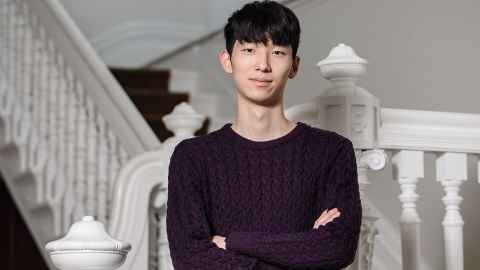 Culture is a cohesive force for migrant communities at any time – but the Covid-19 lockdowns of 2020 encouraged a local group of Korean students to strengthen that connection further.

The Auckland University Korean Students' Association (AKSA) wanted to help out their compatriots in New Zealand, to ensure they were receiving accurate information about what was happening with Covid-19 every day.

"Around 15 of us from the Korean Students' Association, led by last year's AKSA president Eunsol Choi, met with other Korean groups to find out what we, as students, could do to help our community," says Thomas Oh, the 2021 president of AKSA. "They recommended translations of the government's Covid-19 messages as the best thing we could do while we were stuck at home. It was a great opportunity for us."

And so, during the Level 4 lockdown, the students' translation services kicked into action.

"We broke into different teams and each day when the government came out with their 1pm briefing, two people listened to it live. They'd write it down and then we'd try to find the best way to say it in Korean because there might be words that aren't exact translations. We had to get the right information … even concepts like 'bubble' and 'lockdown' were tricky at first. Considering Kiwis didn't even know of these concepts before!"

The group convened afterwards to check the translation and create an online version of the stand-up briefings. They aimed to have it all done within four hours each day, with two people working on each translation.

"Then one more person would make sure it flowed and then we gave it to the people who organise all the news in the Korean community on the different websites and platforms Koreans use to get accurate information, such as Korea Post."

The translations were posted to those sites and often disseminated into other sites in news stories.

"When they wrote their own articles, they mentioned our names, so that was really nice."

Thomas, who is doing a Bachelor of Communications, said it was time well spent and they repeated it during each lockdown, including at the beginning of Semester One.

"There was a definite need for it in the older Korean community and also for international students here whose English might not be as good. The government couldn't really be expected to be able to translate into Korean as fast and as well as we could."
There's a difference between Korean culture and Kiwi culture but they're both amazing. 
Thomas has lived in New Zealand since he was eight. He and his sister were brought to New Zealand by their parents, both educators, for a better way of life.

"There are two places Korean families look at for education and a healthy environment – Canada and New Zealand. My parents came to visit and liked it.

"In Korea, it's routine for students to study from 8am until 11pm. There's so much competition and pressure to get good grades and go to a good university. I'm not dissing that way but my parents wanted us to grow up another way."

Thomas went to boarding school in Whanganui and loved the Kiwi cultural experience he had there.

"It's just the vibe. It's amazing. Definitely there's a difference between Korean culture and Kiwi culture but they're both amazing. I believe it's extremely important for internationals to experience the New Zealand culture as best as they can, not just hang out with Korean students."

AKSA is extremely supportive of its members on campus. During exam times, it hands out sustenance food packs for the students who register, and during the semester break holds a social camp involving a sleepover and perhaps a little soju.

There are almost 1,400 students who identify as Korean on the University of Auckland campus. He says many Korean students still on campus haven't seen their families for a long time so it's important to stay connected and upbeat.

"They have to choose to stay here and not see their families, or go back and not be able to return to see their friends."

Not seeing your family means not eating your family's Korean food too. But Thomas has a workaround for that – he works part-time in a Korean restaurant called Nuna on Queen Street but admits he's partial to takeaways too. For dining in, he recommends a restaurant called BannSang for students and HanSik (which means Korean food) if you're feeling fancy.

He says he hasn't really experienced any level of racism, perhaps down to the fact that he's very Kiwi.
"Identity plays a big role in feeling we belong: there is a word for Korean Kiwis – it's 'Kowi'.
"But all countries are a bit racist. If it's just people saying something as you're walking past, it's best to ignore it. It's not a problem for me."

If you're walking past Thomas however, you might need to look a long way up to have your voice heard. At 1.90 metres tall, he's about 10cm taller than the average Korean. He wouldn't go astray on a basketball court and used to play but he keeps busy now with his study and social life.

He'll celebrate his Kiwi 21st on 20 October although in Korean time he's actually 22.

"Korean ages are different," he explains. "We are born as one year old, because we've already had one year inside our mother's tummy. We get our age every year so anyone born in 2000 turns the same age at the same time in 2021. It's complicated, I know."

Before then, he will join other Koreans in celebrating one of their main national days, on 15 August. "That's the day that we mark our freedom and is one of our most memorable days. It's pretty much just a day to be thankful."

Like the young Koreans who worked on the translation project, it's also a chance for them to connect with the local Korean community.

"The Korean community helps us out so much. If we need donations or sponsors or Korean food for our students to enjoy, they always help us out so it's definitely important for us to give back. That's just what we do.

"That's why, as students, it was important to join with other Koreans to help our community during lockdowns. We're just really thankful for the Korean community here."'