Angus Campbell: harnessing grassroots design
The new head of the University of Auckland's Design Programme says we need a broader understanding of what design is.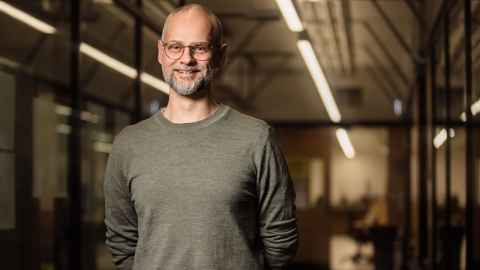 "It was like arriving in a parallel universe," says Dr Angus Campbell, of reaching New Zealand with his family in May, to take up his position at the University.

"We were lucky," says the new Head of the Design Programme in the Faculty of Creative Arts and Industries.

"We flew in with the crew of the Lion King and it might have been coincidence, but we were put into a very nice hotel with a beautiful view of the Town Hall and the city."

Angus is from South Africa and having experienced numerous lockdowns over the past 18 months, found it both liberating and in some ways startling to meet with students and colleagues at Elam School of Fine Arts in person.

"I actually had a bit of a sensory overload, after so many months of a two-dimensional computer screen interfacing with people. To go out, and see people everywhere, even being able to go to the shops or to an exhibition, was quite strange."

Things can change quickly in the Covid-19 world and he's now back in more familiar territory.
"It feels strangely 'normal' to be back to teaching and attending meetings online," he says. "All I can hope for is a swift return to being able to see students and staff face-to-face again which is so much more natural than a digital interface."

Angus has a doctorate of literature and philosophy in development studies from the University of Johannesburg and a masters of technology in industrial design. For the past 18 years he taught at the University of Johannesburg, most recently as head of the Department of Industrial Design.

His lecturing, practice-based research and freelance design experience is focused on investigating and using design in a way that brings together complex social, technological and ecological systems, to address contemporary needs at a local level.
If we consider our ancestral history, people using sticks and stones to fashion into tools were innovations in design.
Design in the 21st century demands thinking beyond traditional perceptions of what we might think of as 'design' he says. Design has had a bad reputation, and sometimes for good reason.

"Design has a relatively problematic history, because in the past it was used to persuade or manipulate people into wanting and buying more, particularly post World War Two."

It was, he agrees, partly responsible for consumerism, and has been accused of commodifying our self-esteem, tying it in with what we wore, drove, put on our feet, put in our house, and products we are persuaded to constantly update.

"But that's a distorted idea of what design is all about. If we consider our ancestral history as a species, people using sticks and stones to fashion into tools were innovations in design."

He says we need a new and broader understanding of what design is, and to prioritise it, now more than ever.

"The world is transforming – ecologically, politically, economically, and so is the role of the designer. Design for all, universal design, inclusive design, cooperative design and participatory design are playing a major role.

"From cars to furniture, housing, clothing, equipment and technology, design from now on will need to be considered holistically."

Aesthetics are going to play a lesser role in product development, he predicts, and sustainable materials and methods of production will be increasingly important.

"The only way to do that is to embrace the complexity of the socio-technical-ecological web. This is no easy undertaking but enterprises that try will be rewarded by customers who buy into and partner with their authentic efforts. The opposite will be true for businesses that superficially jump on the green bandwagon."
There's a lot of innovation in marginalised communities, in which people aren't considered to be experts because they haven't necessarily had the education.
Angus was first alerted to the new Design Programme at the University of Auckland in November 2019, when Associate Professor Peter Shand (head of the Elam School of Arts) and Mr Jim Speers (leader of Elam Fine Arts programmes) presented at the GloWD ReDesignEd Educators Forum in Johannesburg on the Programme.

"I went up to Peter and said 'this is what the world needs. It challenges the tradition of design as something to be taught within narrow silos, such as graphic design, industrial design, fashion or product design, as it traditionally has been'."

The University's Design Programme provides a bridge between disciplines. Around 60 percent of students enrolled in IT study design as a co-joint degree, with health, computer science, global studies, law and other disciplines.

"It's about using design to build bridges between disciplines, to understand and address the complex problems we're now dealing with."

When the head of the inaugural programme resigned in 2020 to return to Australia, Angus promptly put his hand up for the job.

"After 18 years at the same university, I was looking for a change. This programme aligned very much with my areas of expertise, and I saw a very strong parallel with New Zealand and South Africa."

His recent research has focused on the role that design can play in learning from and supporting innovations in design developed by some farmers in South Africa.

"Small-scale or urban farmers tend to be relatively marginalised, but also innovate and use technology to overcome the issues that they face in their farming operations."

National efforts to address problems, such as food insecurity, have typically been developed by governments in a very top-down approach.

"But there's a lot of innovation in marginalised communities, in which people aren't considered to be experts because they haven't necessarily had the education. They are experts at what they're doing in very particular ways: they know their craft and the context in which they're working, and how to use resources in a way that is sustainable.

"These sorts of innovations are also relatively easy to transfer and translate for other farmers but require modest resourcing to be able to scale up."

In other words, we need to look to and harness the research and development done at a grassroots level, in a way that benefits communities.

Angus points to the pioneering work of Anil Gupta, former professor at the Indian Institute of Management, Ahmedabad. He founded the Honey Bee Network to connect the innovations of 'ordinary folk' into the mainstream Indian innovation system in an inspiring way, representative of a new way of thinking. He cites Gupta's book, Grassroots Innovation: Minds on the Margin Are Not Marginalised Minds as recommended reading.

"But there are ways of learning to look at what is technology and what is innovation and seeing and understanding grassroots innovations within this new mindset.

"Design is about thinking about how creative solutions can be embedded locally, and providing solutions for complex problems.

"We're faced with a global sustainability crisis, which presents a huge opportunity for designers and a philosophical shift, to engage with the complexity of these problems."

Margo White
This story first appeared in the September edition of UniNews.