E whakatinana ana a ABI i ngā mātāpono kaupapa Māori ki te whakaahu i te rangahau
I whakatūria e te Auckland Bioengineering Institute (ABI) he Komiti Whakaahu Māori hou, i whakaritea ki te hanga kaupapa hei tautoko i te whakaahutanga o te Māori i ABI, me te akiaki me te whakarite i te whakaurunga o ngā pūkenga pūhanga koiora ki te Māori hei wāhanga o ā rātou rangahau.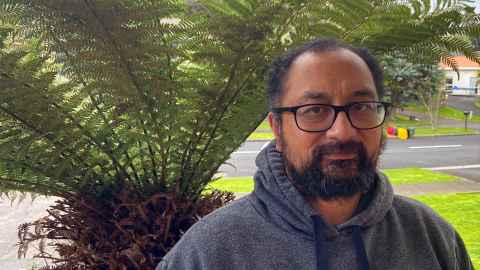 Ko te whāinga tauākī a te Komiti ko te whakaahu i ngā rangapū Māori-ABI ki te whakatinana i ngā mātāpono kaupapa Māori, te hanga me te poipoi i ngā hononga e whai mana ai ngā taha e rua, hei painga mō ngā kairangahau me te Māori hoki.
"Ko tā mātou aronga ko te pānga mau roa, ā-whakatipuranga hoki, kaua ko ngā wātaka wā poto ā-mātauranga," te kī a te mema o te komiti a Tākuta Jason Turuwhenua.
Ahakoa he hou te komiti, e kukune tonu ana hoki, tērā ētahi kaupapa e whakawhanaketia ana, mai i ngā mea iti ki ngā mea tuatini.
Ko tētahi o ā mātou whāinga kua tauākītia, ko te "hiki i te mātau o ngā kaimahi me ngā ākonga a ABI ki te tikanga Māori me te reo Māori."
I te tīmatanga o tēnei tau, i whakaaetia kia whakaurua tētahi kupu o te rā ia Tūrei i te hui ā-wiki o ngā Kairangahau Matua, ā, ka whakamāramatia ki te reo Ingarihi e ngā kaimahi rerekē.
I tēnei wā, kua whakaputa kōrero ngā kaimahi ā-mātauranga, ā-ngaio hoki mō te tikanga o te kupu mana, aroha, manaakitanga, whanaungatanga, kaupapa, hōhā me te mihi - i tukuna ki ngā tāngata tētahi tātauira kia taea e rātou te tuhi me te whakangungu i tā rātou ake mihi.
"He nui ngā mahi mā mātou te hunga tauiwi i tēnei mokowā," te kī a Tākuta Tim Angeli-Gordon, otirā e ako ana ia i te reo. "E waimaria ana mātou e piki haere ana te rangona o te reo Māori i ngā wāhi pēnei i ngā whakapāohotanga a RNZ, ngā pūrongo kōrero me ngā whakatairanga. He wāhi pai rawa atu hoki te reo Māori hei tīmatanga, engari he nui noa atu ngā mahi hei mahi mā mātou ki te whakawhanake i ngā hononga tūturu ki te Māori i roto i ā mātou rangahau. I hoahoatia tēnei komiti ki te āwhina i a ABI ki tēnei tukanga."
I tēnei wā e whakawhanake ana te Komiti i tētahi kaupapa mahi ngātahi ki te Tohu Paetahi Nēhi (Māori), BNM rānei i MIT. E tutuki ana tēnei mā te mahi tahi ki a Misty Edmonds, te kaiārahi hōtaka mō te BNM, otirā kua mahi tahi ia me ABI i te tau ka hori ki te rapu huarahi ki te whakapiki i te wāteatanga o ngā kairangau ABI ki te mahi i te taha o te Māori.
Ko te aronga o tēnei kaupapa hou ko ngā ākonga tau tuatahi o te BNM, kua roa e mahi ana i roto i ngā tūranga hapori, ā, kua oti tētahi pepa o te ako i te tukanga rangahau mai i te tirohanga Māori. Kua pōhiritia ngā kairangahau i ABI ki te hautū i ngā ākonga BNM kia whai wāhi ki ā rātou kaupapa, te whai haere rānei/hoki i ngā kairangahau hei wāhanga o ā rātou wheako Hauora o tō rātou tohu.
Kei runga i te komiti ko Tākuta Jason Turuwhenua (Ngāi Tūhoe; Ngāti Porou), rāto Johan Rickus (Ngāti Raukawa; Ngāi Tahu), ko Jaylene Wehipeihana (Ngāi Tūhoe), ko Ahorangi Martyn Nash, ko Tākuta Tim Angeli-Gordon, ko Diana Siew, ko Natalie Solomona, ko Kristen Chalmet.
"Ahakoa kei roto tonu mātou i te tukanga o te whakawhanake i tētahi anga orotau, hanganga hoki mō te whakaahu Māori, ko tētahi atu whāinga ko te mahi tahi, me te tautoko i te whānau o ABI, kia pai ake ai tā rātou whakaurunga ki te Māori, e hāneanea ana hoki te noho i roto i te ao Māori," te kī a Tākuta Turuwhenua.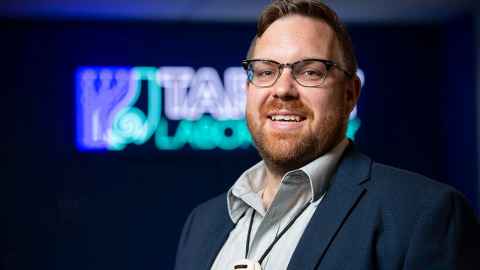 ABI applies kaupapa Māori principles to advance research

The Auckland Bioengineering Institute (ABI) has established a new Māori Advancement Committee, set up to create initiatives to support Māori advancement at the ABI, and to encourage and enable bioengineers to engage with Māori as part of their research.
The Committee's stated mission is to advance Māori-ABI partnerships with the application of kaupapa Māori principles, creating and nurturing mutually mana-enhancing relationships, for the benefit of both researchers and Māori.
"Our focus is on permanent, generational impact, rather than typical shorter-term academic timelines," says committee member, Dr Jason Turuwhenua.
While the Committee is new, and evolving, it has several initiatives in development, from the modest to the more complex.
One of its stated aims is to "improve competency of ABI staff and students in tikanga Māori and te reo Māori."
Earlier this year, it was agreed that every Tuesday, at the weekly meeting of Principal Investigators, a kupu o te ra ('word of the day') would be introduced, and its meaning explained in English by different staff members.
So far both academic and professional staff have presented on the meaning of mana, aroha, manaakitanga, whanaungatanga, kaupapa, hōhā and mihi – attendees were given a template so that they could write and practice their own mihi.

"We non-Māori have a lot of work to do in this space," says Dr Tim Angeli-Gordon, who is learning te reo. "We are fortunate to increasingly hear te reo Māori used in places like RNZ broadcasts, the television news, and advertising. Te reo Māori can be a great place to start, but we need to do much more to develop authentic partnerships with Māori in our research. This committee is designed to help the ABI with that process."
The Committee is currently developing a collaboration with the Bachelor of Nursing (Māori), or BNM, degree programme at MIT. They are doing this by working alongside Misty Edmonds, programme leader for BNM who has worked with the ABI this past year to find ways of increasing the ability of ABI researchers to work with and alongside Māori.
This recent initiative is aimed at first year BNM nursing students, who have been involved in community placements, and completed a paper in studying the research process from a Māori world view. Researchers at the ABI have been invited to host BNM students to get involved with their project and/or shadow researchers as part of the Hauora/Health experience component of their degree.
The committee consists of Dr Jason Turuwhenua (Ngāi Tūhoe; Ngāti Porou), Johan Rickus (Ngāti Raukawa; Ngāi Tahu), Jaylene Weipehana (Ngāi Tūhoe), Professor Martyn Nash, Dr Tim Angeli-Gordon, Diana Siew, Natalie Solomona and Kristen Chalmet.
"While we are still in the process of developing a conceptual and structural framework for Māori advancement, this is also about working with and supporting the ABI whānau, so that they are more actively engaged with and comfortable working with Maori and within te ao Māori," says Dr Turuwhenua.