Ka nui ake te wāhanga mahi ki ngā nēhi motuhake Māori i te pūnaha hauora o Aoteaoroa
He whakatakanga tō Josephine Davis o Waipapa Taumata Rau ki te hiki i wāhanga ki ngā nēhi motuhake Māori i te pūnaha hauora o Aotearoa.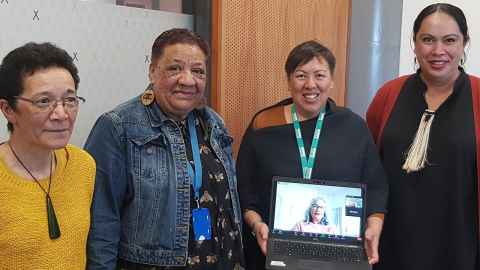 E tūmanako ana ia ka nui āna hāereere - i runga tonu i te āhua o ngā noho rāhui - ki te akiaki i ngā nēhi kia tū tangata ki te whai i te tohu hou. I tēnei wā, kei te takiwā o te 48 anake ngā nēhi motuhake Māori i Aotearoa, arā, he 9% noa iho o te rāngai mahi.
Ko ngā anga huarahi e rua ka whakamahia ki te hiki i ngā tatauranga ko te kōrero āwhina me te tautoko mā ngā nēhi e whai ana i ngā tohu, tatū noa ki te mahi tahi ki ngā kaiwhakarato hauora matua ki te whakauruuru haere i tēnei mahi, hei tāna.
Ko te tāpiri i ētahi nēhi motuhake anō - ka whai ngā nēhi i ngā pūkenga ki te kohura me te whakahau - e āwhina i te hauora hapori, ā, ko te tāpiri i ētahi atu nēhi motuhake Māori, ka āwhina hoki ki te whakaiti i ngā tōritetanga hauora.
"Ehara ko ngā nēhi motuhake anake te urupare, engari he wāhanga o taua urupare," hei tā Davis, otirā he nēhi motuhake ia.
E whai ana te Kura Tapuhi, otirā he mea kirimana e te Manatū Hauora ki te tuku i tētahi hōtaka nēhi motuhake, ki te tāpiri i te 40 neke atu o ngā nēhi motuhake Māori i ngā tau e whā e tū mai nei.
I hono ake a Josephine ki te whare wānanga hei Kairuruku ā-Motu mō te hōtaka o Tāngata Whenua i tēnei tau mai i te PHE o Mahitahi Hauora, te rōpū hauora matua o Te Tai Tokerau, otirā ko tana mahi i reira he kaitohutohu nēhi. Ka whakapapa hoki a Josephine ki ngā hapū o Ngāti Manu me Ngāti Kōpaki, me ngā iwi o Ngāti Whātua o Ōrākei me Ngāpuhi. Ka hono ia ki tētahi rōpū e whai kē atu ana i ētahi nēhi motuhake e toru.
E ai ki a Tākuta Julia Slark, te Ūpoko o te Kura, "Ko te whakatupu i te āheinga o tō matou rōpū Māori tētahi mahi me tutuki i a mātou hei whakapakari i te rāngai mahi nēhi Maori, te whakapiki i te nui o ngā nēhi motuhake, me te hiki i te āheinga a te Māori ki te hauora."
 
Māori nurse practitioners set to play bigger role in New Zealand's health system
The University of Auckland's Josephine Davis is on a mission to boost the role of Māori nurse practitioners in New Zealand's health system.
She anticipates doing a lot of travelling – lockdowns permitting – to encourage more nurses to step up and get the qualification. For now, Aotearoa has as few as 48 Māori nurse practitioners, just 9% of the workforce.
Mentoring and additional support for nurses undertaking the extra study, as well as working with primary health care providers to integrate the role, are two of the approaches that will be used to help boost numbers, she says.
Adding more nurse practitioners – the nurses who have the extra skills to diagnose and prescribe – would aid community health, and adding Māori nurse practitioners, in particular, could help to reduce health inequities.
"Nurse practitioners aren't the only answer, but they're part of the answer," says Davis, who is a nurse practitioner herself.
The School of Nursing, which is contracted by the Ministry of Health to deliver a nurse practitioner programme, aims to add at least 40 Māori nurse practitioners over the next four years.
Josephine joined the university as the programme's National Coordinator, Tāngata Whenua, this year from Mahitahi Hauora PHE, Northland's primary health entity, where she was a nurse director. Josephine whakapapas to the hapū of Ngāti Manu and Ngāti Kopaki and the iwi of, Ngāti Whātua Ōrākei, and Ngāpuhi. She joins a team that already includes three Māori nurse practitioners.
Head of School, Dr Julia Slark says, "Building the capacity of our Māori team is exactly what we need to do to strengthen the Māori nursing workforce, increase the number of nurse practitioners, and improve Māori access to healthcare."
 
Media contact
Paul Panckhurst | media adviser
M: 022 032 8475
E: paul.panckhurst@auckland.ac.nz