Kei roto i te whakapapa tēnei mea te pūtaiao mō ēnei ākonga māhanga
Ko te tūwehe o te putanga o ngā māhanga ōrite te āhua, ko te kotahi i roto i te 250. Engari he aha te tūwehe e mīharo tahi ana ngā māhanga ki te pūtaiao, he tāura rāua o te whare wānanga kotahi, te tohu kotahi, ā, e mahi ngātahi ana rāua i runga i ō rāua tohu kairangi?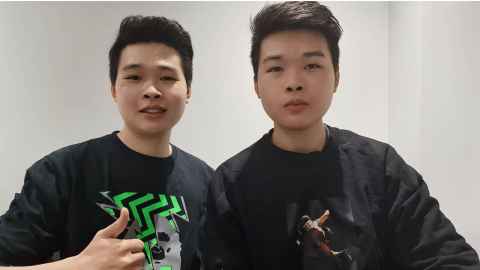 E mahi ana a Michael rāua ko Nicholas Pudjihartono i runga i ngā kaupapa rerekē i te kaupapa ako ōrite, te koiora ā-rorohiko, i te Liggins Institute i Waipapa Taumata Rau.
E rūmakina ana a Michael ki te mātai ira mate pukupuku, arā e titiro ana ki ngā irakētanga e ārahi ana ki ngā meranōma. Ka mahi a Nicholas i te wāhanga o te ako ā-pūrere ki te tautuhi i te mōrearea ā-ira o te whanaketanga o ngā mate awhikiri.
Mō ngā tokorua nei, 24 ō rāua tau, ka hoki ki te tamarikitanga tō rāua kaingākau ki te pūtaiao.
"Kua roa māua e noho mīharo ana i ngā pūtaiao oranga," te kī a Michael. "I te wā o te kura tuatahi i Initonīhia, i paruparu o māua ringa ko Nicholas i te kohikohi i ngā momo pōpokorua, pūngāwerewere, me ngā noke rerekē, me te whakaraupapa i aua ngārara. E maumahara ana au i uru māua ki te raruraru mō tēnei!"
I ahu mai te tokorua nei i Surubaya i Initonīhia, ā, he herenga tawhito tō rāua ki Aotearoa, tae atu ki te wā i noho rāua i Ōtautahi mō tētahi wā i a rāua e tamariki ana, ko te tau whakamutunga i te kura tuarua i Tāmaki Makaurau, ā, ka ako i te mātai matū koiora i Te Whare Wānanga o Ōtākou. Nō tēnei tau ka hono atu rāua ki a Liggins.
"Me he tūpono noa tā māua uru ki te taiwhanga kotahi mō ō māua tohu kairangi," te kī a Michael.
He kōrero meho, he pōhēhē rānei e pā ana ki ēnei māhanga?
"He nui ngā pātai ki a māua mo aua pōhēhētanga engari kāore i te pono," te kī a Michael. "Hei tauira, kāore ō māua mana ki te rongo i ō māua ake whakaaro, ā, ki te māuiui tētahi, e kore tētahi atu e pāngia i taua wā tonu."
Science is in the genes for identical-twin students
The odds of identical twins are about one in 250. But what are the odds that both twins are fascinated by science, graduate from the same university with the same degree, and end up working side-by-side for their PhDs?

Michael and Nicholas Pudjihartono are working on different projects in the same field, computational biology, at the University of Auckland's Liggins Institute.
Michael is immersed in cancer genomics, looking at the mutations that can lead to melanomas. Nicholas works with machine learning to identify the genetic risk of developing autoimmune diseases.
For the 24-year-olds, a love of science goes back to childhood.
"We have always been fascinated by life sciences," says Michael. "Back in our primary school in Indonesia, me and Nicholas used to get our hands dirty from collecting different kinds of ants, spiders, and worms and cataloguing them. I remember getting in a lot of trouble for this!"
The pair, who hail from Surubaya in Indonesia, have long ties with New Zealand, including a stint in Christchurch as kids, spending their final year of high school in Auckland, then studying biochemistry at the University of Otago. This year, they joined the Liggins.
"By some coincidence, we got into the same lab for our PhDs," says Michael.
Are there any myths or misunderstandings about twins?
"We get asked a lot about those myths but none of them are actually true," says Michael. "For example, no, we don't have telepathic powers, and we don't necessarily get sick together."
 
Media contact
Paul Panckhurst | media adviser
M: 022 032 8475
E: paul.panckhurst@auckland.ac.nz