Community Spectacle Scheme focuses on making eye health more equitable
A Community Spectacle Scheme recently launched by the University of Auckland is helping make eye care more accessible to all New Zealanders.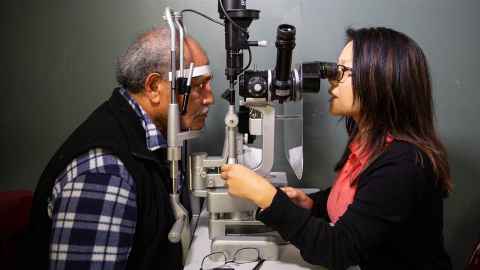 It was established by the School of Optometry and Vision Science to support its Community Eye Health teaching and research activities, which focus on reaching school children as well as Māori, Pacific and other under-served communities. People identified as needing spectacles during these activities can now be provided a pair, either partially or fully subsidised.
The scheme was made possible by funding from Helen and Barbara Blake, who are the daughter and granddaughter, respectively, of George Cox, a pioneer of optometry in New Zealand. Subsequently, lens-making company Essilor provided further support by subsidising the spectacle lenses.
The scheme has already had a significant impact. It was used to support a pilot population-based eye health survey conducted by the School in and around Glen Innes in July and August, whereby people with vision impairment were identified and invited to undergo a full eye examination.
Kava Vaka'uta, who took part in the pilot survey, says having an eye examination and receiving a free pair of spectacles has given him a new lease on life.
"Participating in this programme is one of the best things that ever happened to me, as my eyes are so important to me," he says.
"It makes a big difference in my life when I can do things independently without limitation because of my vision… this makes me feel happy and grateful."
Kava, 69, first noticed problems with his eyesight around five years ago when his poor vision began affecting his ability to read and work in the garden. Although he visited an optometrist and was given a prescription for spectacles, the cost of the recommended glasses was prohibitively high and he ended up buying a cheap pair at a convenience store. These helped him do some of his daily activities, but were far from adequate.
"Sometimes, I would ask one of my children or my grandson to help me with my gardening when they were around," he says.
"When they were not at home, I tried to do my gardening using the pair of glasses that I purchased from the $2 Shop, but I would not be able to finish what I wanted to do in my garden because my eyes became watery."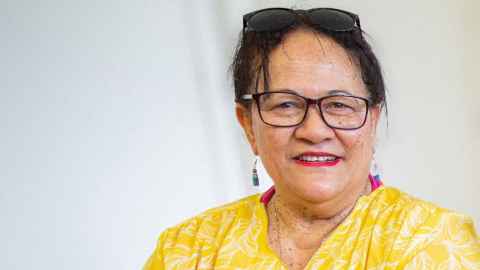 His wife Fulila also struggled to do many daily tasks, like sewing and reading to her grandchildren, because of her vision, and was forced to rely on other family members for help.
Now, thanks to the School of Optometry and Vision Science's Community Eye Health Programme, both Kava and Fulila have been provided with prescription glasses that are fit-for-purpose and are once again able to enjoy many things that were difficult or impossible to do before.
"I am so excited that I can continue to sew, that's what I love to do," says Fulila. "Reading for my grandchildren is a bonus – and we can also do things together like drawing, arts and playing games."
She says having access to spectacles has given her back her independence and "changed my life altogether".
The Community Eye Health teaching activities provide optometry students with the skills to engage with a broad range of New Zealanders, while its research activities aim to generate the evidence required to change policy and practice so that eye health services become more equitable.
Associate Professor Jacqueline Ramke of the School of Optometry and Vision Science says the pilot survey has uncovered a large unmet need for eye health services. It's hoped the pilot study will lead to a larger survey across the country to get a better understanding of eye health in Aotearoa. This can then inform a response to make good vision and eye health accessible for all New Zealanders, including historically under-served communities.
"We have been very fortunate to receive support from Helen and Barbara Blake as well as Essilor for the Community Spectacle Scheme, and also from the Buchanan Charitable Foundation, Blind Low Vision NZ and Peter and Rae Fehl for the pilot survey and subsequent eye examinations," says Ramke.
"The Community Eye Health Team at the School has and will continue to seek government funding to support our work. In addition, we hope to continue to collaborate with these and other supporters to generate the evidence required to improve eye health for all New Zealanders."
Media contact
Helen Borne | Communications Manager
Alumni Relations and Development
Email: h.borne@auckland.ac.nz