Doctoral student John Middleton: talking about Tokelauan
Although John Middleton doesn't speak Tokelauan, he's keen to ensure others do.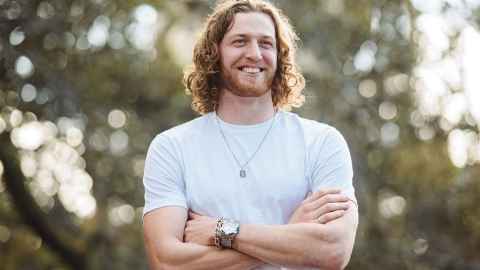 Promoting the language and talking about its structure are very different, but it still makes us want to keep the language alive.
The Tokelauan language is on UNESCO's list of the world's severely endangered languages.
Part of the reason for that is there are only approximately 1,500 Tokelauans living on the Pacific Island's three atolls – Atafu, Fakaofo and Nukunonu – but about 9,000 Tokelauans living in New Zealand. Of those 9,000, only around 2,500 speak fluent Tokelauan.

PhD candidate John Middleton (Linguistics, Faculty of Arts) is among those hoping the language will survive – especially as he is studying it for his doctorate. John's field is syntax, an arm of linguistics that looks at how words and phrases are arranged in sentences to form a language. The reason he's so interested in Tokelauan is that the word order can be quite different from English and even other Pacific Island languages.

"Even though I don't actually speak it, I'm interested in the language's preservation as well as the socio-political aspects."
For example, the impact of climate change on the atolls may see more Tokelauans come to New Zealand. When they do, words to describe things they see in their homeland can change or be lost.

"This is the difficulty with minority languages in a country where other languages are spoken. You tend to lose the language unless there's constant use at home or in the community."

He says with Tokelau immersion pre-schools in Wellington and Auckland, there's a growing realisation by the Tokelauan community that language is a treasure to be saved.

"You wouldn't just say, 'Oh well, look at all these rhinoceroses becoming extinct'. You would try to save them, wouldn't you?"

John is working with consultants on his PhD, people who speak Tokelauan, either fluently or otherwise. His key source of information about the language's structure comes from his work with Iutana Pue, a minister of the church in Auckland who is passionate about saving the language.

"Consultants aren't necessarily academic people, they just have to be language speakers," explains John. "You get people who have a strong interest in the language and people who don't really care but they're just as useful, because all that matters is that you're getting these native speaker judgements."

John says in his research – looking at language structure – it isn't vital that you speak the language, although obviously it would be helpful.

"I would love to put in the time to learn a language other than English but I am doing my PhD and teaching linguistics as a graduate teaching assistant."

He says Samoan would have the closest structure when you compare languages, but there are big differences. "The boat ride from Samoa is about 500km and takes about 24 hours. So they are close but not close. When you get into the nitty-gritty of the two languages, you see they are very different."

John's research has seen him explore the syntax of other languages too, including Bieria, spoken by only around 25 people in Vanuatu, and the extinct language Moriori in the Chatham Islands. He has planned a research trip to the Chatham's to coincide with his mother taking up a role as a locum doctor there early next year.

John, 26, came to New Zealand with his family when he was eight, from Leicester in the UK. He grew up in Motueka, near Nelson.

"We had transferred here because my family got sick of the life and traffic in England and they took a punt. It was meant to be for a year!"

He went to Motueka High School and then headed to Auckland, completing an anthropology degree with a minor in linguistics.

"I got a bit tired of uni after that and went off and sold toasters at Smith & Caughey's. Mum loved it – we could talk about toasters."

When he returned to the University, he had to choose.
"Linguistics got me interested because of the scientific and sometimes mathematical nature of it. The fact that if you did an experiment, you either came out with this or that, there was no fudging anything because you're using data.

"After I finished my honours degree I realised that here we are, sitting in this amazing place in the South Pacific with interesting languages all around. I was also aware there hadn't been a pile of linguistic research into Tokelauan in the past 20 years, and that's an important time period."
You wouldn't just say, 'Oh well, look at all the rhinoceroses becoming extinct'.
You would try to save them, wouldn't you?
With Tokelau speakers in Auckland and Wellington, his fieldwork is relatively easy, when Covid-19 alert levels allow. But he is eyeing a visit to Tokelau when he can travel again.

"Obviously I need to go with a Tokelau speaker to the atolls. It would mean a chance to work with speakers there to look at what they have collected of the language. It's a really interesting language full of idiosyncrasies.

"Take the sentence in English 'John didn't eat the pies". In English we can add emphasis to certain words, and it changes the meaning. So for example, if we said 'John didn't eat the pies', it would imply someone else did. Or 'John didn't eat the pies', it implies he ate something else. We can stress a word to create a change in meaning.

"In Tokelauan, they have that ability, but also have an extra ability to move the word to a position just past the verb, and it does exactly the same thing. So if they wanted to focus on John, they would put him directly after the verb eat. So it'd be 'eat John pies'. The movement of a word is a really interesting concept."

This time last year John was interviewed on RNZ after writing a piece for Newsroom to coincide with Tokelau Language Week. "I received some nice emails and responses from Tokelauans who said it was it was good to promote the use of the language and to hear about it from an academic perspective, even though I'm not a speaker.

"Promoting the language and talking about its structure are very different, but it still makes us want to keep the language alive."

John also believes it's important for academics to let the general public know about their work, especially when there's an impact on society.

"There's so much research being done that we should be sharing it; we often receive public funding to do it."

He recently won recognition from the Polynesian Society, receiving a Bruce Biggs Scholarship for his work on the Tokelau language.

And while John is busy with the PhD and teaching, and a plan for a linguistics academic career, he hopes the end of 2021's lockdown will lead to some fun and games like it did in 2020.

Back then, he and two friends completed a cross-country tour of 85 mini-golf courses over a month, to raise money for the Mental Health Foundation, much needed post lockdown.

"It had been a bit of a random idea at first, but it was one we went through with, playing mini-golf from Invercargill to Kaitaia. We ended up raising about $8,000 which was nice."

Denise Montgomery
Tokelau Language Week, Te vaiaho o te gagana Tokelau 2021, is from Sunday 24 October to Saturday 30 October.
This story first appeared in the October 2021 UniNews