A new and very contemporary take on the quarter acre dream
A photo featuring a sleeping person in bed, houseplants, and a print of Frank Lloyd Wright's 'Broadacre City' - his plan for a 'perfect but very imperfect community' - is this year's winner of the Simon Devitt Prize for Photography.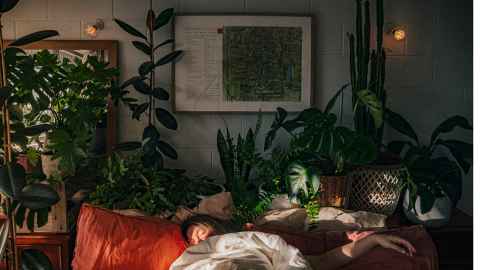 The 2021 theme for this Prize was 'Take Refuge' and won by Chloe Alderton who is in the final year of her Master of Urban Planning (Professional) and Urban Design, for her image, The Quarter Acre Dream.
"The photo was taken in my bedroom at the very beginning of lockdown in the midst of losing all sense of time and days," says Chloe.
"I wanted to capture a small fragment of what a space of refuge looks like in these strange times. The idea of refuge seemed funny in relation to this idea of a 'perfect but very imperfect community' of Frank Lloyd Wright's Broadacre City and the 'Quarter Acre Dream' - when we are living in tiny spaces through lockdowns in the best way we can."
In her case and space, that refuge included the collection of pot-plants that have travelled with her from flat to flat over the years and capturing "the peace that comes from surrounding ourselves with nature inside - what seeking refuge in the best way we can looks like.
"The sunset light that leaks through the same windows everyday into this room is what makes the space all that more special - and I know that people love spending time in this house because it is filled to the brim with houseplants that make it a gentle space to spend time in."
Chloe says she has always loved capturing spaces and places in many forms. She is a Design graduate of Toi Whakaari; New Zealand Drama School, Wellington, where she studied film and theatre design.
"So that has always been a part of the way I work. Photography is a huge asset in Urban Design and Planning - being able to capture a site both for analysis or to articulate a sense of place is a fundamental part of the process."
The Simon Devitt Prize for Photography is an annual competition open to all Creative Arts and Industries students, a chance to showcase the photographic perspectives from some of New Zealand's most talented creative minds.
Simon Devitt says he was drawn to the simplicity, familiarity, and ambiguity of Chloe's photograph.
"We can see ourselves in this image, we know what this refuge is like and we know how appropriate it is in these Covid times … something super familiar, deeply connected to our ritual and routine as a measure for everything else. A point from which to take off. Is it safe to leave?
"Technically the composition, the way the scene is subtly crafted, and the quality of light combine to create the allure and relevant ambiguity to keep us looking beyond what is usually expected."
The 2021 Simon Devitt Prize for Photography, Take Refuge, can be viewed online.