Student project yields real-world business solutions, internship opportunity
A final-year Strategic Digital Marketing course enabled a group of Master of Marketing students to test their strategy with a live client, STIHL, resulting in offers of internship that were a big boost to the students' career prospects.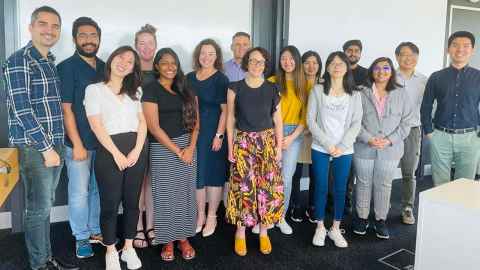 The course, BUSMGT 755, aims to coach students to create a digital marketing strategy, use digital marketing channels and prepare them for practical requirements of digital roles. At the end of the course students provide their client with a video pitch, which outlines a digital marketing strategy and digital campaign aligned with this strategy.
This year, the Business School engaged with outdoor power tools company STIHL, which provided a project idea for the students to work on. The idea was to create a digital marketing campaign to engage customers with their newly launched website. STIHL's Jochen Speer (Managing Director) and Nikki Egene (E-Commerce Manager) were on hand to evaluate the students' recommendations, together with Dr Julia Fehrer, who was the students' lecturer, mentor and coach.
"STIHL was a great client for us to work with. The challenge was really interesting and reflected what many companies with physical stores and franchise networks face in times of the pandemic – the shift to online orders and digital service," Julia reflects.
She adds, "We learned a lot about STIHL's values, unique value proposition and the business model. The technological innovation, the way of dealing with sustainability in their business processes and the strong partnerships with the shop owners were really impressive and set the stage for our strategic recommendations. I personally enjoyed working with Nikki and Jochen, they were both very open for the student's suggestions and excited about the project – and so were the students."  
The project
The students were given individual tasks, including desk research related to potential target groups and conceptualizing value co-creation processes between STIHL and its stakeholder network. In small groups they further analysed potential digital business opportunities for STIHL based on two fast-paced design thinking workshops. Finally, the knowledge gathered on social media, SEO, CRM and digital advertising throughout the course provided a solid base to create a digital marketing strategy for STIHL presented in a 20-minute video pitch. As part of the course, the winning team was to be offered a two-month internship with STIHL when they finished their degree.
"We wanted to hear ideas from digital natives. We also wanted to hear from people that were not overly immersed in the brand to see if this would bring new ideas and a fresh perspective. In addition, one of our strategic goals is to attract younger customers so we thought the students would have some good insight," Nikki explains.
After hearing the presentations, Nikki said they were very impressed with the ideas that the students came up with and how quickly they came to understand the brand and the challenge. They decided to offer the internship to the team made up of Lien Ngo, Shivam Khilnani and Leema Rodrigues. 

For international students like me ... getting this internship was a dream come true.
Lien vividly remembers the moment their lecturer called her team to tell them the good news.
"We were so surprised when Julia announced that we got the internship. To be honest, all of us had forgotten about the internship because we were focused on putting 100% into the project. After all the hard work, we felt so happy and proud of ourselves and our project, especially since all of us were international students. This internship meant a lot to us."
"We were over the moon, absolutely overjoyed! For international students like me, finding work experience opportunities is a challenging and long-drawn process. Getting this internship was a dream come true. We were ecstatic to see the fruits of our labour," Shivam recalls.
Guidance and support
It's critical that students [trust] their knowledge, their own research and the
knowledge of their team. This is where the magic happens and where [winning]
ideas are born.
Both Shivam and Lien also expressed their immense appreciation for the support and guidance from their lecturer, Dr Julia Fehrer.
"As this was a first digital marketing project with a live client for all of us, Julia's guidance and suggestions always provided a sense of confidence and kept us on the right track. She used to check on us frequently through her periodic milestone meetings," Shivam recalls.
"Julia really knows how to push us to reach a higher level of our ability. Her guidance and feedback motivated my team to work harder until we found the answer that we had been looking for for weeks," Lien says.
Julia says she strongly believes that students at this stage of the master's programme need her less as a lecturer, and more as a coach.
"Seeing students exceeding what they believed they can do is the most rewarding part of my work. Of course, the content is critical and I provide them with the whole suite of what digital marketing has to offer. More importantly, I have industry experts in the course to talk about the latest buzz in SEO, analytics, CRM and AI," Julia explains.
"However, it's critical that students take the next step and take on the mindset of a digital marketing consultant. That means trusting their knowledge, their own research and the knowledge of their team. This is where the magic happens and where ideas, such as the one presented by the winning team are born."
Internship and beyond
We found [the internship] to be a valuable experience and we enjoyed having some new blood in the office with fresh ideas. It also allowed us to advance more quickly.
During their two-month internship, Shivam and Lien started doing the foundation work that would allow STIHL to implement some of their ideas, as well as gaining a range of transferrable business skills. Leema had to pass up the internship offer because she had at this point already been offered a permanent job as Marketing Communications Specialist at Schneider Electric owing in part to her STIHL project experience and other skills.
"My internship at STIHL was my first working experience in New Zealand, hence it is super meaningful to me. I had a chance to expose myself to the Kiwi working environment, especially the collaborative and friendly environment at STIHL, and apply my marketing knowledge into practice and gain valuable work experience," Lien reflects.
Lien is now working as a Sales and Marketing Specialist at a property management company and credits the internship as an important stepping stone towards her career.
Shivam enthused, "Immediately upon graduation, the internship gave me valuable NZ work experience and a chance to get accustomed to the Kiwi work culture as well as expand my professional network. The internship has certainly made me more confident and qualified heading into the job market."
Shivam currently works as a Research Assistant with Dr Julia Fehrer to explore disruptive blockchain-based business models and their potential to shape the art sector in New Zealand.
Organisations interested in engaging with the Business School for this course and other opportunities for collaboration can get in touch with Christine Mullan, Career Development and Employer Liaison Manager, and we will be pleased to follow up.