Top international award for Neera Jain
Equity advocate Dr Neera Jain was named Best Doctoral Report Winner at the Association for Medical Education Europe (AMEE) conference recently.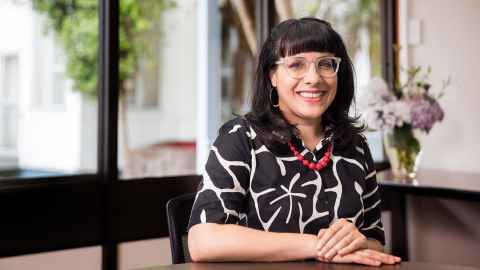 AMEE is a worldwide organisation with members in 90 countries and their annual PhD/Doctoral Awards are open to researchers in health professions education.
Dr Jain was surprised and delighted with her win – and hopes to be able to celebrate it soon.
"I had watched all the other doctoral report presentations and felt really humbled to be in such good company. All the presenters shared such diverse and important work that we were all so invested in, I imagine that the committee had a really hard job!"
She says she immediately let her supervisors (Professor Jan Gaffney and Associate Professor Jay Marlowe) know, as they are always her "biggest champions and cheerleaders", and guided her so well on her doctoral journey.
"I had planned to celebrate when the lockdown was over, I thought maybe we'd be back in the world after a few weeks. So, I think I actually forgot to celebrate! Good reminder to do something nice soon."
Successful applicants submitted their complete thesis and then give a 10-minute presentation to attendees at the conference, which was held entirely online because of Covid-19.
 
We know doctors are successfully practicing with disabilities, but medical training can act as a barrier. If we can reimagine the foundation of training offered, we can make conditions better for all students.
Presenting to a virtual conference had its challenges, not least because you miss out on the face-to face experience , and also because she didn't even realise she'd won, says Dr Jain.
"I actually found out that I'd won on Twitter. My presentation was at 9pm New Zealand time, and I didn't know at what time they would announce the overall winner. A few days later I thought I'd check Twitter, and that's where I saw they had announced me as the winner!"
As a result of her presentation, Dr Jain has been invited by Deakin University in Australia's Centre for Research in Assessment and Digital Learning (CRADLE) to write a chapter in an upcoming book on how assessment can impact inclusion, equity and access in higher education.
Dr Jain's PhD thesis focused on disability inclusion in medical education, and includes perspectives of disabled medical students as well as faculty and administrators from their schools.
"Disability inclusion is influenced by a culture of ableism in medical education, and institutions often wrestle with the assumption that disabled people might lesson the quality of care – but this view is now being challenged," she says.
In April 2021, the Medical Deans of Australia and New Zealand announced they intend to offer disabled students more support to reach their potential. Professor Peter Crampton, former Dean of the Otago Medical School, said:
"For those students with a disability who are looking to pursue a career as a doctor and have the capabilities and attributes needed, there are many ways they can be supported to enter and progress through a medical programme."
Dr Jain hopes her research will help address conditions such as those that lead to high burnout and depression rates for all medical trainees – both disabled and non-disabled.
"All this is rooted in the idea that doctors are always superhuman and beyond perfect. But if we can recognise doctors as being human, and flawed, that means we can look at new ways of doing medicine and different ways of training our medical professionals.
"We know doctors are successfully practicing with disabilities, but medical training can act as a barrier. If we can reimagine the foundation of training offered, we can make conditions better for all students."