Compelling cancer survival story brought to the screen
If you were saved from dying, how would you live? This was the question facing Kiwi David Downs, former comedian turned successful business person and author, after he survived a rare blood cancer, despite being told he had only months to live.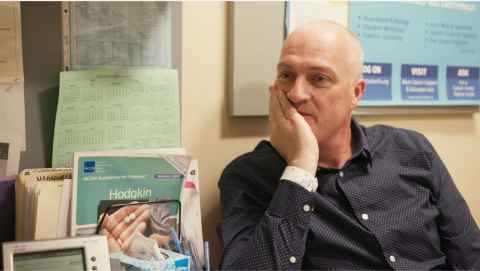 David Downs is the focus of A Mild Touch of Cancer , a documentary feature by filmmaker Professor Annie Goldson from the University of Auckland, which is airing on Prime TV on 19 October at 8.30pm. A feature version will show at the NZ International Film Festival in November.
Professor Goldson tells David's extraordinary story, from gruelling rounds of chemotherapy in New Zealand to a last ditch hope; the chance to enter a revolutionary CAR T-cell therapy trial at Massachusetts General Hospital in Boston, thanks to a chance connection with a top Pfizer executive in New York.
The film also charts David's energy, warmth and generosity as he helps many other New Zealanders facing their own cancer experiences.
Professor Goldson says it's the first time she's had the challenge of blending human interest – besides David, the film also follows three other cancer stories – with clear explanations of complicated science, and science history; all against a backdrop of Covid-19 and a heightened interest in how diseases work.
"It's actually quite hard to visually represent science, so I ended up doing all sorts of things like getting great animated drawings done and recreating a science lab from 1900 in my kitchen using the University's stash of old glassware, a borrowed microscope and a white coat!"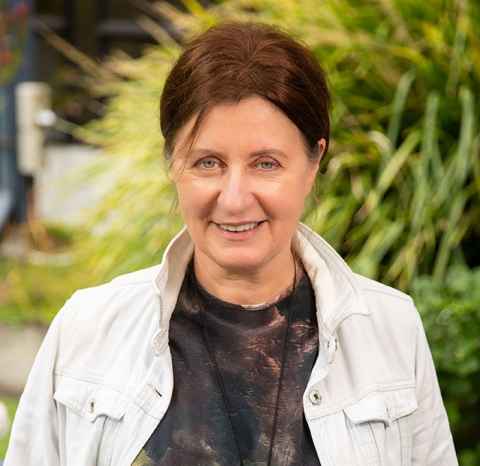 CAR T-cell (Chimeric Antigen Receptor) therapy works by harvesting and redirecting the patient's own immune cells, via genetic modification in the lab, to identify and directly attack cancer cells after being reintroduced back into the body. The T-cells can then act as 'living drugs', providing long-term protection against relapse, similar to a vaccine.
Based in the near present, the film hinges around an entertaining live talk David gives about his cancer, and then cuts in and out of his rollercoaster experiences in New Zealand and the US, (he made 12 trips to Boston to complete the trial), some of them filmed by David himself on his phone at some of his lowest moments in North Shore hospital.
It then weaves in the three three other diverse characters with advanced terminal diagnoses (and their families), who also end up taking part in T-cell trials thanks to David's own post-cancer decision to do everything possible – fundraising, counselling, advocating – to support people going through the same traumatic process.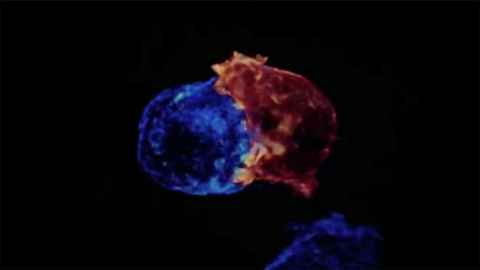 Filming people's life and death moments 'in real time' was a delicate thing and a matter of trust on both sides, says Professor Goldson, especially as no one knew what the outcomes would be.
"I was very conscious that we were filming intimate scenes with vulnerable people and we had to be very respectful of that."
CAR T-cell therapy still remains in the trial phase internationally, but since David's experience in Boston, the Malaghan Institute in New Zealand, in partnership with Wellington Zhaotai Therapies, is developing and trialling a 'third generation' CAR T-cell therapy.
A Phase I safety trial – ENABLE – got underway at the end of 2019 for people with certain types of B-cell non-Hodgkin lymphoma who have exhausted other treatment options. The Institute is also researching ways to improve the therapies and extend them to other cancers beyond those connected to the blood (lymphomas, leukaemia and myelomas).
 
I was very conscious that we were filming intimate scenes with vulnerable people and we had to be very respectful of that.
 Professor Goldson made the film over two years, with co-producer and masters film student Irene Chapple, in between her lecturing and other commitments in Media and Communication within the Faculty of Arts.
"The University has been generous with time, and also now recognises my films (her most recent being The Eruption: Stories of Survival, on the deadly Whaakari/White Island eruption, and Kim Dotcom: Caught in the Web, the rise and fall of internet entrepreneur Kim Dotcom) as research. Having to work around Covid lockdowns was a difficult juggle at times, but we made it."
As well as producing, writing and directing, Professor Goldson also did the film's sound recording and a fair bit of editing, creating three versions: a 44-minute one for New Zealand television, and two other extended versions for international broadcast and festivals.
Unfortunately the Auckland International Film Festival premiere screening and charity fundraiser has had to be cancelled due to current alert levels. However the Wellington festival event will be going ahead on 12 November at 6.15pm at the City Gallery with Christchurch and Dunedin screenings rolling out after that.
The film is also in competition at the Imagine Science Film Festival in New York, streaming free in the US only at 5pm on 21 October.