Behind the scenes with the PM's Chief Science Advisor, Dame Juliet Gerrard
Juliet Gerrard has brought her own style to the role of the Prime Minister's Chief Science Advisor, as a new documentary shows.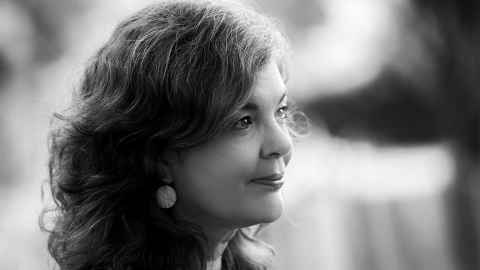 Professor Dame Juliet Gerrard admits she felt somewhat daunted by her only venture into the Beehive bunker – the National Crisis Management Centre.

It was following the Whakaari disaster in December 2019 and the Prime Minister's Chief Science Advisor wasn't sure of exactly how she fitted into the work being done there.

"It's a very intense environment," she explains. "Everybody knows their place and role. It was quite daunting initially, but [former director of Civil Defence] Sarah Stuart-Black really made scientists feel at home in there … she's the type of person who encourages connectivity with the research community and facilitates getting scientific evidence into decisions."

That's also Dame Juliet's role as Chief Science Advisor. The role and science is the focus of a documentary by alumna and filmmaker Shirley Horrocks, who spent three years filming Dame Juliet for Juliet Gerrard: Science in Dark Times which screens in Wellington at the NZ International Film Festival.

About that Dame word.

"I try to stick to Juliet," she says. "I don't in any way want to diminish the honour. It's a bit of a tightrope, but I try to keep it casual."

At first, she was reluctant to take the title but did so for science. Particularly for women in science. The Juliet people at the University know has a chat and a laugh with postgraduate students in Old Government House when she can, resplendent in her cycling gear. "That has been my home turf. I really enjoy the postgraduate environment. It's relaxation from the most stressful parts of the day job, and keeps that connection with the students.

"It's good to share my experiences with postgraduate students, in particular, not just professionally but personally, to unpick some of those misconceptions people have about whether you can have a career and be a mother. There still aren't many senior women in science."
I try to stick to 'Juliet'. I don't in any way want to diminish the honour. It's a bit of a tightrope, but I try to keep it casual.
Each week, Juliet works four days in the advisory role and one day at the University, with postgraduates. She squeezes in some research, but her days are beyond full. The government pays her salary to the University for the days she works in the Office of the Prime Minister's Chief Science Advisor (OPMCSA, pmcsa.ac.nz). She has been in the role since 2018 and was recently reappointed for another three years.

Shirley captures the first three years in Science in Dark Times. The documentary uses material Shirley had filmed in a series of science videos for the OPMSCA, in which Juliet features. They cover subjects such as rethinking plastics, fishing, cannabis and, of course, Covid-19. The plastics video includes a conversation between Juliet and renowned primatologist Dame Jane Goodall.

Then came the intensity of Whakaari, terrorism in Christchurch and the pandemic. Juliet says her role is all about connecting with the scientific community.

"I have very high connectivity to a lot of scientists and just call on whomever I need. We also have five people in the Office who are great; all have a science or policy background."

After making all the short films, Juliet says Shirley was very keen to package the footage into one documentary and add some personal material about Juliet.

"That's how it came about. I'd been reluctant because I didn't want it to be all about me. But Shirley reassured me it was about the role and the science. And one of the things I was really keen on, was recording the work we did and all the expertise that we were drawing on. A lot of the filming was done after big events, and captures reflections from key players," says Juliet. "There was that nice, long, Covid-free window when we could do quite a bit.

"With the second wave, there was lots of different science to include such as genome sequencing. We needed to capture the role geneticists played, and people like Professor Mike Bunce, the Environmental Protection Authority's Chief Scientist.

"The last part of the documentary was the hardest because everyone was in the strictest of bubbles and breaking your bubble to have a filmmaker there just wasn't appropriate."
My primary role is to advise the prime minister on science, not to advise the rest of the country.
They got there in the end, including moments with Juliet on holiday on Great Barrier Island.

"Juliet is a natural on camera," says Shirley. "She has an interesting back story and a subtle humour."

Juliet was born in Nottingham in the UK and has a first-class honours degree in chemistry and a DPhil from Oxford. She moved to Christchurch in 1997 to work for the NZ Institute of Crop and Food Research (now Plant and Food) and then taught at Canterbury University. For a while, her academic career carried on alongside raising a son and a daughter, and she started at the University of Auckland as a professor in 2014.

Juliet's specialist research area is protein biochemistry. For different areas of science, she calls on the expertise of others – such as for Whakaari, Covid-19 and the many other scientific challenges facing New Zealand. In doing so, she says she has educated herself.

"One reason I said yes to this role was I love learning new disciplines and understanding how different disciplines communicate. I used to chair the Marsden Council, so I came to understand different frames of thinking and ways of viewing the world and bringing all those voices together."

She admits, with the knowledge she has gained, it might be hard to go back to her quite narrow field of protein biochemistry.

"I have always loved teaching though. I did a teaching session this year in the 'Biological Science in a Post-Truth World' course, talking about the interface of science and society. That was fun.

"I'm looking forward to making more contributions in the science and society area because it's something I've learned a lot about. It's great to expose undergraduates to that side."

In the PM's Chief Science Advisor role, she is determined to be "rigorous, transparent, accessible and inclusive".

Her role is independent of the government, as she's not an employee as such, meaning she is free to speak out on issues if she wishes.

"If you're a direct government employee, speaking out against government policy becomes very difficult. Whereas this role has a degree of independence so I can, for example, speak to the press whenever I like, I just have to do a 'no surprises' declaration, so that the office knows who I'm talking to and what I'm going to say, which is reasonable. It's important to have that freedom."

If the government decided to do something that didn't stack up with the scientific evidence base, Juliet would also be free to discuss that, but so far it has shown it is willing to listen to scientists in many areas, not just Covid.

Juliet doesn't see herself as part of the 24/7 news cycle and also chooses not to speak on behalf of scientists unless required.

"My primary role is to advise the prime minister on science, not to advise the rest of the country.

"I don't see my role as to regularly pop up on the news. That was a strategic choice. If you're close to decisions of government and you're going to be honest about the advice you give, you can't release that before a Cabinet decision. You'd become somewhat compromised if you're advising in confidence and also talking to the media.

"My approach has been to do long-form media, after decisions are made or after reports are released, so I'm still accessible. If you look at the media section on our web page, you'll see it's all there. I have deliberately kept behind the scenes and let other people front things."

She cites, as an example, Professor Ian Lambie (Psychology, Faculty of Science) who has written a series of reports released through the OPMCSA.

"He's the Chief Science Advisor to the Ministry of Justice. In my predecessor's days, it would have been Sir Peter Gluckman who fronted those reports. But I was very keen for Ian to front his own report. So I shifted the model.
"It means there are more faces out there talking to their expertise, rather than me fronting all of them."

Disappointingly for Shirley, who lives in Auckland, Science in Dark Times won't screen in Auckland after the NZ International Film Festival was cancelled there because of Level 3 restrictions. Instead, it will premiere at the Embassy Theatre in Wellington on 7 November followed by screenings at the City Gallery on 8 and 9 November. Anyone can, however, see the videos that form the basis of the film on the OPMSCA website under topics. 

Shirley says working with Juliet was a rewarding experience.
"She's a remarkable woman. Leading scientists have a lot in common with artists, in their energy and their ability to think creatively. Like artists, they are too little known. They ought to be household names, yet many of them never gain a public profile."

"I'm pleased to hear her say that," says Juliet. "People tend to think of artists as creative and scientists as more data-driven and nerdy. But scientists are very creative. You need rigour and all the experimental methods to test your idea. But you need the idea in the first place."

Denise Montgomery

Juliet Gerrard: Science in Dark Times
Juliet Gerrard: Science in Dark Times
Embassy Theatre, Wellington, 7 November
City Gallery Wellington 8, 9 November. 
This story first appeared in the November 2021 edition of UniNews.