Up-and-coming researchers awarded for tackling tomorrow's health challenges
Wearable sensors for monitoring patients after surgery are among the projects of up-and-coming health researchers winning recognition.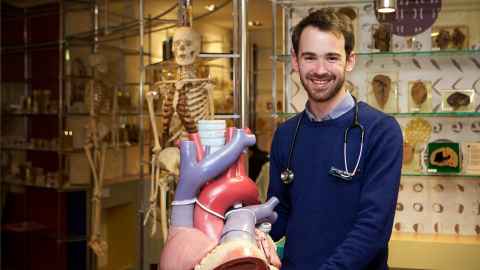 A University of Auckland PhD student working on wearable sensors to monitor patients after surgery was recognized as one of New Zealand's promising emerging researchers in the latest funding from the Health Research Council.
Dr Cameron Wells, of the Faculty of Medical and Health Sciences, wants to create a device to monitor patients in the high-risk period after abdominal surgery.
The annual Career Development Awards from the HRC awarded $11.3 million to academics nationwide to undertake high-quality research and develop the skills to address current and future health challenges.

Among this university's winners were three recipients of Sir Charles Hercus Fellowships:
Dr Daniel Conole (smart drug discovery)
Dr Mickey Fan (stroke treatments)
Dr Stuti Misra (corneal nerves)
More award winners included: Dr Joshua Chang, Dr Phillip Chao, Dr James Jin, Dr Joevy Lim, Dr Kai Sheng Saw, Dr Amanda Taylor, Miss Ricki Steiner Taepa, Miss Eulalie Turner, Mr Brendon McIntosh, Mrs Bobbie-Jo Pene, Dr Edmond Fehoko, and Dr Sainimere Boladuadua.
 
Media contact
Paul Panckhurst | media adviser
M: 022 032 8475
E: paul.panckhurst@auckland.ac.nz