Vision bus gets the green light from generous benefactors
It's amazing where a conversation in a car can lead.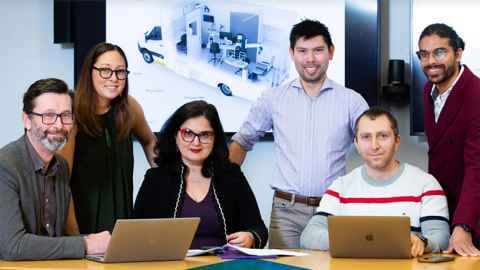 For Peter and Rae Fehl it led to a wonderfully generous act with the power to enhance many people's lives, both directly – through the gift of clearer vision – and indirectly, by supporting optometry training and enabling research.
Their conversation was inspired by an interview on RNZ's Nine to Noon with Professor Steven Dakin, Head of Optometry and Vision Science at the University of Auckland. One out of ten New Zealand children who need glasses do not have them, he explained, mainly because of a lack of screening, caused at base by a lack of funding. One solution, he suggested, was the launch of a fully equipped mobile clinic, to look at how vision testing can be taken to people who were unlikely (often because of cost) to arrange it for themselves.
"That interview blew us away," says Peter Fehl. "We very much feel that there is inequality in this country, which means some can get services that others cannot.
"We also feel strongly for children without good vision, who are likely to turn off learning as a result."
Says Rae Fehl, "The interview was so captivating and so very interesting that we got to our destination and said 'We think we might be able to do something about this'."
The result, which Professor Dakin describes as "just wonderful" is that they decided to do just that. Thanks to their generous gift of $1.8 million, spread over five years, the Aotearoa vision bus project is under way. The funding is being used to purchase a vehicle to be fitted with state-of-the-art clinical equipment. It will also support the appointment of an administrator, plus a fulltime senior optometrist supervisor.
The bus, in addition to providing services to the community, will provide a platform for both training and for much-needed research. The research promises to reveal how mobile optometry services could support more equitable access to eye healthcare services across Aotearoa.
Media contact
Helen Borne | Communications Manager
Alumni Relations and Development
Email: h.borne@auckland.ac.nz