Robert Ellis (1929-2021): committed to biculturalism and ethical arts practice
Robert Ellis (1929-2021) was made Lecturer in Design at Elam School of Fine Arts at the age of 28, where his fresh approach, energy and up-to-date knowledge made him a magnet for restless art students.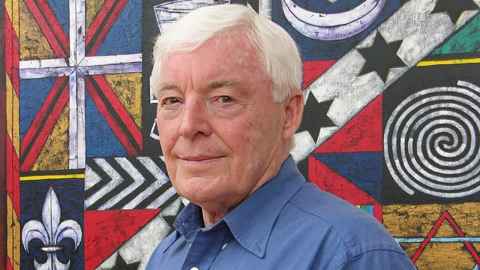 Ka tangi te tītī
Ka tangi te kākā
Ka tangi hoki ahau

E ngā mana
E ngā reo
E ngā kārangaranga maha o Te Ao
Kua hinga te Totara nui o te Waonui a Tane.

Waipuketia te Puna Horotiu
Parawhenuatia nga roimata, te hupe i runga o Waipapa Taumata Rau

E te Rangatira, e koro Robert Ellis, ka nui o mahi e oti nei i a koe.
E kore mātou e wareware.

No reira e te Rangatira haere
Haere atu rā ki te kāhui whetu e takahia rā i te po

E Koro
E moe
The University community was saddened to learn of the loss of one of its most important former staff, Emeritus Professor Robert Ellis, who died on 23 November in Auckland, aged 92.
Growing up in England during a period of enormous upheaval, Bob Ellis's artistic and musical talents (he was an accomplished classical guitarist) flourished with the loving support of his close-knit working class family in Kingsthorpe, West Northamptonshire.
At 15, rather than following his father into working in the local shoe factory, he studied at the Northampton School of Art for three years, winning a scholarship to the prestigious Royal College of Art, an hour to the south in the heavily bombed metropolis of London.
National Service in the Photographic Unit of the Royal Air Force followed, giving him the unique aerial perspective on landscape which later came to characterise his paintings. During his four years of study for a diploma in art and design, the Festival of Britain took place (1951) providing a huge boost to designers, and he encountered the Irish-born figurative painter Francis Bacon (1909-1992).
These were both major influences on Ellis who became committed to the importance of design for revitalising a nation, and shaped his own practice as an image maker who communicated significant concepts.
After four years teaching at the Yeovil School of Art in Somerset, where one of his students was Pop Art's leading practitioner Derek Boshier (born 1937), he was appointed the inaugural Lecturer in Design at Elam School of Fine Arts, Auckland University College, in 1957 at the age of 28.
Here his fresh approach, energy and up-to-date knowledge made him a magnet for restless art students who were bored by the older lecturers and their academic approach. In 1959 he facilitated postgraduate study at the Royal College for a young Barrie Bates who, in his last year there, transformed himself into Billy Apple (1935-2021).
Although he only intended to stay in New Zealand for a short period, he continued teaching at Elam for 37 years. Remembered by his students and colleagues as a caring and inspirational teacher, he modelled both intellectual curiosity and a commitment to ethical art practice.
On his arrival in Auckland in the late 1950s, Ellis was disappointed to find that there were no dealer galleries and a dearth of places to exhibit. Design was being promoted by the Department of Industries and Commerce under Bill Sutch (1907-1975) who sponsored the New Zealand Industrial Design Council.
Consequently, Ellis took a leading role on the council of the Auckland Society of Arts, and was the foundation president of the New Zealand Society of Industrial Designers. His close friend Hamish Keith, who was working at the Auckland Art Gallery, has praised him for his commitment to shaping an infrastructure for professional artists in Auckland.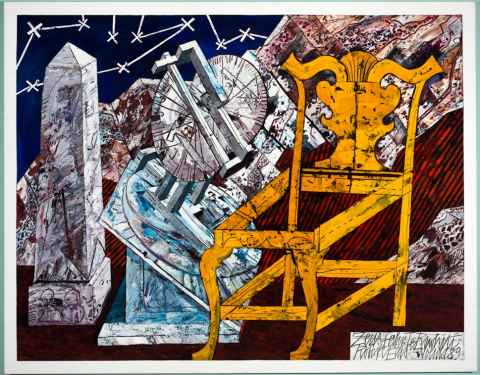 After an initial period of fascination with depicting the spaghetti loops of Auckland's motorway system once he got his first car, Ellis's own art practice shifted to a deep investigation of Māori tikanga and design principles. Learning from legendary master carver Pine Taiapa (1901-1972) and the parents of his wife, the artist Elizabeth Ellis née Mountain (Ngāpuhi, Ngāti Porou, born 1945) whom he married in 1966, he began to slowly introduce into his work symbolism related to both Māoritanga and his Anglican faith. Traffic systems were superseded by depictions of beautiful Te Rawhiti Marae and Rakaumangamanga (Cape Brett Peninsula northeast of Russell) from 1974 onwards.
Huge commissions for the arrival's hall at Auckland Airport and a tapestry for the Aotea Centre are two of the highlights of his career. Lithographs such as Aroha in the University's Art Collection, with its cruciform format, fish and chalice balanced on an outstretched hand, exemplify his skill at creating iconic images by blending spirituality, pattern and colour anchored in a bicultural framework.
His designs for New Testament scenes in stained glass which are installed in the east wall of the nave of Holy Trinity Cathedral, Parnell continue to infuse the space with miraculous colour and beauty.
A meticulous worker with abundant practical craft skills, he participated in the rebuilding of his whanau marae complex at Te Rawhiti in the eastern Bay of Islands, as well as the family home in Birkenhead.

In 1970, he rejoiced in the birth of twin girls, Ngarino (now an associate professor in art history at the University of Auckland) and Hana (a District Court judge in Whangārei) who have become leaders in their fields.
An inveterate traveller, he took his family overseas with each sabbatical, spending extended periods in Spain, where he honed his techniques with flamenco guitar. A key figure in the New Zealand Society of Sculptors, Painters and Associates, he exhibited latterly with the New Zealand Contemporary Medallion Group.
Given a personal chair at Elam in 1992, he was Head of the Painting Department from 1994. Professor Robert Ellis retired from teaching in 1999 in time to welcome the arrival of three grandchildren, Emere, Hana and Takimoana.
He was appointed an Officer of the New Zealand Order of Merit for services to fine arts later in 2001, and was accorded a major retrospective at the Auckland Art Gallery in 2014. His contribution to the arts in Aotearoa will not be forgotten. Moe mai, moe mai, moe mai ra.

- Associate Professor Linda Tyler, Convenor of Museums and Cultural Heritage for the Faculty of Arts.