Aspiring teachers get chance to be immersed in school community
A number of aspiring secondary school teachers will soon be able to gain a postgraduate teaching qualification while being immersed in a school community, thanks to a new programme just announced for next year.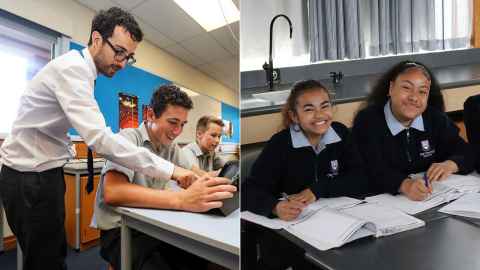 The Teacher Education in Schools Programme will allow a select number of graduates who wish to qualify as a secondary teacher to spend four days a week during the school term at one of the participating schools while they also study towards the Online Graduate Diploma of Teaching (Secondary).
It is open to graduates wishing to teach science, biology, chemistry, physics, social sciences, history, mathematics and statistics, English and te reo Māori me ōna tikanga.
The programme, which begins in February 2022, is the fruit of a partnership between the Faculty of Education and Social Work and seven secondary schools in South and East Auckland. Participating schools are St Kentigern College, Onehunga High School, De La Salle College, Aorere College, King's College, Tangaroa College and One Tree Hill College. Student teachers will also experience their usual teaching practicum placements in two of the participating schools during the academic year.
King's College headmaster Simon Lamb says the programme complements existing opportunities for teacher education.
"The ability for the student teachers to experience daily school life during the academic year whilst studying towards their formal Graduate Diploma in Teaching qualification is a very special combination," says Lamb.
"Teaching is a very complex craft and the opportunity to support their studies with pragmatic experience provides an exciting opportunity for all involved."
He says the programme provides an additional way to support quality teacher education in New Zealand.
"We feel that we are investing and contributing to the preparation of a quality workforce, one which is very important to the country as a whole. Additionally, the involved schools get to contribute to the development of the various student teachers and to, potentially, align them with future vacancies in the schools in the following year."
The programme has the backing of philanthropic support from eight donors, including the Auckland Airport Community Trust, The Fletcher Trust and the David Levene Foundation, as well as Dr Felicity Barnes, a senior lecturer in History in the Faculty of Arts, and her husband Michael Whitehead, and alumnus Grant Easter and his wife Helen Davies.
"Generous philanthropic support for the Teacher Education in Schools Programme will allow participating students to receive a $10,000 stipend. In addition, the University of Auckland has agreed to waive tuition fees for the successful students," says Dean of Education and Social Work, Associate Professor Mark Barrow.
"This enables student teachers to be less concerned about funding and financing their study in the expectation that they can then focus on getting the most out the experience."
Media contact
Helen Borne | Communications Manager
Alumni Relations and Development
Email: h.borne@auckland.ac.nz