Diane Brand: childhood home a catalyst for a career
Professor Diane Brand says the move from professional architect to academia was liberating. Now she's taking a step in another direction.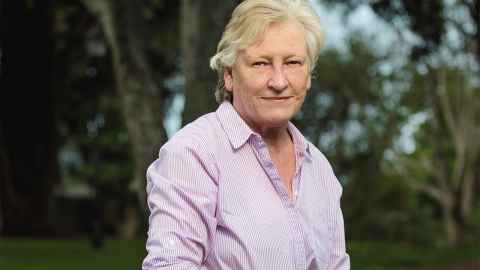 Professor Diane Brand, who is retiring as Dean of the Faculty of Creative Arts and Industries (CAI) in December, can trace her attraction to architecture and urban design back to the house in which she grew up, in Wellington's Lyall Bay.

Her parents had commissioned the modernist architect, Erwin Winkler, to design the house she remembers "for the light, the natural timber finishes, the courtyard that was the centre of the house".

It was different from most houses she visited as a child.
"It was open plan and it didn't have a front or backyard, it had a courtyard which, whatever the weather, was a nice place to be."

Growing up in an architect-designed house evidently had an enduring impact. As a student at the School of Architecture at the University of Auckland in the late Seventies, Diane's nickname was Miss Mondrian (after Dutch painter Piet Mondrian), in reference to her rectangular designs as well as her use of primary colours.

She graduated from the University in 1979, completed her post-professional masters at Harvard in 1986 and her PhD at Auckland in 2001. In between, and alongside her studies, she practised professionally in New Zealand and Australia, but the shift to academia was liberating.

"At university, I was responsible for my own teaching and, if I taught well, the results were tangible in evaluations and excellent student work. No one can interfere with the pedagogical relationship you develop with students."

Also, as a designer in a large practice, she was often assigned "uninteresting projects that were poorly resourced". She believes that was much to do with being a woman in a man's professional world. This was another reason academia appealed.

"Academia has been a relatively comfortable place for women since I was a student, but it's a profession that has had trouble promoting women into positions of real influence and leadership."
Academia has been a relatively comfortable place for women since I was a student, but it's a profession that has had trouble promoting women into positions of real influence and leadership.
She recalls working in the power division of the Ministry of Works in Wellington in 1980, the first woman to work in an engineering-dominated office dedicated to designing power infrastructure.

On her first day she was introduced to the draftsman assigned to the project she was leading, a Scotsman, who wore a kilt. When he said, "I'm not working for a woman", she said, "well, I'm not working with a man in a skirt".

Her male colleagues eventually got used to the idea of a woman in the office, one who kept tearing their Penthouse pin-ups off the walls.

"It was a very old-school masculine Ministry of Works kind of environment, but there was a nice camaraderie."

Her professional experiences helped equip her for the managerial role in an academic context.

"When you're managing people on a building site or in a design office, you're managing a range of people with different skills, so you have to tune into what motivates them. It's no different from being a teacher or a manager in a University. You're dealing with people and finding ways to help them to do their best work."

Her research interests have focused on large-scale projects; the development of blue space (coastal urban design), earthquake resilience in Christchurch, colonial and New Zealand urban history, and hydro towns.
"That's a genre of towns that were all built up and down New Zealand in the late 20th century, which had largely escaped researchers' interest."

She has missed designing but says teaching design is like designing 20 buildings a day. "You're going from one student to the next, looking at the idea, how it can be improved – it's like being a designer, but on other people's projects."

There have, of course, been difficult periods since being appointed Dean of CAI in 2013, many arising from structural changes in the wider university, and which were not popular.

"In a leadership position you often have to implement things you don't agree with, but it's the job, and it's important to remember that the discontent directed at you is most often not personal but a consequence of your position."
Story continues below the gallery
Designing and making things by hand energises me in a way that nothing
else does.
There have been many satisfactions as well, including "innovative curriculum transformations collectively made" in the Schools of Architecture and Urban Planning, Music, in Elam, the Dance Programme, and the introduction of the Design programme in 2020. She says the faculty is now offering more interesting, inclusive, and relevant programmes that are being delivered despite the stresses and demands of Covid-19.

"People in CAI are creative, and they have done some amazing things to keep students engaged and to keep the programmes running. The downside is knowing that people have been working longer hours, often because they're teaching their own kids at the same time."

There is much she'll miss, although she will be working one day a week in a new role as Director of Academic Programme Reviews for the University. But 2022 and beyond will mean more time for sailing, and also to actively commercialise the jewellery she's been designing and making in recent years, mostly using inexpensive, utilitarian materials.
"The value of a piece for me is in the design … I like to make beautiful things from very ordinary elements."

She says making jewellery is therapeutic and cathartic.

"Designing and making things by hand energises me in a way that nothing else does."
Margo White
See Diane's jewellery at dianebrand.nz
This article first appeared in the December 2021 edition of UniNews.