Ginny Braun: reward in tackling taboo topics
Ginny Braun's infectious passion for qualitative psychological research has been recognised with a prestigious award.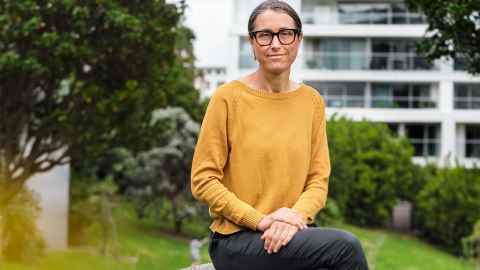 Growing up on a hippy commune shaped Professor Virginia (Ginny) Braun's research interests.

When UniNews catches up with Ginny via Zoom, she is wearing noise-cancelling headphones on account of the City Rail Link being drilled outside her city-fringe home, a converted commercial building.

Behind her is a matt black wall, geometric painting and, on a cabinet, two white hands, from which hang a collection of Covid-19 facemasks.

"They are a couple of old glove-factory moulds for making rubber gloves. They're perfect hangers for masks."

She walks or cycles to work, when we can, and has a station-wagon for trips to the Hokianga where she grew up in a "hippy commune". Aged 12, she and her mother moved to Auckland and Ginny went to a Steiner School in Ellerslie. The Hokianga is still home and has had a huge role in shaping her adult life.

"That whole experience of living outside of societal norms, and experiencing abuse and marginalisation for being outside of those norms, has had a profound impact on me in terms of what I value and what I see as important in the world."

Ginny joined the University as a lecturer in 2001. She served as Associate Dean Equity in Science for many years and brought in initiatives such as grants to help researchers get back into their research programmes when returning from extended parental leave.

She says for a qualitative researcher who is interested in unpacking societal meanings and norms, the boundaries between work and life are somewhat porous.

Active on Twitter (@ginnybraun), she currently has the hashtag #PleaseGetVaccinatedNow. She sees this platform as a way of engaging with a wide audience on qualitative research methodologies and issues of health, equity and social justice.

"It offers a space for somewhat democratised information-sharing. I mean, there are so many ways that you could unpack that and it's not perfect but it can be a way of allowing access to your knowledge without it being like a formal 'I'm going to send you an email'."

In November, Ginny was awarded the New Zealand Association of Scientists' Marsden Medal. The Marsden citation mentions her "global impact on the development of qualitative empirical methods and the generosity of spirit she expresses through this work". It notes that Ginny's 2006 paper, "Using thematic analysis in psychology", co-written with Associate Professor Victoria Clarke (University of the West of England), has had more than 100,000 citations on Google Scholar – a number that's still growing.

Ginny and Victoria did their doctorates together in Social Sciences at Loughborough University, in a department with many of the world's leading qualitative researchers.
"It was like the beating heart for theorising and thinking about how you do research and what you do and know."

They maintained the methodological orientation gained there and recently published their second textbook on qualitative research, Thematic Analysis: A Practical Guide, launched with a 17 November webinar where registrations closed at 3,500 people from more than 100 countries. It was live-streamed on YouTube and available afterwards as a recording.

Their texts have been widely read and used in many fields beyond Psychology.

Social worker @RichardDevineSW tweeted: "Braun and Clarke are extremely engaging, interesting, accessible writers, and would you believe, fun to read. A fun-to-read book on research methodology – now, that's impressive. They share an infectious passion for qualitative research that pervades their writing."
That whole experience of living outside of societal norms ... has had a profound impact on me.
Ginny's masters research looked at New Zealand cervical cancer prevention policy, which segued into her PhD on the vagina. She was interested in surgical reconstruction.

"I thought I'll just go and look at what the vagina means and what we understand about it, so that we can make sense of the choices, the pressures and the opportunities that are being offered. I found there'd been virtually no research done whatsoever. So, I ended up doing that."

The dearth of research harks back to paradigms, in this case patriarchy.

"It had been so taboo because of long histories of medical sexism and marginalisation of women's health. And just a huge amount of, within the Western cultural context, stigmatisation, shame, and lots and lots of pathologisation … interpreting normal female experiences as diseases."

Ginny is interested in the paradigms that shape research and the construction of knowledge. She is grateful the Marsden Medal was awarded to a qualitative methodologist, and sees hope in the way we are starting to embrace and value diverse knowledge frameworks in Aotearoa, including mātauranga Māori.

She has developed her expertise through her own critical feminist health psychology research, examining gendered bodies and sexuality. Most recently, she has been researching the explosion of "wellness diets".

We could have talked for hours, such is Ginny's enthusiasm for sharing her research, but it was time for her to join a socially distanced Marsden Medal presentation to be livestreamed in a Zoom ceremony.

All this, but Ginny almost didn't get into Psychology at the University of Auckland. Due to an administrative glitch she wasn't pre-enrolled in psychology and had to queue to plead for one of the highly sought-after places.

"It probably increased my commitment to the discipline enormously, once it threatened to not be possible."

Jodi Yeats
This article first appeared in the December 2021 edition of UniNews.