Major award for architect practising what he teaches
Professor Anthony Hoete (Ngāti Awa, Ngāti Rānana) has won the International Architecture category in the New Zealand Institute of Architects (NZIA) Awards 2021, for a five-storey block of houses he developed, designed and built in London.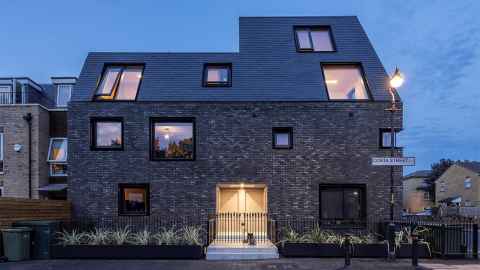 Dr Hoete, Professor of Architecture (Māori) in the School of Architecture and Planning, returned to New Zealand in early 2020, after working in London and Europe for 30 years, where he founded the RIBA practice WHAT_architecture. During that time, he designed the award-winning development on the corner of Costa Street and McDermott Road, Peckham.
It is a striking neo-brutalist development in an area undergoing massive transformation affecting its distinct Anglo-Turk Afro-Caribbean community. As a corner building, the project addresses and knits two forms of local housing together: the Council flat and the terrace house.
The building is clearly divided into two: the lower half finished in twice-kiln-fired railway brick, a traditional touch that fits into the existing urban terracescape, and the upper half natural slate designed as a contemporary mansard that leans into the trees. These close-up views of treetops combine with the timber interiors to give the bedrooms a nest-like quality.
Story continues below gallery.
The development is one that demonstrates Dr Hoete practises what he teaches. His development company, Game of Architecture, is named after the title of his doctoral thesis.

As he wrote in an essay for Architecture New Zealand, the architecture of Aotearoa New Zealand has tended to focus on the House rather than Housing.
"Invariably, this is a 300+sqm bloated bach or conflated second home rented out on Airbnb. Don't blame the architect for accepting the commission – practice is primarily a game of survival that pivots to our rampant neoliberal housing market."
This needs to change; architectural practice will need to better engage in the design of Housing rather than the House, he says.
"This means optimal development densities based on a more granular metric of habitable rooms per hectare, greater diversity of type and size, more-efficient floor areas, more inclusivity in public-private tenure, and embracing new offsite prefabrication technologies, such as cross-laminated timber (CLT)."
The requirements for Māori housing need specific financing, planning, design, and building frameworks to address the societal imbalance, he wrote. The design requirements are also different, given the need to provide homes for a large number of inhabitants on disproportionately lower incomes, living intergenerationally in the same dwelling.
All of which are strategies he engaged in with an expanded form of architectural practice as developer-designer-builder with Game of Architecture and the Costa Street project.
Dr Hoete configured the planning for Costa Street, not as a 'block of flats' but as a 'block of houses' requiring each to have an external front door. The houses are numbered 23, 25, 27 and 29 Costa rather than lettered as flats A, B, C and D. It is an affordable build-to-rent development whereby the developer retains the property, keeping skin in the game.
"You would only do this if you backed (yourself and) the build quality."
The NZIA judges said: "The leaning mansard, is a play on the predominant neighbourhood roof type, and presents a dramatic profile that also interacts with the protected mature trees and greenery behind.
"Four unique rental houses are tightly interwoven within the building's five levels, and each has its own independent street access, outdoor space, and varied aspect via punched openings. Structured with digitally cut cross-laminated timber, this project challenges planning, material, development, and construction norms to provide high-quality, affordable, sustainable rental housing… that could inform our architectural thinking here in Aotearoa."