Anthony Hoete: work needed on economic model for housing on Māori land
Architecture professor Anthony Hoete says returning home to academia gives him the perfect opportunity to contribute to the much-needed discussion about housing.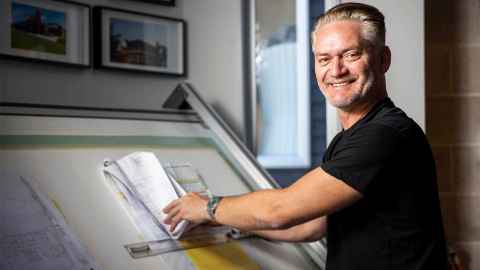 Not long after Professor Anthony Hoete returned home to New Zealand after more than three decades of overseas experience, he hit the road again.

For Anthony, now Professor of Architecture (Māori) in the Faculty of Creative Arts and Industries, a trip around the country was the perfect way to reconnect with his homeland.

Anthony was one of four judges in the Te Kāhui Whaihanga New Zealand Institute of Architecture (NZIA) Awards and the travel from Wanaka to Whangārei was a welcome taste of sight-seeing freedom after the two-week stint in isolation.

"It was a great 'welcome mat' to New Zealand," says Anthony. "I was asked to be the international judge for the awards even though I've moved back."
Given the circumstances at the border, it made sense for the NZIA.
Lynda Simmons from the School of Architecture and Planning was another of the judges, as well as alumni Fiona Short and Michael Thomson.
"We saw 45 projects around the country," Anthony says. "It was ideal for me to get back in touch with architecture here. When I've been back home previously it was always for work or a fleeting time catching up with people and family, so this was a great opportunity." 
The judges travelled around 2,000km, taking in the architectural offerings in the likes of Whangārei, Auckland, Queenstown, Ashburton, Wellington, Whanganui, Napier and Gisborne – including universities, schools, a cultural centre, a fale, an airport terminal and a cricket pavilion, as well as more than 20 residential projects. The winners were announced on 4 November. Read more. 
I'm interested in Māori or Indigenous housing projects, in particular how we might unlock Māori land to create affordable housing.
Anthony has returned to the School of Architecture from where he'd graduated in 1990 with honours. He also studied at the School of Engineering (Civil), has a masters in architecture from University College London (UCL) and a PhD from RMIT. He has taught at UCL's Bartlett Faculty of the Built Environment and the Architectural Association, both top architecture schools. Since 2013, he has been an honorary senior research scholar at UCL, specialising in 'future heritage'.

The Kawerau College old boy is also an award-winning architect who set up WHAT_architecture in the UK in 2002 and a spin-off development company, Game of Architecture.

While in London, Anthony worked with the UK National Heritage Trust and Heritage New Zealand to secure the future of the Hinemihi meeting house in the UK. The wharenui's original home was in
Te Wairoa, where it sheltered survivors of the 1886 Mount Tarawera eruption but had been taken to Clandon, Surrey, in 1892. It will be returned to New Zealand and a new pan-iwi whare built in the UK.

Aside from the opportunity to research a subject close to his heart, Anthony says his Māori heritage called him home. He's Ngāti Awa, Te Patuwai hapū, from Motiti Island near Tauranga.

"What drew me back was partly personal – to give my 16-year-old son, Māui Pehiamu O Patuwai Roger, a sense of Polynesia, of the South Pacific and his heritage. It's quite different from his education in the London borough of Hackney!"

Maui isn't so sure about it but will head here later in the year, hopefully with the family dog, although getting a flight to take the dog has been a challenge. Anthony is missing them both. He set up an Instagram account in his dog's name @thebarkitect, documenting a number of the entries in the NZIA awards and "acting as a kind of avatar for me actually not getting too involved in architectural comment".  
The land [on Motiti] has been bequeathed through succession, but it's all locked up and is doing nothing.
He says the other reason for returning home was academic.
"It's the opportunity to undertake some research into activities which are probably not viable while running a practice. I'm interested in Māori or Indigenous housing projects, in particular how we might unlock Māori land to create affordable housing."

He is using his tūrangawaewae, Motiti Island, as a case study. "The land has been bequeathed through succession, but it's all locked up and is doing nothing. It's been lost in time."

He says work needs to be done on the economic model for housing on Māori land.

"That's not just about architecture; it could be about partnering with conveyancing groups and assessing anthropological aspects to the land too."

He says a recent visit to an Auckland marae sparked an idea in him for affordable housing more generally.

"We often hear that as people get older, they want to scale down their living arrangements … but actually, there's a model, that's basically like having all your mates around you.

"You could live in larger numbers … not really have individual houses but have kind of clustered rooms in a big area. That kind of model might appeal. I reckon older people might quite like living like students."

He says him becoming a Professor of Architecture (Māori) shows how far things have come … far enough for him to coin a descriptor for part of his research, Ngārchitecture.

"When I last lived here the perception of Māori architecture was some grass huts and carvings. But in 30 years there's been a big shift. It's come at such a good time for me to contribute some ideas to the conversation."
Denise Montgomery