University of Auckland community among honours recipients
Four academics and several former staff, alumni and friends of the University of Auckland were recognised in the 2022 New Year Honours.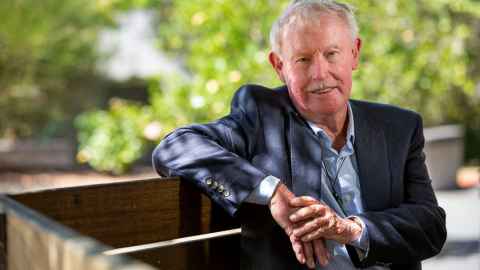 Offices of the New Zealand Order of Merit (ONZM) were awarded to:

Emeritus Professor Ralph Cooney (Science)
Dr Linda Bryant (FMHS)
Dr Lindsay Mildenhall (FMHS)
Dr Chris Moyes (FMHS) 

Emeritus Professor Ralph Cooney: For services to science and innovation
Emeritus Professor Ralph Cooney has led development of significant innovative national research and development networks between researchers and companies in New Zealand to assist transforming the country's economy.
He has been a Professor at the University of Auckland since 1986 and has been Head of the Department of Chemistry and Dean of Science. From 2001 to 2009, he was Pro Vice-Chancellor of the University's Tāmaki Innovation Campus where he developed successful campus-community initiatives, particularly with Māori and Pasifika, and with New Zealand businesses.
He holds several national and international fellowships, including with the Royal Society of New Zealand, and  has led major government-funded research programmes over two decades. Between 1990 and 2005, he held several Crown appointments including representative on the Council of the University of the South Pacific, director on the Crown Research Institute ESR Ltd's Board, and member of the International Science and Technology Advisory Committee.
Since 2018, he has been contracted as an assessor for the Ministry of Business, Innovation and Employment's Endeavour Fund. He has chaired various innovation groups including Auckland Metro Innovation Group, Scion Research Ltd International Science Panel, and the Packaging Council of New Zealand Environmental Awards. In 2019 Professor Cooney received the Jean-Marie Lehn Award at an International Pure and Applied Chemistry Conference.
Dr Linda Bryant: For services to pharmacy and health
Dr Linda Bryant has informed significant changes in Hospital and Primary Care Pharmacy for more than 40 years, supporting pharmacists to enhance the health status of medicine-takers and raising awareness on the impact of drug related morbidity and mortality.
Dr Bryant was a founding member in 2003 and President from 2014 to 2017 of the Clinical Advisory Pharmacists Association, which supports new emerging clinical advisory pharmacists to encourage a collaborative and positive approach in settings outside of traditional community pharmacies.
She was a senior lecturer at University of Auckland from 2002 to 2013 and now holds honorary positions with the University of Auckland and University of Otago to provide clinical teaching to share her knowledge with postgraduate students. She received the Pharmaceutical Society's Gold Medal in 2019 for significant services to the pharmacy profession. At the New Zealand Primary Healthcare Awards in 2020, Dr Bryant was recognised with the award for Outstanding Contribution to Health.
Dr Lindsay Mildenhall: For services to neonatal intensive care and resuscitation training
Dr Lindsay Mildenhall is a Neonatologist and has been Clinical Head of the Neonatal Intensive Care Service at Middlemore Hospital since 1998.  During his tenure the unit has expanded in size from 22 to 48 cots. He is also an Honorary Academic at the University of Auckland.
Dr Mildenhall has been a member of the New Zealand Resuscitation Council since 2000, a representative on the Australia New Zealand Committee on Resuscitation, and has spent 13 years on the International Liaison Committee on Resuscitation.
He played a leading role in developing the Newborn Life Support (NLS) system, the New Zealand programme for teaching newborn resuscitation skills to doctors, nurses and midwives.
Dr Chris Moyes: For services to health
Dr Chris Moyes has been treating those with Hepatitis B and C virus for 40 years, in addition to his work as a paediatrician. He is an Honorary Academic at the University of Auckland.
He was a leading member of the Whakatane Hepatitis Research Unit (now Hepatitis Foundation of New Zealand) in the 1980s and played a key role in researching prevention and treatment of hepatitis B (HBV). As a result, the Ministry of Health introduced an HBV immunisation programme for children in 1988.
He was a Member of the South Pacific Advisory Group in the 1990s, established to seek HBV vaccine information, conduct epidemiological studies and monitor people with the virus. Alongside  colleagues he convinced the government to roll out a fully funded HBV vaccination for all infants.
He has been working with local Kaumātua in Eastern Bay of Plenty to improve access to testing, monitoring and treatment in Māori living with HBV. Dr Moyes has been Medical Director of Hepatitis Foundation of New Zealand for many years, supporting 30,000 patients.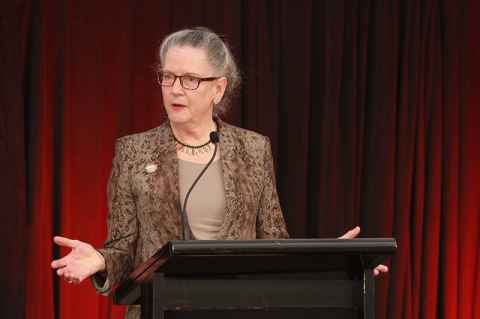 Alumni
Dame Companion of the New Zealand Order of Merit (DNZM): Marie Shroff, CNZM, CVO: For services to the State and the community

Marie Shroff was New Zealand's Privacy Commissioner from 2003 until 2014. She played a key role in bringing international privacy regulators to the table to address developing challenges and led negotiations for New Zealand privacy law to gain equivalence with European law. Instrumental in launching Privacy Foundation New Zealand, she was inaugural Chair in 2017.

She has been on the Media Council and a Board member of Consumer New Zealand since 2014, was a Board member of the Equal Opportunities Trust and has represented New Zealand on the Board of the Commonwealth Association for Public Administration and Management. She has been the Chair of the New Zealand Electoral Commission Board since 2019, helping guide the organisation through the 2020 election during the COVID-19 pandemic. She was the Secretary of the Cabinet and Clerk of the Executive Council from 1987 to 2003, where she was highly regarded for guiding the constitutional transition to mixed member proportional representation and coalition government.

Ms Shroff is a Distinguished Alumna of the University of Auckland (2005).
Companions of the New Zealand Order of Merit (CNZM): Dr Arapera Royal Tangaere, Dr Geoff Lorigan, John Rosser and Dr Michele Hawke
Officers of the New Zealand Order of Merit (ONZM): Celia Patrick, Evan Moon, John Blakey, and Phillip Ker
Members of the New Zealand Order of Merit (MNZM): Angela Sharples, Frian Wadia, Gwendoline Smith, Jacinta Ruru, Joshua Robertson, Kolokesa U Mahina-Tuai, Moira J Clunie, and Nigel Borell
Queen's Service Medal (QSM): David Hinman, Jennie Oakley, Thomas Howard.