Professor Cristin Print wins prestigious cancer research award
Cristin Print, professor in molecular medicine and pathology, has won a prestigious award for cancer research in Aotearoa New Zealand.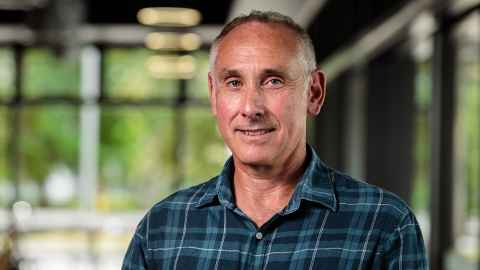 Cristin (Cris) Print, professor in molecular medicine and pathology at the University of Auckland, has received a top award for cancer research in Aotearoa New Zealand.
The New Zealand Society of Oncology (NZSO) presents the prestigious Translational Research Award annually to "an eminent New Zealand investigator who has made outstanding contributions to translational cancer research". The society fosters translational research, which is where researchers and clinicians generate scientific findings together and translate them into clinical practice.
Each year, a panel of NZSO judges selects the award recipient following a competitive nomination process.
Cris graduated in Medicine and Surgery from the University of Auckland in 1989 and began research while working as a house surgeon in Dunedin. A PhD in the University of Auckland led to a four-year postdoctoral fellowship in the Walter and Eliza Hall Institute in Melbourne, then six years at Cambridge University in the UK, where he was a Fellow of St Edmund's College. It was there he developed a deep interest in the fields of genomics and bioinformatics.
While there, Cris co-founded an international bioinformatics biotechnology company that
became listed on the Tokyo stock exchange in 2007.
In 2005, he returned to the University of Auckland where, with Ben Lawrence, Annette Lasham, Cherie Blenkiron, Antony Braithwaite, Parry Guilford, Helen Wihongi and several others, he has co-led a large trans-disciplinary research team of clinicians, cell biologists and data scientists.
They use genomics, systems biology and bioinformatics to better understand human
disease, especially cancer.
Cris leads the University's "Genomics into Medicine" strategic research initiative, co-leads the Rakeiora national genomics infrastructure programme in partnership with Māori leaders, is bioinformatics director of Grafton Clinical Genomics and chairs the Auckland Regional BioBank (Te Ira Kāwai) Scientific Advisory Board.
He is a board member and deputy chair of the NZ Institute of Environmental Science and Research (ESR), a board member of Cancer Research Trust NZ,  a member of the New Zealand eScience Infrastructure Research Reference Group and a principal investigator in the "Healthier Lives" National Science Challenge and in the Maurice Wilkins Centre of Research Excellence, where he co-leads the centre's cancer theme with Associate Professor Adam Patterson.
Previously, Cris served as president of the NZ Society for Oncology, vice-president of the Auckland Museum Institute Council and Auckland branch of the Royal Society of New Zealand Te Apārangi. He was also director of the Bioinformatics Institute at the University of Auckland and a member of the New Zealand Breast Cancer Register Clinical Advisory Committee.
Over the years, the society has involved several of the University of Auckland's distinguished cancer scientists and clinicians, including professors Bruce Baguley and William (Bill) Denny (who received a KNZM in 2021).
The society recently celebrated its 50th anniversary and at that time its history was written up by the University of Auckland historians Dr Cheryl Ware and Professor Linda Bryder. See History of the Society.