Karen Waldie: neurodiversity is more than a buzzword
Professor Karen Waldie wants educators to be able to access more knowledge to improve outcomes for neurodiverse learners and prevent them ending up with mental health issues in later life.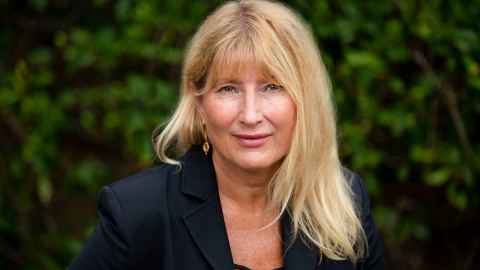 Having a rigid measure of education that focuses on numeracy and literacy and requires constant attention to detail doesn't necessarily work for children whose minds operate differently, says Professor Karen Waldie from the School of Psychology.

Not only that, but these neurodiverse children are more at risk of developing mental health challenges later in life. Karen says educators need to be equipped now to give these learners the best chance.

"Our education system requires sustained attention and good social skills but these children can't always conform to that," she says.

"Classrooms might have three or four kids who are neurodiverse, yet teachers still aren't being trained for these scenarios. Teachers are stressed, parents are stressed, the children are certainly stressed. The system needs reworking."

The last time she checked with the Ministry of Education, there was one course about managing neurodiversity in the classroom that's part of teacher training, but it's not compulsory.

Karen notes that reforms to the Western education system, over the past 100 or even 50 years, put heavy emphasis on a syllabus deemed to create the best opportunity for educational success.

"In the industrial age, kids were working on farms, in shops, whatever, but with the reforms to our education system internationally, of course that's changed. But you can't expect our brains to have adapted to all these changes in 100 years. Sitting still in a chair for hours, keeping track of time and following instructions can all be extremely challenging for some kids. It's the parents who feel the fall-out, with outbursts and meltdowns at home a common result.

"Diversity is good – it's what keeps our species going and being successful. But trying to cram all that variation and diversity into one little model in the classroom can't work."

Karen has many prongs to her research, but a key focus for the past 23 years has been Attention Deficit Hyperactivity Disorder (ADHD), Autism Spectrum Disorder (ASD), dyslexia and dyscalculia. She is particularly interested in understanding co-morbidity – why these conditions coexist so frequently. There is also a higher incidence of mental health problems in people who are neurodiverse.

"Our studies have found there's an increased likelihood that neurodiverse kids will develop a mental health concern."

She has published around 150 peer-reviewed journal articles and book chapters, including more than two dozen papers with her husband Professor Ian Kirk, who is also her colleague in the School of Psychology. He is from Dunedin, but the pair met in Canada when he was doing his postdoctoral studies and she was starting her PhD. When he won a research grant in 1998 at the University of Otago, she took a role on the country's longest-running longitudinal study, the Dunedin Study, before moving to Auckland in 2001. She remains an associate investigator for that study.

What Karen hopes we can eventually understand are the underlying causes of neurodevelopmental problems such as dyslexia, ADHD and autism. To do that requires a combination of neuroimaging research, genetic research and life-course data from multiple national longitudinal studies, including our largest, Growing Up in New Zealand (GUINZ). She has been a named investigator on GUINZ since its inception and is researching the predictors of child depression in Aotearoa New Zealand, for a Royal Society Marsden study titled, 'Polygenic and environmental markers of mental health status in New Zealand children'.

This involves looking at genes and environmental factors to see how they may affect child depression and anxiety symptoms. The most recent published study pointed to a number of prenatal factors that contribute to poor mental health in children – among them, the mother's stress, smoking, being overweight and, somewhat surprisingly, the use of paracetamol (see auckland.ac.nz/karen-waldie-paracetamol).
Teachers need to know more about the typical brain, the atypical brain and neurodiversity. The Ministry needs to include more compulsory classes because by teaching teachers, you're also helping the parent.
Karen is no stranger to making discoveries that change the way the education system works – an earlier breakthrough also involved brain scans. When she arrived in New Zealand from Canada 20 years ago, she was surprised to find the Ministry of Education didn't include anything in its teacher training on neurodiversity. Nor did it recognise dyslexia as a neurodevelopmental condition, despite it being acknowledged as one overseas.
"They told me that, 'no, they didn't have dyslexia here'."

She set out to prove that wasn't so.

Partly to blame for this attitude was the early intervention work done by pioneering educational researcher Marie Clay on reading recovery. Though it is effective for many children, Karen says research shows it is not the best path for children with dyslexia.

"Because of the lack of government funding for my dyslexia research, I was lucky enough to get Faculty of Science and philanthropic funding. I was able to show brain-based differences between neurotypicals and individuals with dyslexia, and this helped the Ministry of Education to formally recognise dyslexia in 2007."

But she says more than acknowledgement is needed.
"Teachers need to know more about the typical brain, the atypical brain and neurodiversity. The Ministry needs to include more compulsory classes, because by teaching teachers, you're also helping the parents."

She says better knowledge would assist parents in helping their neurodiverse children navigate modern society.

"But New Zealand parents have few places to turn to for assessment and treatment to help. With co-morbidity the norm, we are just doing research to understand why that is, and what early interventions could do to help."

When Karen was doing her PhD, she worked in a non-profit government agency, the Calgary Learning Centre, where parents could bring their children for assessment.

"They could be assessed and then receive individual or group therapy. It didn't even have to be a label; it could just be that there were some indications of some potential difficulties down the line. We don't have this here, even now.

"Many kids aren't even identified until they get to university where we have the ability to assess them and they'll get a reader/writer, extra time or whatever assistance is needed. But the number of adult ADHD cases has gone through the roof because it's only relatively recently they've been able to be assessed, unless parents pay privately.

"These children have navigated their school years because most of them are highly intelligent, but at university the demands on their organisational skills and cognitive processing can be too much."
Our education system requires sustained attention and good social skills but these children can't always conform to that.
She says in recent years mothers are also being diagnosed.

"For a parent with ADHD, having to organise multiple children and their own life creates a real problem with time. In the old days they may have had undiagnosed ADHD, but they didn't have to work as well so there wasn't as much pressure. Now, it's sometimes being picked up when a parent takes a child to be assessed.

"We just have to look at the family tree for parents and siblings and grandparents and there's a good chance that there'll be a record of a family member who also struggled."

Karen knows at a personal level the power of genetics. She is adopted and says when she was growing up with her two siblings, they were all similar in their interests and outlook, but their differences became more stark over the years when genetics shone through.

Her biological parents were high-school sweethearts who had her during their first year at university. Her biological mother, whom she met later in life, is a microbiologist. Her adoptive mum has passed away, and in 2020 Karen dedicated her inaugural lecture to her – describing her as "her rock".

Karen has an ongoing fascination with the cognitive and biological markers of conditions like ADHD. At the moment she's involved in a new ADHD study using functional Magnetic Resonance Imagery (fMRI).
The difference between an MRI and an fMRI is that an MRI looks at the structure of the brain – for example, it can reveal if you have a tumour or have had a stroke. The fMRI shows the activity in a brain when people are performing mental tasks. The University of Auckland's CAMRI, the Centre for Advanced MRI, was the first place in New Zealand to get an fMRI scanner, in 2006. But now, this interdisciplinary work is being carried out using "new and impressive brain-imaging facilities" at Mātai Medical Research Institute in Gisborne, with the help of physicist Associate Professor Samantha Holdsworth, Associate Professor Justin Fernandez from Engineering and two doctoral students.

"We have some fascinating preliminary research showing that, while neurotypical people show specific areas of brain activity when at rest versus while performing a task, neurodiverse people do not show this uncoupling. Interestingly, their frontal lobes normalise when they fidget.

"A lot of people don't realise the amount of variation there is in the human brain. Brains are different. And it's not that they're abnormal although we are good at telling our kids they have a problem, right? But 200 years ago, they wouldn't have, because there was little universal education or literacy."
See Karen Waldie's inaugural lecture below. 
This article first appeared in UniNews March 2022.