Law school signs student exchange agreement with the University of Cambridge
He Kirimana Whakawhiti Tauira ki Kemureti. Waipapa Taumata Rau, University of Auckland undergraduate law students have the opportunity to study for a year at Cambridge University as part of a new student exchange agreement.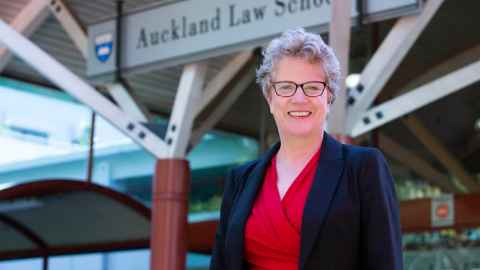 From 2023, up to three Auckland students will be accepted into the programme with the opportunity to benefit from the first-class, small-group learning environment at Cambridge in the UK. In return, Te Wāhanga Ture o Tāmaki, Auckland Law School, will welcome up to three students from Cambridge each year.  
Manukura Ture , Dean of Law Professor Pene Mathew said she was thrilled at the opportunity this provides both groups of students.
"Our students will undoubtedly benefit from Cambridge's rich intellectual offerings. Likewise, I am sure that Cambridge students will enjoy studying at Auckland Law School.
"They will learn from the stellar scholars and teachers here and engage with the unique legal issues arising from Te Tiriti o Waitangi and the interaction between tikanga Māori and the state legal system.
"The exchange agreement further strengthens our close relationship with Cambridge and builds on our existing staff exchange and Pathways programme," she said.
Professor Mark Elliott, Chair of the Faculty Board at Cambridge, is equally delighted.
"This student exchange programme adds to the strong links that already exist between the Cambridge Law Faculty and Auckland Law School.
"My colleagues and I in Cambridge look forward very much to welcoming students from Auckland, and we are excited to be able to offer our own students the opportunity to study in Auckland.
"Having spent time at Auckland as a visiting scholar, I know from personal experience that it is an incredibly welcoming and intellectually stimulating environment and that our students will benefit greatly from studying there," he said.