Olivier Holland: all about that bass
School of Music lecturer and bass musician Dr Olivier Holland doesn't fret about much. Even in tough times, his jazz students' efforts are music to his ears.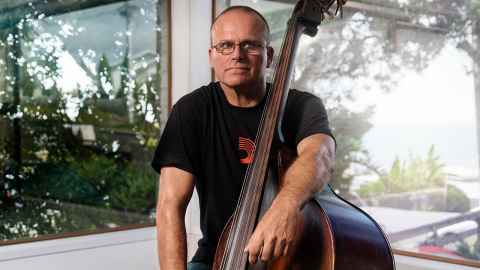 When bassist Dr Olivier Holland found out music teaching would be online in 2022 until mid-Semester One, he remained upbeat. No trouble. It's still all about the bass.

After all, despite the challenges of 2021 – including his music students not being able to perform together from August – his students achieved some outstanding grades.

Olivier, known as Oli, is a renowned jazz bass player – both double bass and electric bass – who is part of a powerhouse jazz department of musicians, composers and educators in the University of Auckland's School of Music. The subjects he teaches include jazz composition, improvisation and theory and he also plays in a faculty band with the award-winning Dr Roger Manins (saxophone), Dr Kevin Field (piano), Ron Samsom (drums) and, latterly, Keith Price (guitar).

"They're all very strong players and excellent colleagues," Oli says. "We've always been a strong, tight-knit team."

Back in 2015, Oli, Roger, Ron and Kevin won a Tui award for their eponymous jazz album Dog. No deep reason for the name it seems, although Ron has a pug, Roger a spaniel and Oli a couple of chihuahuas.

Oli was born in Germany and completed his diploma in jazz at what was then the Folkwang Hochschule Conservatory in Essen, in 1994. He worked as a freelance musician and taught in Germany for a number of years. Then, in 2002, the passionate yachtie sailed to New Zealand with his former wife.

"I arrived in Whangārei and made lots of friends. Very soon I had my first jazz gig in Auckland."
In 2003, Oli visited both jazz departments at Auckland and Massey universities to introduce himself as a jazz teacher.

"I made friends with the late Phil Broadhurst, then head of jazz studies at Massey, and Jim Brenan, who was the coordinator of jazz studies at the University of Auckland and who set up New Zealand's first undergraduate degree in jazz. I also met Ron Samsom.

"Jim told me Auckland needed someone to teach theory, so I came on part-time in 2004. It was a foot in the door to becoming permanent full-time in 2009."

He added another string to his bow by becoming a Doctor of Musical Arts (Jazz) at the University in 2017.

Over the years, Oli has contributed to around 30 albums, five of which are his own projects. He has played with some of the world's most esteemed jazz musicians, including Geoffrey Keezer, Terreon Gully, Joscho Stephan and Stefon Harris. Even for those who aren't jazz fans, it's hard not to be enthralled by his 2010 Gypsy Meets Jazz collaboration with renowned German jazz guitarist Joscho Stephan.

Oli's latest album, Gjazz5, was released in 2021 and was three years in the making. He has described the musicians on the album as a 'once in a lifetime band' – himself on bass, Geoffrey Keezer (US, keys), Terreon Gully (US, drums), Denis Gaebel (Germany, saxophone), Roger Manins (New Zealand, saxophone) as well as special guest Joscho Stephan.

"It really was a dream team," he says.
If we've learned one thing in the past couple of years, it's that almost constant change seems to be the new normal.
Talking about great musicians and compositions, Oli sampled some of his students' works with Bryan Crump on RNZ Nights. He had plenty to choose from. In Semester Two 2021 there were a record-breaking number of A-plus jazz music compositions, all created by Stage Two students during lockdown.
That could have been for a number of reasons – they may have had more time, or felt less inhibited to experiment or it could have been the result of an increase in the solfège component of the second-year composition course. Solfège is sight-singing, students have to sing their answers, and for whatever reason, he says the students in lockdown did better than any other group in the past 15 years.
"I increased the solfège content quite drastically for two reasons," says Oli. "It's easier to assess and it's very beneficial for the student's aural perception. Students may not like it at the beginning, but see the benefits as they go on. They can practise in the car. After some training, they can verbalise what they want to write or play, which is an excellent skill to have.

"I have to emphasise that's only my guess as to why that class did so well – they are a very talented bunch."

Among the student talent who featured on RNZ is Tongan saxophonist Soakai Malamala (alto sax), Naamah Cheiban (vocals) and Forrest Thorp, a trumpeter of some renown who is also in the popular Kiwi band Strangely Arousing.

"Nama, Forrest and Soakai are really talented musicians and writers but not the only ones in the Music 275 class. Selecting only three out of so much great work wasn't easy.

"It's also such a multicultural class – Kiwis, people from China, Korea, Pacific and some with Middle East heritage."Their cultural heritage seems to come out in their compositions.

"I'm not telling them to write a composition in the style of Miles Davis, because that would be re-enacting. The learning is task-based and conceptual, which takes the myth out of the notion of a 'composer sitting there having this magic intuition'. Sometimes that can happen, but you can't rely on it!"

Oli first became interested in bass – electric – when he was about 15, playing in a church band.

"Many of our students have also played in church bands. The drummers, especially, have to be good to hold the band together."

Lockdowns have meant the University hasn't been able to showcase its jazz offerings to schools.

"Before Covid, I used to take student bands through the high schools. It's important to bridge the gap between what the school students think we do, and what we're actually doing. The high school students are just a few years younger and when they see our uni students playing amazing music – they can relate to that and also see how good they could get in a year or two. I can't wait to take a band on school tour again."

After the first lockdown was lifted, Oli was playing gigs around Auckland, often through the Creative Jazz Club, an artist-led initiative to support jazz in New Zealand. Venues include Anthology, Wynyard Grill, Downbeat, the Rotorua Jazz Club and Flare at SkyCity.
His students did the same.

"It was great for live music and students from as early as Stage One were playing three times a week, and often more. This was so good for them especially as through their studies they can apply what they learned on the job."

Oli takes his electric bass and double bass to gigs and often switches between the two instruments. "I like playing both basses so it's about 50-50. Which of the basses I use depends on the tune."

The two instruments require slightly different playing techniques. A double bass, which many people mistake for a cello, doesn't have frets like an electric bass.

"You have to learn a certain system to know where on the fingerboard the notes are," says Oli. "A good ear is a must and for exact finger placement to happen, you need to repeat the same correct movement hundreds of times."
The learning is task-based and conceptual, which takes the myth out of a 'composer sitting there having this magic intuition'. Sometimes that happens, but you can't rely on it.
Oli's expertise is also being captured in an educational book he has been writing on the double bass.

"After adding more and more content and exercises I finally feel the learning method is now complete and decided I must not add any more. There might need to be a second edition once this is published. Let's see."

He enjoys writing, but how do jazz compositions, most of which have no lyrics, get named?
"I name my tunes intuitively, except for some. 'For Heidi' is dedicated to my partner Heidi. But other times funny things just come to mind."

Take Oli's track '10c a Fly' from Gjazz5. The title came from a discussion with his younger son about getting paid for catching flies. This son evidently has an entrepreneurial mindset because another track is called '$10 a Rat'.

The GJazz5 recording took place at Fattoria Musica Studios in Osnabrück, Germany, with mixing in 2019 – luckily before the world changed. The album has had several five-star reviews, and a track from it, 'Mrs Bombastic', was named one of RNZ's top Kiwi jazz tracks in 2021. A portion of sales from the double CD goes to helping save a marine reserve off the west coast of Africa.

As a lecturer, Oli has a research component to his work. "Just like writing articles or presenting at conferences, writing and publishing a creative piece of music counts as research. It's a creative output, as is a live performance of such music. A lot of research and effort goes into the creation and presentation of a new work."

Aside from all the talented staff who work in the School of Music, what other names in local music should people know?

"Kiwi jazz musicians include Nathan Haines and his dad Kevin Haines, who have both taught here in the past. Other talents include Dixon Nacey, Neil Watson, Mike Booth or younger players like Joe Kaptein, Thabani Gapara, Chelsea Prastiti who are writing and performing great music – and they are also among our group of artists-teachers.

"Another New Zealander worth checking out is ex-pat Matt Penman, a very talented bassist and composer. He lives in New York where he performs and teaches."

From the international jazz scene he points to bassist and composer Avishai Cohen from Israel.

"He writes extremely interesting music. But there's actually so much good stuff out there."

As well as playing bass and performing live with other people, Oli has another passion.

"I love watersports, especially sailing and spearfishing. I've done a lot of offshore sailing including a couple of trans-Atlantics in 1996-97, one single-handed, as well as my sailing trip to New Zealand between 2000 and 2002."

He often goes out spearfishing with friends. How does that sit with his marine environment concerns? "Spearfishing is a very selective process," he says.

"Lots of people go out and catch snapper on a line and many will be undersized. When they throw them back, many won't survive. With spearfishing, you only take what you eat and it's also almost impossible to shoot an undersized fish because you see what you aim at.

"Also, most spearfishers see the decline of fish stocks under the surface first-hand. We are acutely aware that what is still there needs protecting."

He hopes that his students get to showcase their talent during the University's Jazz Combo concerts this year; in pre-Covid times recitals were twice a semester.

"Not being able to perform in a group has been tough but the students learned different skills, such as how to produce a professional recording. Fortunately, under Red setting we were able to return to physical band rehearsals and in-person instrument lessons."

Although he was eager to return to campus, if there is another period of online teaching, it won't throw him off track.

"I'm not wired that way. If we've learned one thing in the past couple of years it's that almost constant change seems to be the new normal. This time, all lecture-based courses are online and that's ok. We just have to adapt.

"Of course, in-person is best. Humans are designed to connect person to person."

Denise Montgomery
 
This profile first appeared in the April 2022 UniNews. 
More about Oli's music at his website gjazz5.com