Elam student and emerging Māori artist leaves her mark, a 60-metre mark
Emma Ormsby is in her third year of a Bachelor of Fine Arts and already leaving her mark in public spaces, having led a project that is brightening up the centre of Takapuna with a 60-metre mural.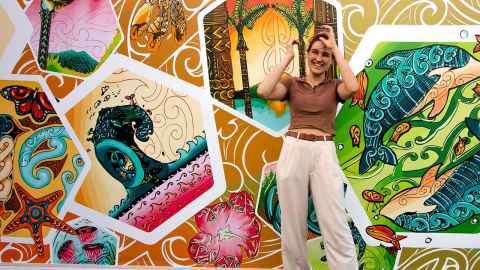 The vinyl transfer mural currently displayed on Auburn Street, Takapuna, was derived from drawings from more than 50 students from nine local primary, intermediate and secondary students.

Emma ran workshops with the students, in which she gave each of them a section of Te Ao Mārama, the natural world, such as coastal shores or birdlife. "Then we had workshops about the different kowhaiwhai, tā moko, toi whakairo and Māori patterns relevant to those kind of areas."
The students' drawings were completed just before lockdown in 2021, after which Emma spent much of lockdown colouring them and creating a digital transferable file. The mural was revealed just before Christmas last year.
Working with local tamariki was central to this project, says Emma, an opportunity to foster creativity and education in the younger generation, as well as an appreciation of toi Māori. "I really enjoyed working with them. They were all very attentive and wanted to get stuck in and learn."
The mural stands as a symbol of collaboration and ecology, she says, but also by drawing on Māori motifs, a platform for learning and understanding. "The work is larger than any individual, but the result of a collective creative community."
 
The work is larger than any individual, but the result of a collective creative community.

Emma went to Westlake Girls High, where in her final year, 2019, she was awarded top grade in the country for sculpture and also awarded a scholarship for English.

She is currently doing a conjoint Bachelor of Fine Arts and Arts at the University, where her papers include Māori Studies and Screen Production.
Since leaving Westlake Girls High Emma has worked at the school part time as an art technician. In that role she worked with Year 9-11 art classes to paint a mural on a wall in the school which had been vulnerable to unwanted graffiti, which won first place in the Resene Mural Masterpieces in 2020.
Emma is of Ngāti Maniapoto and Ngāti Porou descent, has many strings to her bow already, and developing many more, particularly in Māori art. She is also studying with Te Wananga o Aotearoa in whakairo (woodcarving) and with the Hetet School of Māori Art in whatu (cloak-weaving). Somehow, she also finds time as a freelance artist, to digitally design tā moko. For a yet-to-be-funded project, she has started working on the design of a wharenui.
She agrees that as an emerging Māori artist she might be moving into disciplines that have traditionally been the preserve of men, but who gets to do what, she says, either whakairo or whatu, "shouldn't be dictated by gender".
"And I like to cross-reference different elements of different arts, such as using whakairo patterns in tā moko or in whatu."
Last year, Emma was also invited to create an artwork for the Kaimahi Māori Experience at Auckland Hospital - a department set up to support Māori kaimahi (staff) and provide a trusted network for them.
She created an installation of 1830 x 1500 mm, which included three paintings each framed by whakairo, which she carved.
"The work is named 'Tautoko', which means to support or prop up," says Emma. "The paintings capture the kaupapa and supportive network of the department, and the mana wāhine who work there and go through it."
Her aims for the future? She would like to be a practising exhibiting artist, and for particular inspiration and aspirational models of Māori artists, she cites Lisa Reihana and Michael Parekowhai. "I love their work and everything about their work."
As a personal influence on her commitment to working as a Māori artist, she points to her grandfather, who had grown up a time in which Māori were discouraged (or prevented) from speaking te reo but who, before he passed away, had begun to reconnect with both his language and culture. "I guess, in a way, I'm picking up where he left off."