Joining creative hands across the oceans when borders were closed
A project co-led by multi-disciplinary artist and academic, Associate Professor Alys Longley of the Dance Studies Programme, demonstrates how artists found ways to connect and collaborate when borders were closed.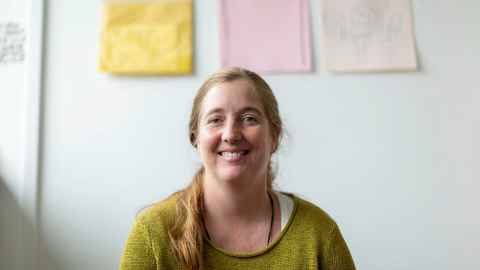 Working with her Chilean collaborator Máximo Corvalán-Pincheira in 2020 and 2021, Dr Longley transcended closed borders and different time-zones, to collaborate with artists around the world to create a series of analogue, digital and performance artworks.

The results of their two-year project will be exhibited at the Museum of Contemporary Art Santiago in July 2022 titled, "Let Us Drink the New Wine Together/ Beberemos El Vino Nuevo, Juntos".
The exhibition includes The Envelope Project, which could be described as a contemporary creative take on the old-fashioned pen pal or chain mail.
The project involved 20 hand-painted envelopes, with each one travelling to five different artists across the world. Each envelope was painted by Dr Longley's partner, Jeffrey Holdaway, a watercolourist, "so each envelope was an artwork in itself," says Dr Longley.
These envelopes reached over 40 artists in every continent of the world, each containing small works of art, and blank sheets of paper on which participants were invited to draw or paint (or include other post-able works of art) before sending the artwork on.
The envelopes have travelled as far as Iceland, Mongolia, Johannesburg, the Azores Islands in the Atlantic Sea, the Democratic Republic of Congo, the Canary Islands, the UK, Fiji, Thailand, South Korea, Japan, France, Scotland, Sweden, Finland and many other places. Videos were made of envelopes being carried to and posted into letter boxes around the world – the same envelopes travelling across different landscapes and in different seasons.
"Some of the envelopes got lost and finally turned up – one arrived in Mongolia ten months after it was posted – and then it felt like a miracle!"
"We were delighted by the postmarks, the stamps, the different languages and artworks held in an envelope the size of a standard airmail package."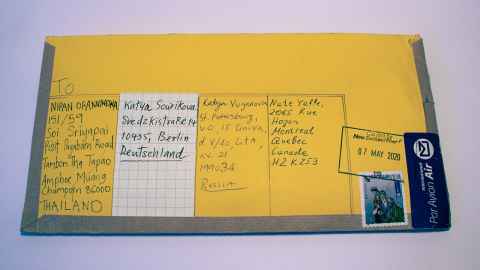 The project was a way of connecting artists in a locked-down world, but also of challenging the capitalist economy with an alternative 'gift economy', she says. "Nobody paid for an artwork, but each participant got to keep a work of art and also give a work of art."
An expanded form of The Envelope Project was exhibited at the BusProjects Gallery in Melbourne in December 2021, in which nine hand-painted envelopes were added to the original 20. "If visitors found something they wanted to keep in an envelope, they could, on the condition that they contributed a work using the materials provided and shared and archived both the work they took and the work they gave on Instagram," says Dr Longley. 
"Let us Drink the Wine Together" will also feature a collaborative mapping project, in which a digital map created by Corvalán-Pincheira was sent to 60 artists around the world, who were invited to leave a personal creative mark on the map that captured their place and time in the world.
Some artists in the mapping project made their mark using embroidery, some painted, one punched small holes in it and laid it over some newly sowed seeds, and then photographed it with the plants growing through it.
The project also developed a digital exhibition in order to safeguard it from the precariousness of the era, made in collaboration with digital designers DotDot – NZ artists and game designers Kate Stevenson and Chris White, who were based in New York throughout the pandemic. For the digital work, Longley created a performance project over live stream, with artists in Santiago, Stockholm, Argentina, Melbourne, Chicago and New York.
Finding ways for artists to 'connect' when borders have been closed was crucial to her practice, says Dr Longley. "Maximo and I are both very international in our practice, so not be able to connect during lockdown was like having our arms tied behind our back."
"We may have been and still are separated by border closures, but we can continue to draw strength and inspiration from our ability to rewrite and create worlds through imagination and artistic form."
"In times of emergency and crisis, artists need to worker harder, to create new forms of connection, in ways that transcend the constraints and difficulties of the time."