Law graduate seeks to amplify Māori and Moana-Oceania voices
Bradley Arona-Waqanivavalagi has graduated as a Bachelor of Law (honours) and Arts, and wants to use it to effect change for his people.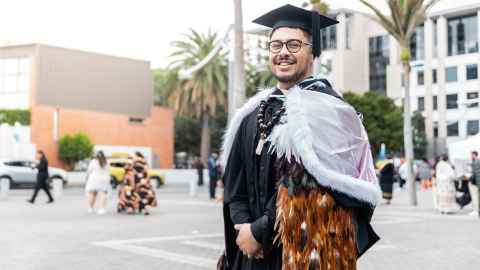 Bradley Arona-Waqanivavala (Ngā Puhi, Te Rarawa) was inspired to study law in high school when he got the chance to observe Te Kōti Rangatahi (the Māori Youth Court) at Ōrākei marae. The rangatahi courts operate the same way as the Youth Court but are held on marae and follow certain Māori cultural processes.
The experience of seeing the way the rangatahi courts worked left a strong impression on Bradley and set him on a path of learning about how the country's legal system has often failed Māori and Moana Oceania communities, and the importance of looking to the past to move towards better ways of operating.
"Anywhere I can make effective change for my people - that's where I want to be," he says. 
"I didn't know Te Kõti Rangatahi existed until my last year of high school, and it was cool to see kaupapa Māori being incorporated into a legal process. Now, through my studies, I saw that there are more steps that need to be taken to fully indigenise the process."
Bradley, who celebrated his graduation in May and who is working at the country's biggest litigation firm - Meredith Connell, says it's apparent that blending the Pākehā legal system and te ao Māori doesn't always align as neatly or easily as people want it to.
"Once I got into law and Māori studies, I started seeing where there was room to improve. I want processes to be authentically Māori, not just to see bits of te ao Māori incorporated when it's convenient."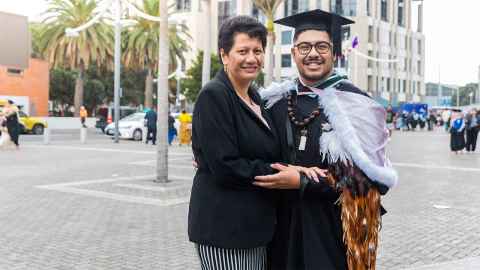 Bradley says the proposition of the late rangatira, lawyer and academic Moana Jackson, helps to remind him of his reasons for studying law and what kind of lawyer he aspires to be. 

Moana asked: "Are you going to be a lawyer who happens to be Māori, or a Māori who happens to be a lawyer?" 

Bradley started his te reo Māori journey as a commitment to his whakapapa Māori at around the same time as his law degree. At the beginning of his studies, he struggled to balance his commitments to both his Māori and Fijian heritage but has since become more comfortable engaging in both cultures.
"I always carried the cultural values, but I couldn't speak te reo. Now, I wouldn't say I'm fluent, but I can converse, and I try to stand up and speak Māori whenever I can. Meanwhile, I'm starting to learn Fijian. I keep hassling dad to speak Fijian with me more. My genealogy, language and culture are such an important part of who I am."
Bradley's mum, Kathryn Arona, also studied law at the University and finished her last two years of study during Bradley's first couple of years.
"Mum was a big part of my law journey, then she got a job at the Faculty of Law after she graduated and I couldn't escape her! But I'm so proud of her and her achievements. I was really lucky to have her close by at uni."
Bradley's ever-growing knowledge enables him to be part of a strong movement toward changing a system that has historically disregarded Māori and Moana Oceania views.
"There are a lot of places where Māori voices are needed in the legal world. The same can be said for Moana Oceania. Moana-Oceania people and the legal system is a severely under-resourced and under-researched area."
From his first few weeks at the University, Bradley was supported by Māori and Moana Oceania mentors and, in turn, Bradley acted as a tuakana by tutoring in the Māori Academic Programme and the Moana Oceania Academic Initiative in the Law School. He also became Tumuaki Tāne for Te Rākau Ture (the Māori Law Students' Association).
"I loved being part of Te Rākau Ture and the Pacific Island Law Student Association. There are some really effective support systems facilitated by strong and passionate Māori and Moana Oceania staff and students in the Law School. That's why when I was finally able to, I had to contribute."
Media queries
Sophie Boladeras | Media adviser
M: 022 4600 388
E: sophie.boladeras@auckland.ac.nz