Magic moment for first-in-family graduate
The dream of walking across the stage to collect her degree has kept Yvonne Sinclair going through some tough times.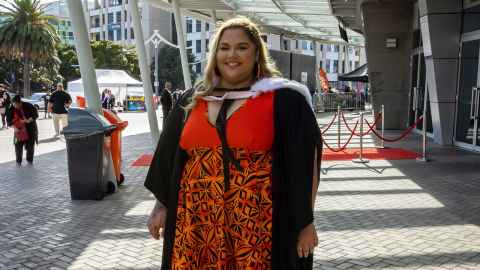 The University of Auckland Bachelor of Arts graduate says she's especially looking forward to wearing the Samoan leis ('ula) that usually accompany celebrations of achievement.
" 'Ula can be made from all sorts of things like leaves, flowers, fruit, seeds, and shells, but the 'ula lole', or 'lolly necklace' is a popular one for something like graduation because it's made by the family and friends who've been part of your journey."
Of Pākehā and Samoan heritage (she has affiliations to the villages of Matatufu, Afega and Leauva'a), Yvonne is the first in her family to attend university and will be receiving a degree in sociology and English.
Her path to this moment has had a few twists.
"I was on scholarship at AUT doing a Bachelor of Commerce but I realised really quickly that I was there for the wrong reasons. It doesn't help when you're not passionate about your subject and you're really doing it for everyone else."
So at 19 she had "an early midlife crisis" and took some time off to decide what would sustain her interest, eventually returning to Auckland to do sociology, a subject that really "lit a flame" and that she knew she'd see through to the end.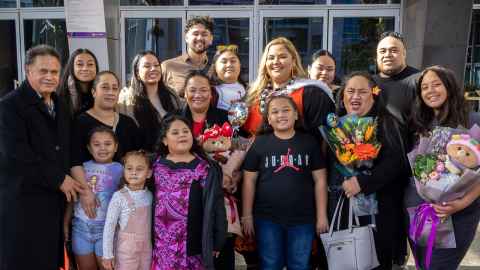 In fact she was so engaged, she completed her entire major across three stages in just a year.
"I just loved it every time I was in the classroom. I don't think I realised you were supposed to space it out across a three-year degree!"
She says sociology really challenged the way she looked at the world and helped her "navigate issues, like social injustice, that can be invisible to the naked eye".
"I quickly took what I learnt in the lectures and was able to revitalise my spaces of influence."
Her degree has actually taken four years because of breaks to care for family members, especially her beloved nana.
"That's how we were raised, Pacific culture instils in us the value of serving our families. It really is an idealistic road to just focus on your degree and not worry about restrictions outside of that. I'd get a job if necessary and help put some money back into the running of the house."
And while she is no longer one of her nana's main carers, she still goes over after work (she's back at University, as a schools and community engagement adviser) to give her aunt a break.
"I'm trying not to cry because I really wanted her to be able to sit in the ceremony and see one of her dreams come to life, but she's bedridden sadly."
 
That's how we were raised, Pacific culture instils in us the value of serving our families. It really is an idealistic road to just focus on your degree and not worry about restrictions outside of that.
Proud to be from Mangere, South Auckland and to have attended Mangere College and Papatoetoe High School, ("I always pay homage to where I was raised because greatness really can come from South Auckland"), she says hers is "like many other Pacific stories" in that her maternal grandparents came from Samoa in search of a better life.
"Not only for their kids but for the grandkids as well. The language barrier was pretty intense back then, so my mum struggled to feel comfortable and didn't pursue higher education, but when she met my dad, things started to change."
She says both parents agreed they wanted the best for their children – Yvonne and her two brothers – and that meant finishing school and getting the best job possible.
"For a lot of my cousins (and there are millions of them), University is not a push, but even my dad, who is a truck driver through and through, always wanted what was best for us kids, even if that meant driving all through the night. These types of sacrifices, like my mum who struggled working labour-intensive jobs, demonstrated how deep my family's love ran for me."
Now after finally finishing her degree, and after "a few years' break", she's contemplating postgraduate study in sociology.
"My flatmate and friends are all doing postgrad studies and they really do inspire me. I'm going to manifest that!"
And as for the graduation ceremony itself, the border restrictions lifted just in time, allowing her mum and other family members to fly in from Melbourne to attend.
"I'm so excited and grateful that I have an opportunity to officially close this era in my life because it was really challenging. I can't wait for my moment!"