Oh baby! Marketing grad excels despite the odds
Master of all Yasmin Kelani talks about full-time study, a new baby, job rejections and dealing with imposter syndrome.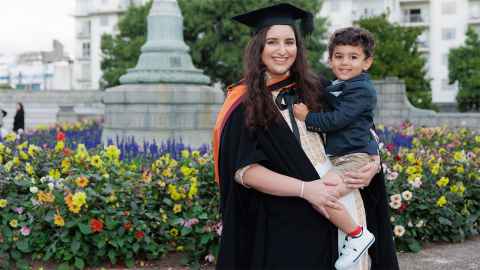 As recent marketing graduate Yasmin Kelani interacted with her lecturer and classmates online during lockdown, her one-year-old son Khaled would often sit on her lap, mesmerised by the floating heads on the screen in front of him.
Yasmin's fellow students and her lecturers often got to enjoy a quick smile from Khaled over the two-year Master of Marketing programme, but on other occasions, the new mother would quickly mute her speakers and turn off the camera to look after her baby.
Yasmin says that although full-time study while caring for Khaled during lockdowns was a challenge, she was surprised by her stellar marks and the continuous support of her lecturers and classmates.
"I actually felt an imposter-syndrome type feeling because I didn't grow up here and I was a bit intimidated at university. I questioned – am I really getting these grades? I couldn't believe I was performing that well."
After meeting her husband in Dubai in 2017, Yasmin, who was born in Jeddah, Saudi Arabia, moved to New Zealand in October 2018.
She came to the country equipped with a bachelors degree in business administration, majoring in marketing from the American University of Beirut. She also had around three years of industry experience for companies including Unilever and L'Oreal.
However, Yasmin's confidence took a huge knock in Aotearoa as she unsuccessfully applied for job after job.
"I spent about eight months applying for roles, but I wasn't getting any interviews. I didn't know what the reason was. I had people check over my CV and there weren't any issues there."
After some time, Yasmin decided to explore studying again, and after looking around, she landed on the Master of Marketing.
"I would say it was the best investment because marketing has changed immensely since I studied it and the University puts a great deal of emphasis on research so I learnt a lot in that arena."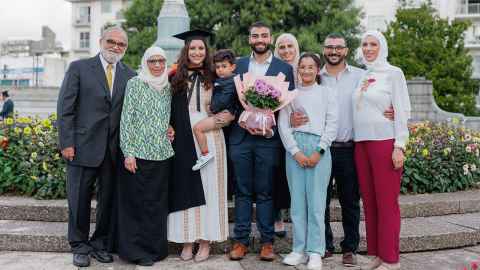 Yasmin continued to apply for jobs throughout her masters programme and eventually told her husband that they might have to leave the country and move to Dubai if things continued in the same vein.
"I applied for close to 1,000 jobs, and it wasn't until a graduate came to speak to some students that an opportunity arose for me."
The speaker, who was employed with Fisher and Paykel, had been through a similar experience to Yasmin as an immigrant applying for jobs in New Zealand, and she inspired the marketing student to apply for a role within the company.
A week after Yasmin submitted her thesis, she started with Fisher and Paykel Healthcare as a Product Marketing Manager.
"It's been amazing, and I'm currently working on the launch of a new product to help people with sleep apnoea."
Yasmin, whose grandfather fled war-torn Palestine with thousands of others in 1948, spent just a week in her new job before Ramadan began on 1 April.
Although she couldn't sit down to eat with her new colleagues, she says the month of fasting helped her focus on learning and growing within the role and in life overall.
"During the first week you can feel a bit groggy, but then it gets better. Fasting teaches patience and gratitude and helps me to be conscious of myself and the people around me.

"It's a month to stop feeding your body and start feeding your soul."