Making art in, and out, of lockdown
Lockdown presented many challenges for Master of Fine Arts graduate Sara Moana Edwards, so she began to draw her way out of a "lockdown burnout" which turned out to be both cathartic and productive.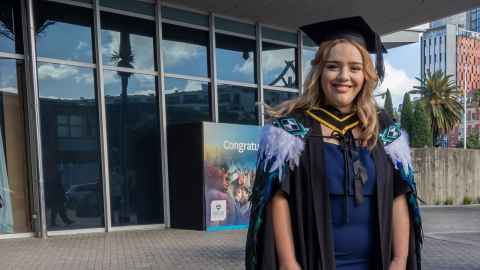 Sara Moana's masters thesis was titled: "Covid more like no-vid; A psychoanalysis discussion through drawings before, during and after quarantine in in 2020."
Completing a masters degree during lockdown was a tricky time in many ways, she says. "But there was also a lot of time for reflection, for me to just go through my practice and think about what is important to me."
Sara Moana completed her bachelors degree at the Elam School of Fine Arts in 2020 (first class honours) and her masters (first class) in 2021. Various lockdowns prevented her from formally graduating from either until 2022, when he was finally able to graduate in person and with her family with the latter.
Sara Moana is of Welsh and Māori descent (Ngāti Tamaoho, Tainui), born in Aberystwyth, Wales, in 1996 to her Welsh mother and Māori father. She grew up speaking Welsh, moving to Aotearoa New Zealand in 2008 at the age of 11.
"Drawing was a way of me to communicate with people, especially after moving to a new school where I didn't know anyone. I used art to break down social barriers – people would look at my drawing and would talk to me from there. It was my way of communicating, which has carried on till now."
Through her art and illustration, Sara Moana explores (and has irreverent fun with) cultural identity, body image, sexual identity and mental health. Her illustrations feature queer, indigenous, often fat and semi-naked people and quite often herself, self-portraits in which she explores her identity as a bisexual woman and as a bi-cultural woman, being both Māori and Welsh and sitting "somewhere in between".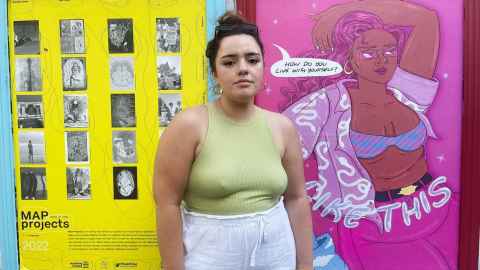 By taking a light-hearted look at some of the common anxieties and issues of our time she often sees expressed on social media she hopes to "open conversations about them".
In an article in the Big Idea she was described as one of "five wāhine toa you should be following on Instagram" and her work as "eye-opening and bittersweet, often dealing with mental health and the hard truths of life. [She] twists dark concepts with a bright bluntness that very few artists can depict with such ease."
In that article Sara Moana said Instagram was a platform that allows her to present a visual diary of her works in progress that is "open for anyone who is keen on seeing me having a breakdown or drawing bums".
Sara Moana has been in much demand as an illustrator and artist since completing her studies. Her illustrations have featured in (and on several covers of) Massive magazine as well as in The Spin Off.
As a member of the LGBTQIA+ community she has worked on several projects with Rainbow Youth, including two illustrations featured on a large digital billboard on the ASB building in Queen Street (and on social media platforms) for a Dress with Pride campaign aimed at Rainbow Youth.
For the Pride Festival in 2021, she created posters for the MAP (Making Art Public) Project, an outdoor poster exhibition initiated by Auckland Council in partnership with Phantom BillStickers that sought to reimagine the city as a large gallery during the red setting. 
Her reach went national (and included tens of thousands) in 2021, when she produced a 5-part "Stay-At-Homers" series of illustrations for the UNITE AGAINST COVID-19  national social media campaign, to encourage young kiwis to stay at home during Level 4 lockdown in 2021. "It was aimed at people my age, encouraging them to find ways to adapt to lockdown, to find ways to do what they would have once done outside in public, but inside their homes," she says.
At the time of her graduation, she was preparing for a group exhibition at Toi Tū (Ponsonby, Auckland), Artists on Artists, in which each of the 13 artists participating is the subject of another artist's work.
It was evident early on in her life, that Sara Moana was likely to end up drawing for a living. "The story that my parents always told me is that they never knew that I was in the room, because I was always just very quiet, because I'd be drawing. If you gave me paper and a pen I would be there for hours, having the time of my life."