And the band played on … 3D-printed instruments
Exhibition showcases 3D-printed musical instruments made in the Creative Design and Additive Manufacturing Lab and hosts NZ's first 3D-print performance by musicians.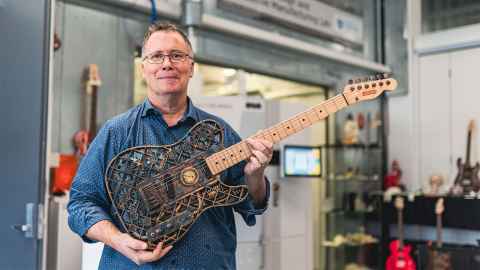 NZ Music Month 2022 and Techweek has brought together the Faculty of Engineering and Depot Artspace in Devonport for an exhibition, Synthesis, which is showcasing New Zealand's first 3D-printed musical instruments.
An opening celebration will be held today (13 May) at the Clarence Street gallery and will feature another first – a live performance with musical guests playing the instruments which include guitars, bass, drums and keyboard.
Most of the instruments have been made in the Faculty of Engineering's Creative Design and Additive Manufacturing Lab, led by Professor Olaf Diegel, who says:
"When you put a 3D printer between an artist and an engineer, they can suddenly talk a common language and you see them truly collaborate, rather than just use each other. And the results can be amazing!" 
Professor Diegel will introduce the opening event and will talk about the intersection between art and 3D-printed technology.
He will also be talking about the exhibition and his work to Jesse Mulligan on Radio New Zealand's Afternoons today (13 May) at 1.40pm.
The exhibition runs until 28 May 2022 - please see here for further details.