Making both folly and virtue out of old wood
Three masters students from the School of Architecture and Planning have won this year's Brick Bay Folly prize, for an architectural structure made almost entirely out of the timber of a former Folly winner.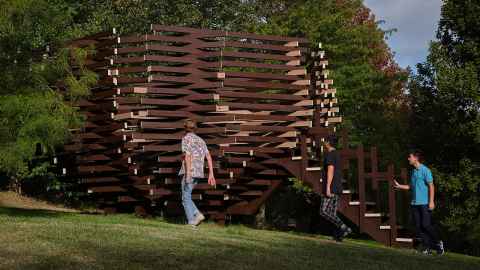 The 2021/22 Folly winners, Nicholas Rowsby, Brandon Carter-Chan and Joseph Trace, designed and built their winning structure The Nest while in their final year of their Master of Architecture (MArch) in 2021.
They did so by recycling and repurposing the wood used in The Wood Pavilion, which was created by four first-year MArch students in 2019 and which won the Folly award that year.
In architecture, a folly generally refers to an ornamental structure that lacks practical purpose. The Brick Bay Folly competition was established in 2015 to challenge new architects to stretch their imagination, and to demonstrate the intersection of architecture and sculpture.
The Wood Pavilion was an exploration of timber as an architectural material, its lightness and its composition. So is The Nest, but being created entirely out of the timber used in the former winning Folly, also showcases how architecture can rise to some of challenges of our times – such as how to create without waste, and how to design for and work with wood in the midst of a timber shortage.
"The earliest conception of the idea came after our first site visit in June 2021," says Nicholas Rowsby. "We didn't want to see the material of The Wood Pavilion discarded. We were also inspired by the abundance of piwakawaka (fantails) on the site; this led us to approach the design the same way a bird would build its nest from the resources in its immediate surroundings - what I think of as nature's most contextual architecture.
"And as Brick Bay is a winery, and the practice of collecting grapes in a basket weaved from their vines, which is often synonymous with vineyards, inspired us to invoke the bowl-like form of a bird's nest."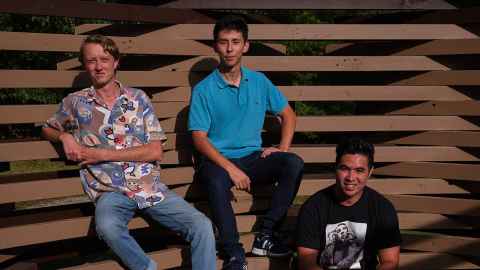 Having been in the same university year-group as the designers of The Wood Pavilion, they approached them for a list of dimensions.
"Much of the design phase took account of the component dimensions from The Wood Pavilion, with many of the pieces staying the same size in the structural scheme of The Nest," says Joseph Trace.
The challenge came in trying to maintain each piece of pieces of timber in their full lengths while also allowing for the weathering of timber that had been exposed to the elements over two years.
There was also the potential damage that would be incurred in the process of dismantling it, so the team devised a method of deconstruction which would cause minimal damage to the material.

"This led to negotiations with a builder and the Brick Bay property manager Brian Breen to use a pulley system to bring it down one horizontal segment at a time," explains Nicholas.
"We would then carry these segments over to another section of the site to carefully dismantle it. This involved every screw being unscrewed mostly by hand with vice grips or an Allen key and metal rod. Some sections we even needed crowbars or couldn't physically pull apart as the 2019 team had fixed them together so well."
They were able to salvage around 797 linear metres of timber and used 746 metres of it for The Nest. What timber was too damaged to use was cutdown and repurposed for smaller elements such as seating or stairs.

"There were many large bolt, screw and nail holes as well as crowbar denting left in the reclaimed timber which comprises the Nest," says Nicholas. "At one stage we contemplated trying to minimise traces of reuse, but in the end, we realised that these imperfections capture the history of the material and in this case are desirable visual and tactile qualities in their own right."

There were other challenges; the deconstruction of The Wood Pavilion took place in October 2021, during lockdown and under strict Covid rules, with no access to workshops and limited access to supplies.

Where there's a will there's a sustainable and sustaining way.
"My masters studies at the University had a focus on the appreciation of material holding 'a life' of sorts," says Joseph. "This, alongside the desire of the other team members to thoroughly address the brief requirement of sustainability, led us to make a clear decision that we would engage with the material of the previous pavilion. It was an arduous process at times but knowing that our labour was giving this timber a second life made it all worthwhile."

Their project demonstrates that the recycling and repurposing of wood does not mean compromising beauty, adds Brandon Carter-Chan.
"It is still very possible to achieve beautiful architecture from reused building materials without costing an arm and a leg and we managed to achieve this build with the restrictions of Covid and a full-time masters thesis.
"There is so much we can do with timber, and we encourage everyone to keep thinking of new sustainable solutions to help better our future."