Ten great works for New Zealand Music Month
In celebration of New Zealand Music Month, Dr Leonie Holmes, distinguished composer and senior lecturer at the School of Music, shares ten great works by Aotearoa New Zealand composers, and what she loves about them.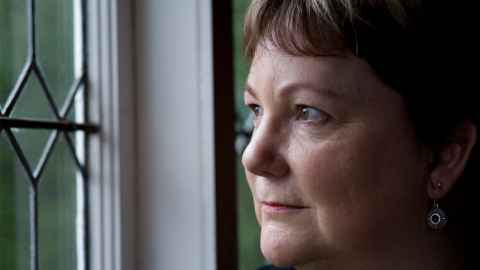 A list of my favourite New Zealand compositions would be an impossible task - there are just so many! Instead I've gone the route of highlighting the huge variety of genres and styles Aotearoa New Zealand composers are engaged with.
Douglas Lilburn: Soundscape with Lake and River (1979)
"Douglas Lilburn (1915–2001) is a senior figure in the Aotearoa New Zealand compositional 'family tree'. The Aotearoa Overture is the work most often associated with Lilburn, but my favourite amongst his earlier works is the Sonata for Violin and Piano (1950). However for this list I'm nominating his final electronic work, Soundscape with Lake and River. It's a piece to listen to when you're not in a hurry, and it always invokes in me feelings of space and peace, tinged with nostalgia. Sounds of nature, sourced at Lake Taupō, can be heard, but you have to wait for them, around four and eight minutes through."
John Psathas: 'Voices at the End' for six pianos and electronic soundscape (2018)
"This immersive and atmospheric work involving six grand pianos and electronic backing takes the audience on both a visual and sonic journey. It's a real stylistic mix, telling a story of environmental and social activism."
Eve de Castro-Robinson: Clarion (2020)
"Also in the realm of environmental activism, this work was performed in the 2020 Auckland Festival of the Arts. This concerto for trumpet and chamber orchestra is a 'call to arms in the fight against climate change'. This visceral work calls for the soloist to 'call' literally, not only with his trumpet but also with his voice and with the traditional pūtātara (conch trumpet)."
Salina Fisher: Rainphase (2015)
"This work uses the full forces of the symphony orchestra to convey the idea of rainfall in its many facets. The delicate balance of melodic writing with more evocative and non-traditional sounds is what draws me into this evocative piece."
Dame Gillian Whitehead: Puhake ki te rangi (2006)
"The title translates as 'spouting to the skies', and the work is based on a transcription of whale song. The piece draws on the legacy of her longtime collaboration with taonga pūoro practitioner Richard Nunns; a legacy continued in this performance with the New Zealand String Quartet and taonga pūoro performer Rob Thorne."
Lyell Cresswell: Piano Concerto No. 1 (2010)
"My tribute to New Zealand composer Lyell Cresswell (1944–2022) is his first piano concerto, performed here by University of Auckland Senior Lecturer in piano performance Stephen de Pledge. This is music that is an uncompromising mix of strength, purpose, moments of joy, deeply felt...and very virtuosic."
Claire Cowan: Stark - The Violin Concerto (2016)
"This multi-talented composer is equally at home scoring music for film and television as for the concert hall, and is the first woman in New Zealand to compose a full-length ballet, the joyful Hansel and Gretel. Here we have her violin concerto played by Amalia Hall with Orchestra Wellington, telling the story of New Zealand icon Freda Stark."
Reuben Jelleyman: Klein Fountain (2020)
"For an exploration of the inner world of sounds, subtlety, intellect and sensitivity. Reuben Jelleyman was awarded the New Zealand Arts Foundation Springboard Award for career development in 2021. Klein Fountain is performed here by Ensemble Intercontemporain, Paris."
Victoria Kelly and Horomona Horo: Toi Huarewa/Suspended Way (2012)
"Victoria Kelly is active in all areas of the New Zealand music industry and writes for film, theatre, television, and classical ensembles. This work traverses the two musical worlds of piano trio and taonga pūoro through the story of Puiaki and Tawhiti, and through the mythical world of Toi Huarewa – the suspended way. It is performed by the NZTrio with Horomona Horo."
Plan 9 (David Donaldson, Janet Roddick and Steve Roche): The Bewilderness (2021)
"Finally, I'd like to pay tribute to Plan 9, winners of the APRA/SOUNZ Contemporary Award 2021 for their album The Bewilderness, a truly bewildering and very stunning wild ride."