It is Samoa Language Week – Vaiaso o le Gagana Samoa – from 29 May to 4 June. Celebrations are taking place around New Zealand and here at the University.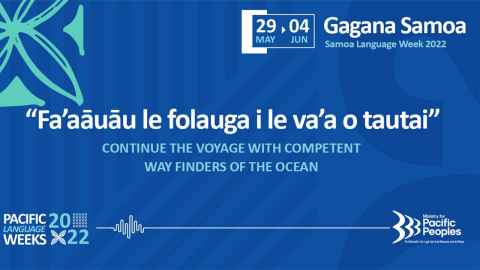 This week marks the 12th year of Vaiaso o le Gagana Samoa and the theme for 2022 is Fa'aāuāu le Folauga i le Va'a o Tautai - Continue the Voyage with Competent Wayfinders of the Ocean.
This theme is centered around the year's overarching idea of 'sustainability', which the Samoan community chose to reflect language revitalisation and maintenance, while also paying homage to the importance of having the right tools for the language. This includes strong leadership skills and relationships with everything around you.
The history of Samoa with New Zealand is unique. Samoa is the only nation that has a Treaty of Friendship with New Zealand, which is a commitment to friendship, partnership and social progress for Samoan people in New Zealand.
One of the critical ways for that journey to progress is ensuring Gagana Samoa is allowed the space to grow and flourish.
There are a wide range of activities across New Zealand being held to celebrate Vaiaso o le Gagana Samoa; a full calendar can be found on the Ministry for Pacific Peoples website.
The University of Auckland Samoan Students Association is also hosting a range of activities:
Monday 30 May: Opening Lotu & Ava Ceremony
Where: Fale Pasifika
Time: 9am - 11am
Wednesday 1 June: Showcase & Samoan Independence Day
Where: Quad
Time: 10am - 3pm
(There will be guest performers, items by UASSA and a sausage sizzle)
Friday 3 June: Closing & Faiga Lotu
Where: Cultural Space
Time: 6pm-9pm
Watch the official acknowledgement of Vaiaso o le Gagana Samoa by the Hon Minister Aupito William Sio: