Empowering patients to avoid asthma attacks
A project to develop a risk-prediction tool to help patients and whānau predict asthma attacks has won an HRC grant.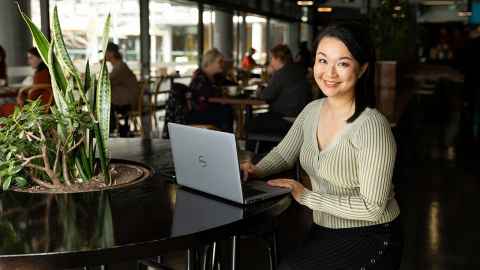 A project to develop a real-time risk-prediction tool that takes information from the environment and smart devices and uses it to help patients and whānau predict asthma attacks is one of four University of Auckland projects to gain a Health Research Council Emerging Researcher First Grant. 
School of Pharmacy senior clinical research fellow Dr Amy Chan is getting the project under way with $249,984 over three years from the HRC to develop the model.
"Asthma attacks are still the main cause of loss of life from asthma and loss of quality of life," Chan says. "At the moment, we don't have any good tools that can predict when someone will have an attack."
In the first stage, Dr Chan will work out an algorithm that draws on data from mobile phones and devices, such as smart watches. These could include step counts, sleep patterns, breathing rate, medication use, peak
flow and weather information.
An important part of the research will be ascertaining what information is most predictive of the risk of asthma attacks. Chan will also seek feedback from patients, clinicians and health providers.
She will then test the prediction tool by integrating it into a smartphone app and testing it in a clinical trial. The clinical trial, and her salary for the upcoming five years, will be funded by an Auckland Medical Research Foundation senior research fellowship, which is $100,000 per year along with grants for travel and so on.
"We want patients with asthma to be able to see what's happening with their asthma attack risk in real-time. If that risk is increasing, they can do something about it, like change their medication or see a doctor," Chan says.
She will be working closely with her mentors – Professor Jeff Harrison (School of Pharmacy) and Professor Partha Roop (Department of Electrical and Computer Engineering), as well as with support from Associate Professor Matire Harwood, Dr Alana Cavadino, and Asthma NZ.
Technology can halve asthma attacks: Cochrane Review
Meanwhile, Chan is lead author of a Cochrane Review, published on 13 June, finding technology can halve the risk of asthma attacks.
The authors, who are from the University of Auckland, University College of London, Queen Mary University of London, reviewed 40 international studies covering around 1500 asthma patients.
"Digital technologies that aim to improve medication-taking can increase people taking their medication in way it has been prescribed by 15 percent, and improve asthma control and quality of life," Chan says.
"Technologies that use text messages or electronic adherence monitors appear to be particularly effective for improving people taking their medication as prescribed."
 The researchers say their findings support continued investigation of how to improve digital interventions so that they could be used more widely to help people manage their asthma.
Other University of Auckland recipients of the HRC Emerging Researcher First Grants are:
Dr Jacqueline Hannam, Modelling procalcitonin for bacterial infections in the intensive care, 36 months, $249,999
Dr Odunayo Mugisho, Exploring the role of the inflammasome pathway in diabetic retinopathy, 36 months, $249,660
Dr Sachin Thakur, Development of an ultrasound responsive implant to treat spinal cord injury, 36 months, $249,453