Chicago-bound lawyer to tackle bias
Charlotte Agnew-Harington is jetting off to the US with support from a New Zealand Law Foundation Ethel Benjamin Scholarship.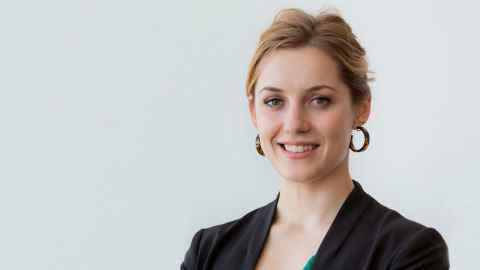 How can you legitimately and unquestionably prove that bias contributed to a particular outcome?
This is one of the questions New Zealand Law Foundation Ethel Benjamin Scholarship recipient Charlotte Agnew-Harington will explore as she embarks on her Master of Laws at the University of Chicago this August.
Charlotte, who holds a conjoint Bachelor of Law (honours) and Arts degree from the University of Auckland and currently tutors students at the law school while working as a junior barrister for Michael Heron QC, was elated to find out she was receiving the Ethel Benjamin Scholarship this month.
"I was shocked! The cost of education in the US is outrageous, particularly compared to New Zealand so it will make a massive difference. The whole process of trying to study in North America and trying to gain funding kind of feels like rejection after rejection, particularly on the funding front. I'm so grateful for this opportunity, and I know of several amazing women who have received this scholarship in the past so I feel very honoured."
The Ethel Benjamin Scholarship, which is awarded to up to three outstanding female legal researchers every year, will support Charlotte on her path towards understanding and articulating bias, its forms, causes and consequences.
Issues of bias are readily acknowledged in New Zealand society, but less so in our courts.
During her time at the University of Chicago, Charlotte is planning to develop a framework for pleading the effects of bias, investigate how advocates can 'prove' bias in a way that allows judges to recognise it, and refine her advocacy skills so she can put her new framework to use.
"Issues of bias are readily acknowledged in New Zealand society, but less so in our courts. How can we, as advocates, prove a lack of fair-mindedness? This question sits at the heart of why I want to do my Master of Laws, and finding the answer will benefit many litigants who perceive that they have been treated unfairly due to gender, race or other improper grounds."

Charlotte hopes her research will culminate in changes to Aotearoa New Zealand's approach to issues of bias in court and in society.
"Writing and publishing will be a key focus for me during and following my masters. In the future, I hope to use my litigation framework in court to help Aotearoa develop new case law."
Charlotte's years at the University of Auckland were formative, and she says her law tutors and teachers were excellent at encouraging critical thinking.
"I had so much support from my professors, particularly Amokura Kawharu who was an inspiring teacher."
However, further studies and a career in law weren't always at the top of Charlotte's list. She says she thought that if she went on to do a masters degree it would be in arts, in which she majored in ancient history and art history. 
"My arts degree was invaluable in the way it taught me to think and reason. I feel that knowledge in both the arts and law is such a gift."
New Zealand Law Foundation Ethel Benjamin Scholarships honour the country's first woman barrister and solicitor, who was admitted to the bar in 1897.
The scholarships are awarded to postgraduate women who hold a law degree and have been accepted into a postgraduate law course in either New Zealand or overseas.
The award is administered by Universities New Zealand – Te Pokai Tara.
The other outstanding lawyer awarded an Ethel Benjamin Scholarship this year is Josephine Te Rata (Ngati Raukawa),  who graduated from the University of Otago in 2017.
Media Contact
Sophie Boladeras | Media adviser
M: 022 4600 388
E: sophie.boladeras@auckland.ac.nz