Scholarship opens industry doorway for computer science student
With employees around the country once again returning to the office after what seemed like never-ending Covid-19 lockdowns, one computer science student is taking full advantage of being a "graduate-in-residence" at a tech recruitment agency.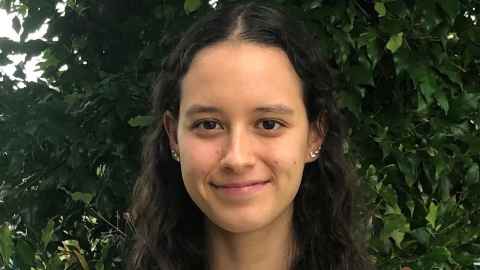 The opportunity is not only giving third-year student Grace Thompson a taste of what working life is really like, it's also helping her to fully prepare to join the workforce when she graduates with her degree.
Grace is the 2022 recipient of the Potentia Undergraduate Scholarship in Computer Science. The scholarship was established in 2013 and provides students with financial support to help them with their tuition fees and as well as assistance in preparing for the job market through its graduate-in-residence programme.
Grace says the unique scholarship means she has been "taken in almost as one of the team" by Potentia.
"They've been very welcoming and very supportive and so just being in that environment has been great," she says.
Given the freedom to come and go as she pleases in the company's Auckland office, being graduate-in-residence means Grace is not only able to use Potentia's facilities to study or hold meetings, she is also invited to attend the team's weekly meetings if she wishes to learn more about the true workings of the company.
Grace says the position combines informal mentoring and networking – giving her the chance to meet and learn from many people who "are all there for me to bounce ideas off [in] a really supportive environment" – and a more structured approach allowing her to meet periodically with a career development guidance counsellor at the company.
"It's really tailored to me and what I can and can't commit to," she says.
As well as the professional opportunities the scholarship brings, Grace, who is herself from the Cook Islands and is passionate about encouraging Māori and Pacific students to pursue tertiary education, says it's exciting to work with a company that has a strong focus on community and youth.
"I just knew their values lined up well with mine. So it's very exciting to receive the scholarship and have that doorway open," she says.
"They're trying to reach disenfranchised groups such as minorities and people in lower socioeconomic areas and bring them into the technology space, whether that be through university or just through that work area."
As well as her support from Potentia, Grace has also received a separate scholarship for women of Cook Island descent as well as a scholarship from KiwiPlan NZ Limited.
Grace has also used the opportunity of being the graduate-in-residence to spearhead her own initiatives in the role. During Techweek she held an event where  university students were encouraged to come in and share their ideas about how best to navigate university life and prepare for a career. The goal, she says, is to take the students' feedback and turn their advice into a guidebook that can be used as a reference for others in the future.
And though Grace says one day she may return to university as a postgraduate student, in the  meantime she is looking forward to "giving industry a try first" when she completes her studies at the end of the year.

Media contact
Helen Borne | Communications Manager
Alumni Relations and Development
Email: h.borne@auckland.ac.nz