Student athlete Imogen Ayris: high hopes for Birmingham
Pole vaulter Imogen Ayris, an exercise science student at the University of Auckland, is off to Birmingham and hopes her good form brings reward.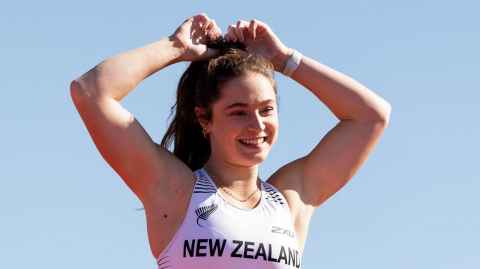 New Zealand pole vaulter Imogen Ayris would seem to have a high pain threshold.

Landing awkwardly at the Under 20 World Athletics Championships in 2018, she fractured her heel. She pushed through the pain to continue competing and clear two qualifying heights.

The University of Auckland student told Newsroom: "I couldn't walk the morning of the competition and arrived at the track still on crutches. I sat with my purple leg in a bucket of ice trying to numb the pain. But I wanted to give it my all because I'd trained so hard for it."

She tells UniNews, the injury took time to heal. "A lot of injuries came from that initial fracture, because when I got back into running, my foot wasn't quite ready. I got a stress reaction in another bone. It took a long time to come right."

More recently she cut her hand when her pole snapped, the first time that's happened to her.

"I ripped my hand open, split the webbing and moved some bones around a bit. Got a bit of bone bruising," she says.

What was difficult after the hand injury was that the recovery went against the grain of everything she'd done before.
"I used to be a gymnast and if you have a bad fall on a beam or whatever, they teach you to get back up and do it again, straight away. That's how I grew up. I'd get back up and do whatever I was doing because otherwise a mental block can develop.

"The problem after the pole snap was it was actually a while before I could even pick up a pole again because of the damage to my hand."

The hand injury also revealed something else. "The scan showed my scaphoid in my wrist is actually in half; it's broken. It was like that before the pole snapped. We just didn't know."
But didn't it hurt? "Not really."

In the past there has been a benefit to injury.

"Gymnastics can stunt your growth as a child. I got a stress fracture in my back and had to take time off but the silver lining was it gave my body time to actually grow; I shot up and had an amazing year. I came out a lot better for it."

She's now 171 cm but it's not vital for pole vaulters to be really tall.
"In women's pole vault there are so many different body shapes, types, heights and weights. Everyone uses their body to their advantage. There are so many different techniques as a result. There are women on really short and stiff poles who are fast and aggressive. Then there are taller, lean vaulters who use their height and their levers to their advantage."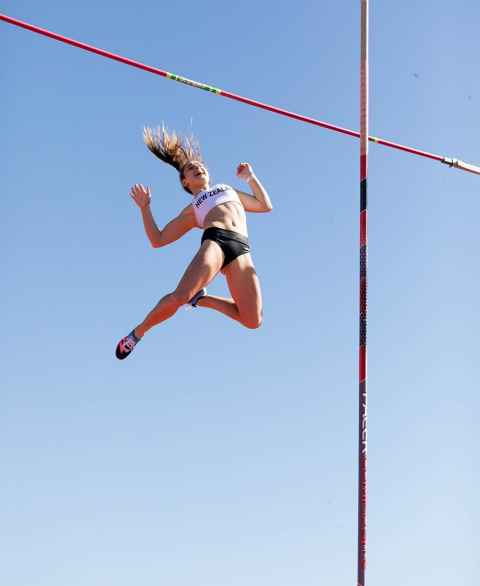 I used to be a gymnast and if you have a bad fall, they teach you to get back up and do it again, straight away. That's how I grew up. I'd get back up and do whatever I was doing because otherwise a mental block can develop.
Imogen recently competed at the Oceania Athletics Champs in Mackay, Australia, where she and training teammate Olivia McTaggart took first and second place. Imogen vaulted 4.40m and Olivia 4.50m.

"I get better the more I compete, and the better I get at competing, the higher I jump in competition. My personal best is 4.5m, but I'm capable of more than that. I'm in really good form. I'm moving well in the gym, running fast on the track and jumping really high in training, so I'm looking forward to the next big challenge."
Pole vaulting can be tough on the body as is evidenced by her former training partner Olympic bronze medallist Eliza McCartney having to take extended time out to heal. "We're still in touch. Eliza is awesome."
Imogen's training schedule looks like this: Mondays and Wednesdays, vaulting 9am to 12pm.

Tuesdays and Thursdays, gym session in the morning, and running in the afternoon. Friday it's an hour in the gym and two hours of vaulting on a Saturday.
"There are definitely times when I come home from training and I'm whacked and just want to lie in bed for a couple of hours and sometimes I do that. But sport has made me a better student and my studies have made me a better athlete.

"They both give you a purposeful distraction from the other. Most of the stuff I'm studying is related to my sport. But even when it's not, it gives you something else to focus on and put your energy into, to prepare for that plan B."

She reads a lot for leisure too, preferring fiction, and walks. "It's my time. I just put my headphones in and it's really good for my active recovery to just go for a walk, stretch the legs and clear the mind."

Imogen, who went to Takapuna Grammar, describes herself as "a bit of a nerd".

"I do enjoy my studies and that came from high school. I loved the teachers I had. They helped me find my love for science, learning and studying."

She's now in her fourth year of studying part-time.
"Even though I love learning, I need to manage training around my studies. That's where Toby Batchelor and the University's High Performance Programme have been so helpful. I feel sorry for Toby because I keep pestering him with requests and things I need help with. Without Toby's help, life would have been a lot harder."

For the record, Toby doesn't consider it pestering.
"She's an exceptional student with a high grade point average. She's also a wonderful role model."

Imogen is working towards a Bachelor of Science majoring in exercise science.

"I started off doing a double major in physiology and exercise science. But with physiology you have to be there for the labs so I've had to drop that. It was the best decision for my sport. I can always come back and finish off that degree."

Since school she has wanted to be a doctor. But the 21-year-old has a pragmatic head on her shoulders.
"With the amount of training, competing and travelling I do, med school just wasn't really possible for now. I'm keeping my options open."

In September 2020, her beloved dad died of cancer, aged just 54. He was the one who first suggested she tried pole vaulting, which she took up in 2014. She already held club age-group records in sprinting, hurdling and high jump so the grounding was there. Her father had come to all her events but as he grew sicker he couldn't.
After he died, Imogen felt she had to do what she'd always done. "I trained the next day," she told Newsroom.
"I just needed to get out of the house because I knew Dad would have wanted me to continue to do what I love."

At Birmingham, she will feel her dad's support through his family, who live in England. They'll be there cheering her on, as will her mum, brother, boyfriend and boyfriend's parents.

And she'll have plenty of Auckland student athletes there for support. By the end of June, the University had eight other students named to compete. 
Story by Denise Montgomery
This story will be in the July 2022 issue of UniNews.
| Other UoA students in NZ team | Sport | Faculty |
| --- | --- | --- |
| Willam Fu-Allen | Gymnastics | Science |
| Samuel Dick | Gymnastics | Business |
| Havana Hopman | Rhythmic gymnastics | FMHS |
| Frazer Tavener | Diving | Engineering |
| Alice Zeimann | Beach volleyball | Law |
| Sulu Fitzpatrick | Netball | Arts |
| Grace Nweke | Netball | Business |
| Theresa Fitzpatrick | Sevens | FMHS |