Proud day of celebration at Tai Tokerau
A group of 25 education students recently graduated in front of proud whānau in the Tai Tokerau June ceremony.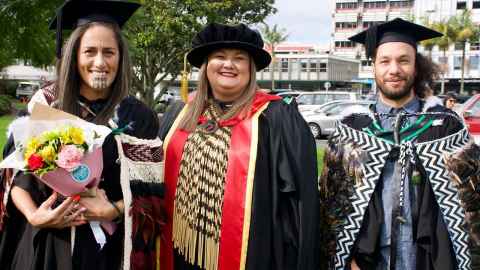 It was a day of celebration at Tai Tokerau in Whangārei as University Chancellor Cecilia Tarrant conferred degrees on 23 Bachelor of Education students (both Primary and Huarahi Māori), one Master of Educational Practice and a PhD, Tania Cliffe-Tautari.
Dr Cliffe-Tautari's thesis focuses on cultural identity, cultural connectedness and resilience in Māori youth classified as serious youth offenders.
She developed four original contributions to youth offending practice, identity, and resilience discourse.
Her mātauranga Māori, Matataki research methodology informs first-time research encounters with Māori and challenges government policymakers and practitioners to address issues of systemic racism, bias, and negative schooling experiences.
Her PhD studies were supervised by Professor Melinda Webber, Te Tumu, Te Puna Wananga and Professor Dame Cindy Kiro.
The University warmly congratulates all graduating students and their whānau.