The bus driver optometrist with a clear vision
Veeran Morar is delighted to have a job on Vision Bus Aotearoa, taking eye healthcare to those who may not have had it otherwise.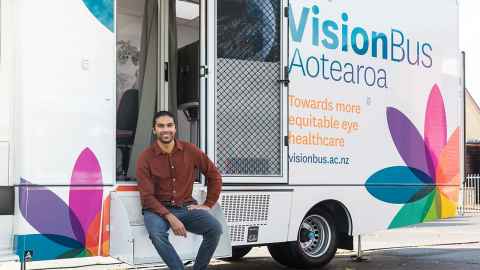 The optometrist behind the wheel of the Vision Bus Aotearoa is inspired by the memory of his own first pair of glasses.

Run through the University's School of Optometry and Vision Science and funded entirely by philanthropy, the Vision Bus is now delivering full eye tests and glasses to Auckland schoolchildren, and to adults through marae and other community organisations.

Veeran Morar, a professional teaching fellow in Optometry and Vision Science, says he loved playing hockey as a child but, at around 12, realised he couldn't see the ball down the end of the field.
"Mum took me to the optometrist. I put on my first pair of glasses and I was really blown away. I could see the leaves on the trees.
"I knew at the time it was going to change my life and it did."
When we look at schoolchildren, based on the school's own screening programmes across greater Auckland, we know that one in ten needs glasses but doesn't have them.
Veeran went on to play hockey for New Zealand. "I am reminded of that experience every time I give a kid a pair of glasses."

Vision Bus Aotearoa was officially launched at a ceremony in the Faculty of Medical and Health Sciences on 10 June 2022. Professor Steven Dakin, from the School of Optometry and Vision Science, has been working on the project for five years.
"When we look at schoolchildren, based on the school's own screening programmes across greater Auckland, we know that one in ten needs glasses but doesn't have them," he says.

"This is concerning because they don't have good visual correction which means they can't see whiteboards, which impacts educationally. More worryingly, we see potentially blinding conditions, such as keratoconus, regularly going undiagnosed in children, with Māori and Pacific disproportionately affected."
Barriers include cost, distance from services and knowledge of optometry services.

Prior to driving the Vision Bus Aotearoa, Veeran was working in Outback Australia as a flying optometrist.
"I fell in love with it – doing something remote where you provide a service people wouldn't otherwise have access to."

Veeran and his wife decided to come back home to Auckland and, while waiting in an MIQ hotel, Veeran had a successful phone interview with Steven for the Vision Bus role, starting work in 2021.

Covid-19 provided a variety of setbacks, meaning the bus didn't arrive until this year but it was worth the wait.
"Everything a modern optometry clinic has, we have on board. It's a New Zealand first," Veeran says.

The Vision Bus also gives optometry students first-hand experience of the barriers people face in accessing eyecare.

"Our bus is vital for education, not only for our optometry students but for kids in the community who are being touched by optometry," Veeran says.

"That could lead to more coming to study with us. We are keen to have more Māori and Pacific students. That's one of the big things we are trying to achieve because, to be sustainable in the equity fight, we need a diverse group of optometrists. I hope what I am doing is going to help achieve that."
The service is already having a positive impact. During eye tests at Fairburn School in Ōtāhuhu recently, staff were shocked at the number of children who were revealed to have eyesight problems. (See video below.)
The Vision Bus is funded by Rae Fehl and former University staff member, Peter Fehl, who heard Steven talking about his dream for the unit on RNZ.
The Fehl Family Trust $1.8m donation funds the vehicle and its service for the first five years. Peter says they want to help children to fulfil their potential.
"If you can't see the blackboard, you can't get an education."

Steven says there was also a need to offer children glasses and contact lenses, which is where further donors have 'closed the loop', notably Helen Blake and daughter Barbara, through the the George Cox Community Spectacle Fund (George was Helen's father) and Essilor, an international optics company, who are subsidising the cost of spectacles.

The hope is that the service model being developed around the bus – delivering eye-health services in partnership with local communities – will be widely adopted and state-funded in the future.
Story by Jodi Yeats
See video of the bus at Fairburn School, Ōtāhuhu
This story will be in the July 2022 edition of UniNews.