Work-life balance: cerebral palsy research to forest bathing
Dr Geoffrey Handsfield is hard at work on research into cerebral palsy that could change lives. But he also makes sure his own parasympathetic nervous system gets plenty of rest – through immersion in nature.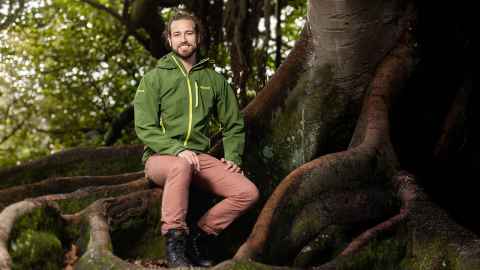 When he isn't using mathematical modelling and MRI technology to better understand the musculoskeletal system, Dr Geoffrey Handsfield could be swimming, tramping, surfing or playing water polo.

He might also be found leading guided tours in what is called shinrin yoku, the Japanese practice of 'forest bathing'.

Geoffrey, who grew up in southern Nevada in the United States before his family moved to North Carolina, is a senior research fellow with the Musculoskeletal Modelling Group at the Auckland Bioengineering Institute (ABI). Having been athletic from a young age, including competitive swimming from the age of six, he'd always been interested in how the body works. "It's capable of remarkable things."

He graduated with a Bachelor of Science in physics and mathematics from East Carolina University in the United States, and began to apply the laws of physics and maths to the body, specifically the musculoskeletal system, for his PhD at the University of Virginia. It was there that he began to focus on the muscles of those with cerebral palsy.

He became interested in forest bathing during lockdown in 2021.

"I wasn't having a great time and was looking for something to put my energy into. I came across these courses to become a certified guide in forest therapy. At first I was sceptical, but I took some time to read up on it, and the deeper I got, the more I realised how legitimate this practice was."

The theory behind one aspect of forest bathing is that it engages the parasympathetic nervous system, colloquially known as the 'rest-and-digest' system, the opposite of the 'fight-or-flight' sympathetic nervous system.

"The balance of both is important to general health. But in the modern world, because of email, our phones, our constant deadlines, our sedentary lifestyles, we keep getting pummelled by 'fight-or-flight' triggers which puts us into recurrent states of stress. Forest bathing – also known as forest therapy – is partly about engaging the 'rest-and-digest' parasympathetic nervous system."

You could argue you could 'rest and digest' anywhere – in a chair in a comfortable room at home in a suburb – but the nature immersion has other benefits, he says. It means walking among the phytoncides, the chemicals that plants release to fight off bacterial or fungal infection.

"In response to infection, plants will emit droplets and aerosols of these, showering themselves and their neighbours. When you're going through forest environments, you're literally bathing in these chemicals that have been shown to boost the human immune system, including the cancer-fighting natural killer T-cells."

As evidence of the efficacy of forest therapy, he points to the research of Professor Yoshifumi Miyazaki, director of the Centre for Environment, Health and Field Sciences, at Chiba University, Japan, or Qing Li, Associate Professor at Nippon Medical School and one of the directors of the Forest Therapy Society in Japan. They have published several books and many journal papers on the health benefits of forest therapy.

"They've shown in randomised controlled trials that it lowers blood pressure, pulse rate and levels of the stress hormone cortisol among other positive health benefits, collectively leading to improved health, as well as feelings of calm and an improved state of mind."
I love a good philosophical chat over a drink with friends. I'm the type of person who genuinely ponders the meaning of life.
It works for Geoffrey, anyway, and so far, according to feedback from groups of people he's taken forest bathing, it worked for them too. Geoffrey has always spent a lot of time in nature, open-water swimming, surfing, rock climbing, tramping and so on, but 'forest bathing' is different. It's about taking time to 'be' rather than get from A to B.

"How often on a hike are you looking to find maybe four or five unique textures of a plant? I think most people are usually purpose driven. Forest bathing is about taking time to slow down, to pay attention to the textures and seasonal nature. It was definitely immensely helpful for me during lockdown."

The motivation behind freelancing as a forest guide isn't so far removed from what motivates his research.

"I got into bioengineering because I wanted to help people, because I was interested in health and well-being, and there's a lot of science, and concrete data to support forest bathing as a therapeutic tool for people who are physiologically and psychologically stressed."

He hopes his research at the ABI will help people too, particularly those with cerebral palsy (CP). CP is a disorder caused by damage to parts of the brain before, during or soon after childbirth. The symptoms aren't immediately apparent.

"You'll often have a child with CP who is two or three years old who looks normal, but whose movements are slightly atypical. By age five or six, the movements become more unusual, which is when you traditionally get a diagnosis."

The lesions that cause the condition are static, meaning they don't change, but the motor disabilities worsen over time which leads to abnormal bone and muscle development in the lower limbs, further affecting movement. Some people with CP who can move almost normally when young, may eventually need a wheelchair in their later years.

Geoffrey says earlier intervention could change this. In a narrative review recently published in BMC Musculoskeletal Disorders, he and his team identified a significant research gap in cerebral palsy and its effect on muscles, and how stimulus (such as the mechanical loading on muscles and bones) or the lack of it in early childhood, will affect movement over a lifetime.
They've shown in randomised controlled trials that forest bathing lowers blood pressure, pulse rate and levels of the stress hormone cortisol.
In collaboration with Gisborne-based Mātai Medical Research Institute, he and his team aim to close this gap through a longitudinal MRI study of the leg muscles. The study involves taking MRI images of the same person over several months, of people with CP and those without it.

He expects the research will contribute to the better understanding of the condition and, as a result, the identification and development of therapeutic interventions that could prevent or slow muscle degeneration. There is much to discover.

"We have found, for instance, that certain aspects of growth and regeneration at a cellular level of muscles in CP actually contribute to muscle degeneration," he says.

CP manifests in idiosyncratic ways, so intervention needs to take that into account.

"It affects individuals differently, and each individual needs tailored treatment to have the best possible outcome."

Geoffrey came to New Zealand in 2015 with the support of a Whitaker International fellowship, which supports Americans working overseas in bioengineering.

"I had met Thor [Professor Thor Besier, head of the ABI's Musculoskeletal Modelling Group] at a conference and thought it would be neat to work with him. I was also aware of the ABI as it has a global reputation for bioengineering.

"And the lifestyle in New Zealand sounded like it would be nice outside of work – what's not to love about mountains and ocean all within reach?"

Geoffrey packs a lot in outside work; along with the long list of physical activities mentioned above, and being a forest bathing guide, he finds time for a lot of reading, particularly fiction, history and philosophy.

"I love a good philosophical chat over a drink with friends. I'm the type of person who genuinely ponders the meaning of life."

Asked if he had found it, he pulls up a quote by American writer Joseph Campbell: "People say that what we're all seeking is a meaning for life. I don't think that's what we're really seeking. I think that what we're seeking is an experience of being alive."

Story by Margo White