Raising a glass to knowledge: one night, ten bars, 20 talks
University of Auckland academics are hitting the bars on 2 August, delivering 20 lectures in ten of Tāmaki Makaurau's favourite watering holes in the annual Raising the Bar event.
Now in its fifth successful year, some of the Raising the Bar highlights will include:
Geneticist Professor Andrew Shelling exploding myths on what genetics can truly predict, such as when you will lose your virginity, and explaining where huge advances are really being made in diseases such as cancer and heart disease.
Dr Laura Domigan sinking her teeth into lab-grown meat, and sharing her own research engineering new protein for surgical use and cell-based meat production.
 Associate Professor Peter Saxton on Aotearoa New Zealand's controversial policy that excludes gay men from donating blood if they've had sex in the last three months.
 
Mark Bentley, director of Alumni Relations and Development, says Raising the Bar provides a unique opportunity to be able to spend the night at the pub with an academic expert rather than "your regular know-it-all".
"The relaxed atmosphere of a bar is an ideal place for all members of our community, University students or graduates ,or not, to engage with academic thought and research."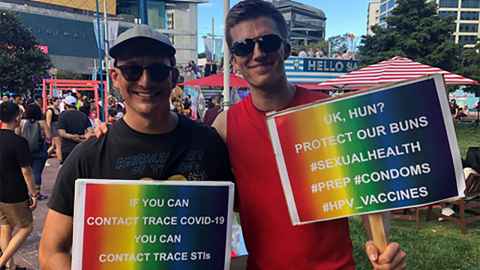 Venue
Time
Academic
Subject
The Paw Bar & Eatery
6.30pm
Professor Karen Waldie
Neurodiversity
– it's not in your head, it's in your brain
8pm
Ali Lowery
From the vineyard to the glass – what really goes into New Zealand wine?
Shadows
6.30pm
Professor Andrew Shelling
Fact vs fiction: the truth about our genetic predispositions
8pm
Dr Melani Anae
Educate to liberate!
Dice & Fork
6.30pm
Dr Helen Murray
Athletes and dementia – could there be a link?
8pm
Dr Angus Campbell
Data and the demise of the designer
The Birdcage
6.30pm
Dr Anna Brooks

The looming crisis of Long Covid

8pm
Julie Stout
Auckland City, what a pity
Oakroom
6.30pm
Associate Professor Jan Eldridge
We're all made of stardust
8pm
Associcate Professor Bodo Lang
I told you so! Word of mouth: what is it, does it work and how can I use it?
Revelry
6.30pm
Dr Danny Osborne
Punks, politics and personality: Understanding the political psychology of voters
8pm
Associate Professor Peter Saxton
Walking the tightrope: A blood donation policy that is safe, inclusive and more sustainable
Tuning Fork
6.30pm
Professor Justin O'Sullivan
The untapped potential of DNA to personalise your healthcare and extend your life
8pm
Dr Kiri Dell
A country's journey to become a te reo Māori nation: what Māori and Pākehā need to consider
Mezze Bar
6.30pm
Dr Alex Müntz
Screens, teens & the unforeseen
8pm
Dr Laura
Domigan
Recipes for cultured meat
Le Zeppa
6.30pm
Associate Professor Matheson Russell
Democracy, but not as we know it
8pm
Professor Tava Olsen
Why are the shelves bare? A look at what's going on with the world's supply chains
Everybody's
6.30pm
Dr Guy Sinclair
Everybody wants to rule the world. But who really does?
8pm
Dr Ritesh Shah
Learning in a time of crisis: panacea or problem?