Flagship research centres to tackle urgent societal challenges
Waipapa Taumata Rau, University of Auckland launches Hīkina kia Tutuki Research Centres, focused on our most pressing challenges.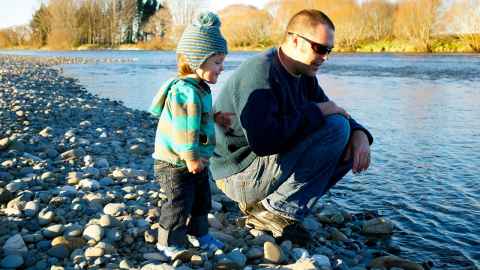 Persistent and urgent challenges faced by Aotearoa New Zealand have led to the establishment of seven flagship University Research Centres at the University of Auckland.
The University's strategy Taumata Teitei  focuses researchers and professional staff on four impact areas; sustainability; health and well-being; advancing just, cultured, and engaged communities; and ethical innovation and technology.
Each impact area brings a raft of complex and interlinked issues. In response the University has initiated the Hīkina kia Tutuki fund. The name, gifted to the University, means 'rising to meet the challenge', signalling a new approach to research by funding transdisciplinary and interdisciplinary approaches with deep community engagement to develop innovative responses to multi-layered problems.
Deputy Vice-Chancellor (Research) Professor Jim Metson said: "The goal is for these flagship centres to work with communities to develop research questions and bring to bear the broad breadth of the University's knowledge, expertise and talent to drive sustainable responses."
The Vice-Chancellor Professor Dawn Freshwater said the new centres respond directly to the evolving role of the University. "We are an educational institution, but as the country's leading research organisation we also bear a strong responsibility to support society to respond to the major challenges of our times."
The University has committed $8.75m funding over five years to establish the centres.
The seven Hīkina kia Tutuki flagship research centres are:
Centre for Pacific and Global Health, hosted at the Faculty of Medical and Health Sciences.
The centre will work with Pacific communities to tackle issues specific to Pacific peoples: non-communicable diseases, the health impact of the climate crisis, pandemic preparation and the health of children and young people.
Māpihi: Māori and Pacific Housing Research Centre, hosted at the Faculty of Creative Arts and Industries.
The centre is committed to improving housing quality and supply for Māori and Pacific communities in Aotearoa New Zealand and the Pacific through impactful research that is manaaki-centred (uplifting mana) and based on tikanga Māori, Pacific values, Te Tiriti and Vision Mātauranga principles, expert knowledge and transdisciplinary research.
Ngā ara whetū/ Centre for Climate, Biodiversity, and Society, hosted by the Faculty of Science, co-hosted by the Business School Faculty of Arts and Faculty of Engineering.
The centre will research ways to progress just and ethical action on climate change and the environment. Humanity is inseparable from nature: health, vitality and survival depend on ecosystems within which we live (oranga).
Centre for Co-Created Ageing Research CCREATE-AGE, hosted by the Faculty of Medical and Health Sciences.
The centre brings together disciplines across the breadth of the University to work with older people to improve their health and well-being and enable them to flourish.
James Henare Research Centre, hosted by the Faculty of Arts.
The James Henare Research Centre is the University's leading Māori transdisciplinary research centre. The centre is committed to co-designing and co-creating excellent research with Te Tai Tokerau flax-roots communities. It is underpinned by the transformative values of Te Ao Māori and aims to enable community partners to exercise mana Motuhake and lead decisions on ways to respond to issues affecting their social, environmental, and economic well-being.
Centre for Brain Research, hosted by the Faculty of Medical and Health Sciences.
The centre's world-class collaborative research aims to improve outcomes for people throughout Aotearoa New Zealand with neurological disorders. The centre has developed relationships that span from the laboratory to the clinic to whānau and community.
Te Aka Mātauranga Matepukupuku/ Centre for Cancer Research, hosted by the Faculty of Medical and Health Sciences.
The centre has a key role in providing national leadership in transdisciplinary cancer research. The centre connects 300 researchers from multiple backgrounds, disciplines and institutions working to address in particular the disproportionate impact of cancer on Māori.
Transdisciplinary research describes research that transcends disciplinary-specific ways of working, integrating academic research from unrelated disciplines and non-academic participants, leading to the creation of new knowledge to achieve a common goal relevant for our communities. The OECD (2020) describes six defining characteristics of transdisciplinary research:
A wide breadth/diversity of interdisciplinarity
Deep disciplinary integration
A high degree and quality of interaction with non-academic participants
A diverse composition of non-academic partnerships
Early participatory engagement
Diverse types of knowledge
Media contact
Gilbert Wong | Research communications manager